Rain was never going to dampen Adele's final parade.
As rain started falling at Mt Smart Stadium last night, Bill Withers' super sunny ode to summer, Lovely Day, cranked through the speakers.
It was an ironic start to last night's Adele show, especially when the rain only got heavier, giving waiting fans a dramatic pre-show drenching.
Adele couldn't escape the weather either. It swirled around the UK singing superstar as soon as she emerged out of her cargo box and onto her circular stage to the familiar strains of Hello. Her response? A cackle. The first of many.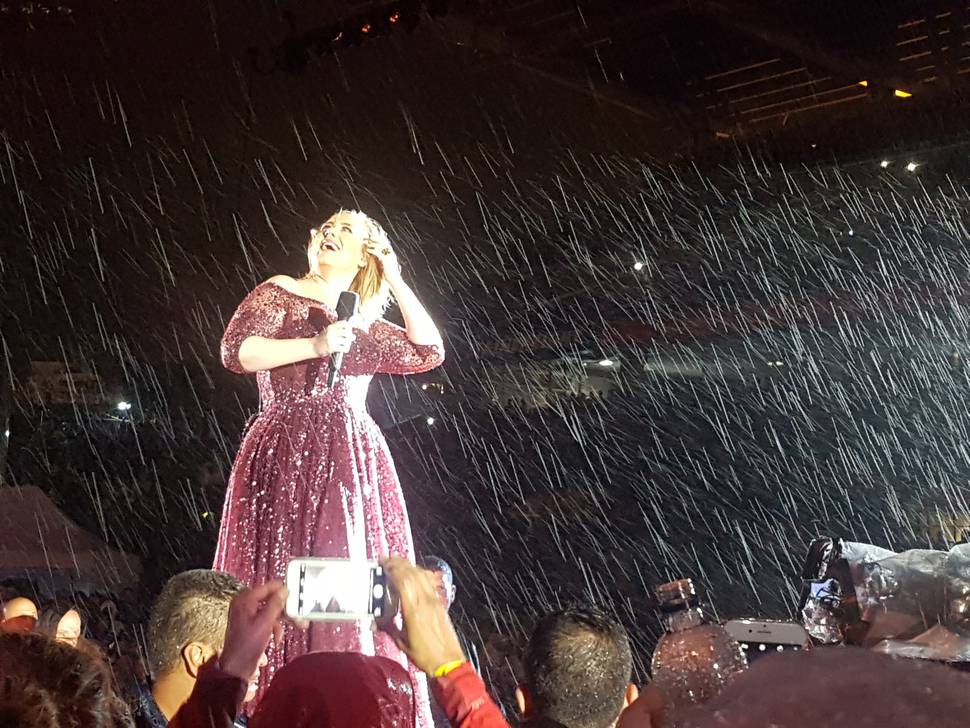 "I just spent two hours in hair and makeup for nothing," she laughed, flicking damp hair off her face in a way that made her even more damned lovable than she already is. "You poor things," she said. "It's really raining isn't it?"
Twitter / @DaydreamerTMZJ / @ellieaitken23
Last night's weather gods had a lot of fun at Adele's last show, soaking punters to the bone and creating giant puddles around the stadium with a constant stream of rain that affected monitors and audio equipment on stage.
If you bought hot chips, sorry, but they were always going to get wet too.
It affected Adele too, with helpers squigeeing her path when she ventured out onto the circular walkway. She joked about it during her constant between-song banter, suggesting at one point the rain was making glue from her eyelashes leak into her eye.
Mid-show she gave in, requesting a spare poncho from a front row fan. It was pink, and she wore it, hilariously, for several songs.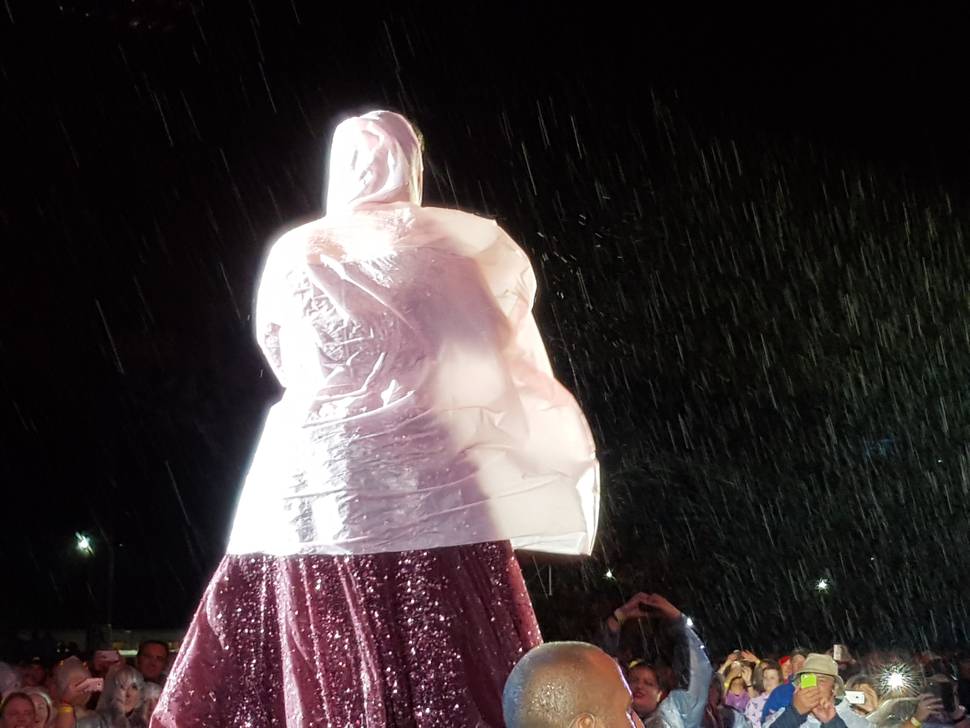 She also expressed concern about the weather affecting her stage setup. "Who wants to make a bet with me I'll fall over at some stage? Or get electrocuted by my microphone?"
That last bit may not have been a joke: if you were trying to get struck by lightning, surely you'd build the exact structure Adele had whipped up in the middle of the stadium, an alien-esque tower covered in wires and speaker stacks?
You could complain about the weather. You could use it as a Flight of the Conchords- esque excuse for any tears Adele's emosh-filled ballads were causing. I'm not crying - it's just raining on my face.
But there was another option: just get into it.
Many did just that, throwing caution to the weather gods and shaking their soggy behinds to songs like Rumour Has It and Send My Love (To Your New Lover) while getting tar feathered by the confetti cannons Adele loves to use.
There was one thing that the weather couldn't ruin, and that's Adele's voice. It's a towering powerhouse that impressively, perhaps miraculously, is even better live than on record.
When she belted through Someone Like You at the end of the show, she did it casually, like she was singing to herself in the shower. The only sign of end-of-tour fatigue were the occasionally tears when she thanked the crowd.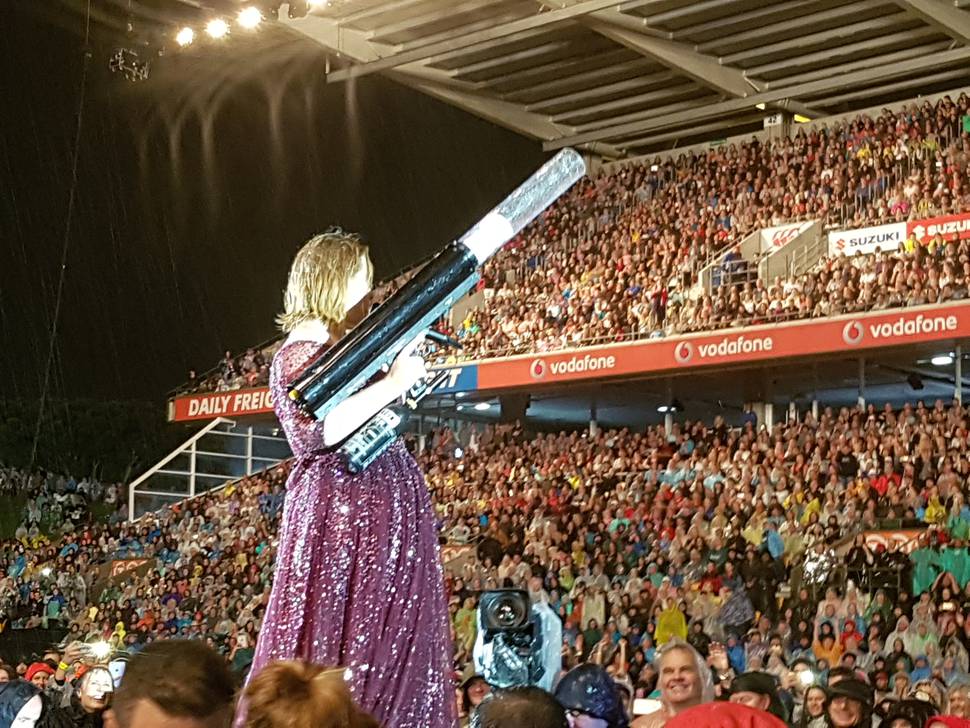 Yes, your night was probably better if you were relaxing up in one of the stadium's stands with full cover, out of the rain and wind whipping through the stadium.
But when Adele, who got as drenched as anyone else, told the crowd that this was the only show on her 119-date world tour that it had rained at, one thing became clear.
We'd witnessed an Adele show unlike any other. Soggy socks and all, you can't complain about that.
Who: Adele
Where: Mt Smart Stadium, Auckland
When: Sunday, March 26