It wasn't billed as a magic show, but Twenty One Pilots played plenty of tricks on their New Zealand fans during a manic show last night.
The best came during the outro to Hometown as the Grammy-winning duo's front man Tyler Joseph collapsed under a black sheet behind his piano - only to reappear seconds later high up in the stands, whipping off his ski mask and saluting the sold out Vector Arena crowd.
It led to gasps wafting across the stadium, which, with many copying the Ohio's group's love of red beanies and ski masks pulled tight over their heads, resembled a really easy version of one of those Where's Wally? books.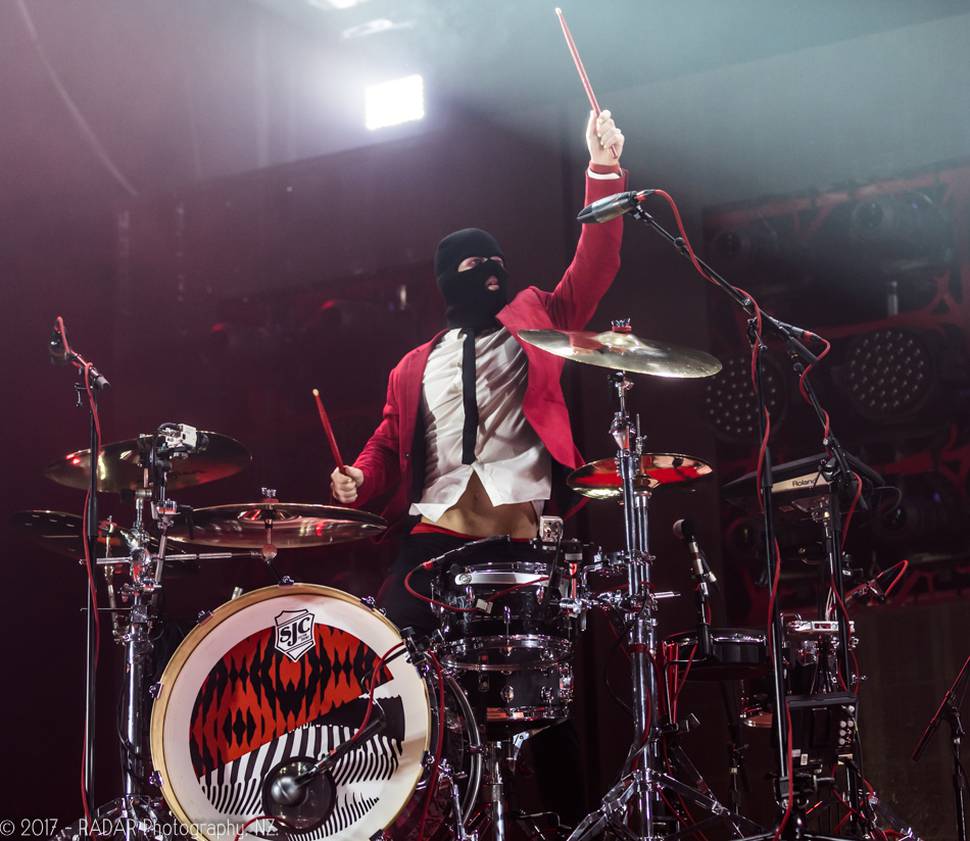 But they shouldn't have been surprised: Twenty One Pilots have pulled similar feats of magic with their music over the last five years, their bonkers mix of Coldplay hooks and synth-pop melodies underscored by a punk-rock aesthetic taking them from smalltown scrappers to stadium-bothering superstars.
On paper, all those sound clashes should be a disaster. But live, it makes complete sense.
Imagine a party hosted by Deadpool featuring performances by Ed Sheeran, Eminem and Blink 182, and you come close to describing the atmosphere at Vector last night.
Powered by drummer Josh Dun, it was a show that got away with mixing the reggae ska-pop of Lane Boy with an outrageously intense cover of My Chemical Romance's Cancer, of warming up the crowd for Ride's gorgeous chorus with a ropy version of House of Pain's Jump Around, or of turning a story about a stolen car stereo into an anthem for the ages.
It was also a show that thinks nothing of having band members' heads floating through space on big screens while shooting lasers at the crowd from their eyes, or of Dun having a drum battle against his evil video twin before jumping onto a portable drum kit and crowd surfing over the front rows to finish the electric end to Ride.
It was a show with plenty of theatrics that seemed to be straight from the MTV Video Music Awards playbook: a mid-set medley delivered from a smaller stage in the middle of the stadium, Joseph running across a sea of hands in a zorb ball, exterminators in gas masks fumigating the stage during Lane Boy as well as regular use of explosions, stream spirals and confetti cannons.
When, some time after the duo had turned Elvis Presley's Can't Help Falling in Love into a stadium singalong, Joseph apologised, declaring, "I know our show's been a little weird so far," he needn't have bothered. It's obvious how much Twenty One Pilots enjoy confounding their fans with their complete disregard for boundaries.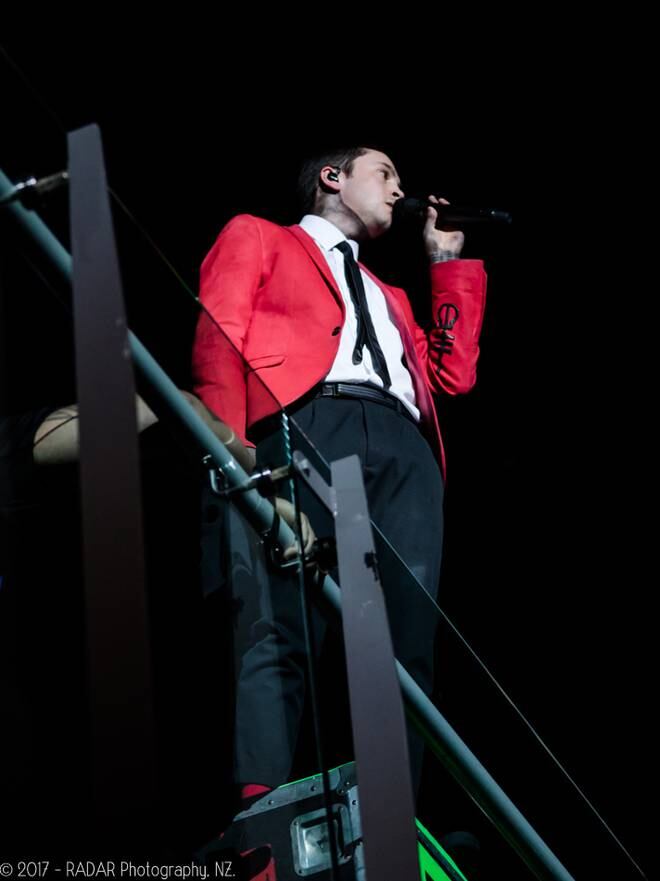 That they do it knowing there are plenty of kids in the crowd should be applauded. Many parents seemed to be treating their young 'uns to their very first show, and with an early start time and lack of swearing it was a mostly PG affair - apart from the odd exploding head on the big screen behind them.
But Twenty One Pilots also knew they were up against another artist playing across town, one with even more pulling power than they have.
"Let's see if they can hear us all the way to the Adele concert," declared Joseph as they launched into the "yeah yeah yeah" chrous of We Don't Believe What's on TV.
You know what? They almost succeeded.
Who: Twenty One Pilots
Where: Vector Arena, Auckland
When: Saturday, March 25