Fans of Gary of the Pacific can now bid on unusual memorabilia - the Italian hovercraft used in the final sequence of the movie.
But there's a catch; it's not exactly reliable.
The producers put the hovercraft on TradeMe with a $1 reserve, declaring it was "in need of a tune up".
"It works. But it doesn't work well currently."
"It would take a mechanically inclined person to get it back up and running.
"As is, where is, basically."
To sweeten the deal they're including two tickets to Gary of the Pacific, and donating 10 per cent of the auction's proceeds to the Fred Hollows Foundation.
Jarrod Holt from production company thedownlowconcept, admits it's an unusual piece of memorabilia to auction, but he said it was the best out of the available options.
"We also had a dead dolphin, and a pair of Spanx that Josh had worn.
"But the dolphin was considered too tasteless, and the Spanx are kind of sealed in a plastic bag that we're too afraid to open.
"We were going to auction them off for charity and put them in like a framed glass thing like an All Blacks jersey.
"But the stink would really get through that thin glass barrier quite easily, so we thought that if we put up something on TradeMe it should be the less stinky option."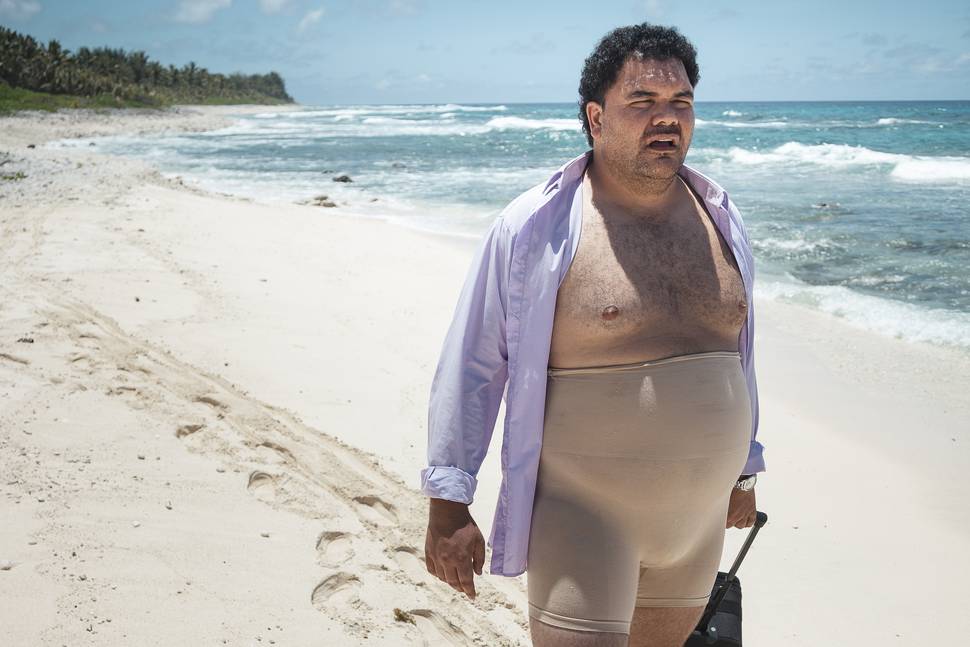 The warning about mechanical issues doesn't seem to have put off bidders.
It's shot well past the $1 reserve, and is now sitting at $1750.
Holt laughs as he admits they never expected that response.
"It was one of those things, don't work with children, animals, or hovercrafts.
"It was a very temperamental beast under the sticky hot conditions in Rarotonga.
"Our lead, Josh Thomson, was actually adrift in the ocean. We thought he was just acting for a long time, but he was actually drifting towards the coral reef.
"We put a dollar reserve, and we sort of thought a mechanic would go 'yeah I've got $20, and I can fix it'.
"But for a mechanically inclined person who wants to burn it around a lake, it would be an absolute ripper."
As the bidding climbs higher, so does the amount that the Fred Hollows Foundation will receive.
Holt said they picked that charity to receive 10 per cent, because they do so much good work in the Pacific Islands.
"You do see a lot of charity organisations working up there, but I guess with Fred Hollows we were always blown away by how every dollar is spent improving eyesight for people in impoverished countries.
"It felt like, with the film being Gary of the Pacific, it felt like a really nice partnership in a way."
The group made their own commercial for the hovercraft, to further show off the machine.
Gary of the Pacific is in cinemas now.