After a tough few days since footage of her diva tantrum was leaked online, Amber Sherlock was back reporting the weather on Sunday - but her return was not without its own issues.
Following footage which went viral last week, which showed her berating co-presenter Julie Snook for wearing the same colour in a Channel Nine broadcast, Sherlock seemed to hide her nerves as she presented the 6pm news in a red dress - as her colleague donned a blue outfit.
READ MORE:
• McCaw 'choked up' during wedding
• KJ Apa's mega January in the States
The embattled newsreader got some support from her anchor as Knight gave her a wide smile and a positive hand gesture after Sherlock's first segment, the Daily Mail reports.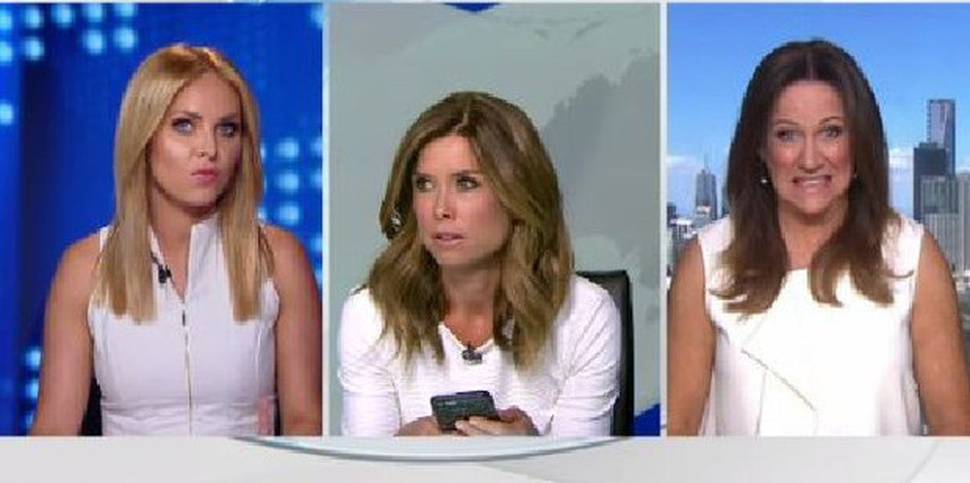 Knight's casual parting of her hands seemed to indicate that Sherlock had done a good job, perhaps after being nervous on her return to camera.
However, in a longer second segment, the broadcast had a brief technical issue where the sound cut out for a few seconds, and a microphone interference sound was heard for an instant.
Viewers, many of whom called for Sherlock to be sacked for her outburst, did not fail to notice the two newsreaders' obvious avoidance of white clothes.
"From all white to power red @ambersherlock moves on from her fifty shades of wrong moment," one viewer wrote.
"@AmberSherlock a vision In red tonight. She might as well wear it - she was sure seeing it the other day," another said.
Nine sport presenter Erin Molan who tweeted advertising the Sunday night broadcast, to which a viewer replied joking: "I hope no one wears white!"
Another viewer noted that Sherlock looked angry at the maximum temperatures on the weather forecast, as they were on a red background like her dress.
"Amber Sherlock is angry again! This time it's with Tuesday, Wednesday and Thursday both wearing red. #whitejacketgate", they wrote.
In the leaked footage, Sherlock, 45, was captured lashing out at Snook, 29, for apparently ignoring her earlier request to change her outfit.
She insisted she put on a jacket to look different from her and psychologist Sandy Rea, a guest panellist, who also wore white. After a heated exchange, Snook finally gave into Sherlock's demands and went live with a black jacket over her white dress.
"Live TV can be a pretty stressful beast, at times," Sherlock said in a statement the same day the footage leaked.
"And as anyone knows, it's never much fun rocking up to work or to a party in the same outfit as one of your colleagues or friends," she continued.
"I probably overreacted with the pressure of presenting a live news bulletin. Thank goodness we had psychologist Sandy Rae around afterwards!" she said.
Her on-camera nemesis Snook offered her own comment on "Jacketgate".