Carrue Fisher's family have reportedly made a plea to try and track down the two people who tried to save her life on a flight from London to Los Angeles.
TMZ reports that the family of the Star Wars actress want to thank the two off-duty emergency workers who came to Fisher's aid after flight attendants asked for volunteers on the PA.
The site reports that one nurse "worked like crazy" to keep Fisher alive despite not being able to get a pulse for 10 minutes.
They family believes had it not been for the two volunteers they wouldn't have had those extra days to say goodbye.
It is believed they are working with United Airlines to track down the passengers.
It came as Fisher's half-sisters, Joely Fisher and Tricia Fisher, paid an emotional tribute to their "hero".
Joely and Tricia are the children of Carrie's father, Eddie Fisher and his third wife, Connie Stevens.
"I knew that if Carrie wasn't going to survive this, that Debbie would not. You knew it," said Joely. "You could see it in her face. She would not last without [Carrie] on the planet."
She said Reynolds made a heartbreaking plea to her daughter to wake up.
"She kept saying that she wanted more time," said Joely.
Tricia Fisher said she arrived at the hospital to find Fisher's daughter, Billie, "handling everything."
"Carrie knew that Billie was the most amazing accomplishment of her life," Tricia said. "(Carrie) spoke her mind and spoke her truth in, in this just bold way that, made everyone feel a little bit more comfortable about their own flaws and, felt even more interesting for having flaws," said Tricia, who described Carrie as the "coolest big sister in the world."
Joely said she joked with her former drug addict sister about all the medication that was helping to keep her alive and pain free.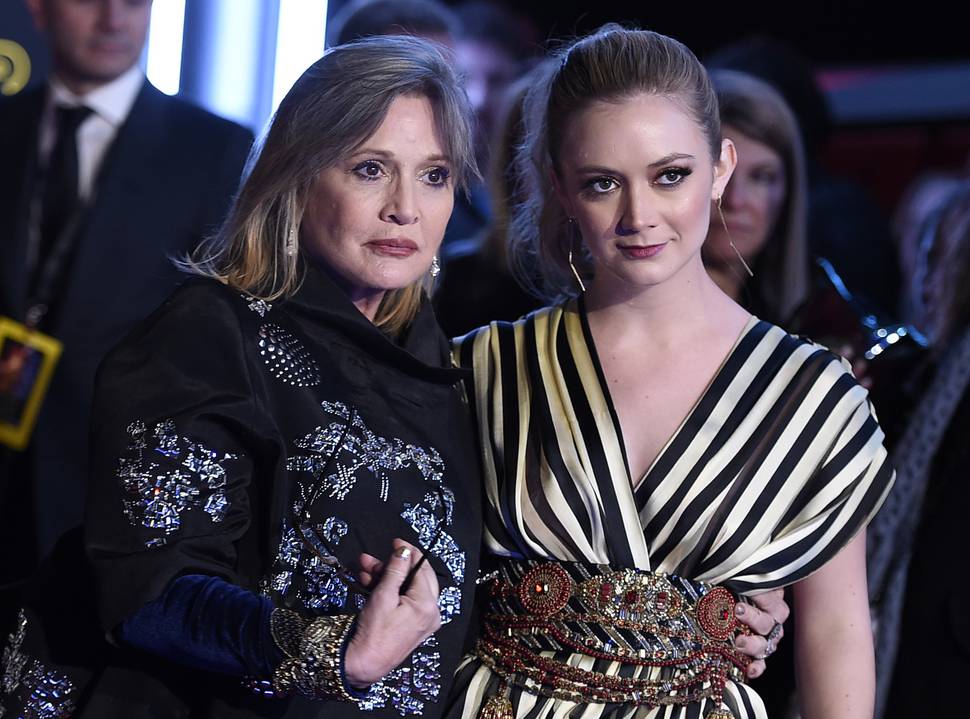 "I told her she would love how high she was right now," she said.
Joely earlier shared her last messages with her sister.
"During our transcontinental chat before Carrie's fateful flight from London to LA, we promised we'd spend Christmas together," she wrote in the Hollywood Reporter. "It's a promise we kept, although not in a way either of us had anticipated. Throughout the holiday, I sat by her side in a hospital room filled with a cacophony of sounds made by the machines keeping her barely alive."
Read more:
• Gosling on Reynolds: 'a truly unparalleled talent'
• Mariah believes there was 'foul play'
"Debbie, of course, was there as well. She told me that she'd been praying for my time. More time for Carrie, for herself and for Connie (Stevens). I knew if those prayers weren't answered, Debbie might very well join her daughter," Joely Fisher wrote. "You all lost Princess Leia and Carrie Fisher; I lost my hero, my mentor, my mirror. My brother Todd has lost his sister and his mother, whom he has said will lay to rest together."
"There is no universe where these ladies are not due their appropriate pedestals, and both will be memorialised in separate ceremonies in coming weeks. My sister Tricia Leigh and I vow to be whatever our niece Billie needs us to be. We will pick up the sabre, use the force ... whatever."
Fisher's 24-year-old daughter, Billie, broke her silence and thanked everyone for giving her strength to get through this difficult time.
"Receiving all of your prayers and kind words over the past week has given me strength during a time I thought strength could not exist. There are no words to express how much I will miss my Abadaba and my one and only Momby. Your love and support means the world to me," she wrote.