Aussie actress Teresa Palmer has revealed how she bluffed her way into starring in Mel Gibson's latest movie, Hacksaw Ridge.
The 30-year-old actress told KIIS FM's Kyle and Jackie O that she filmed her audition for the movie on an iPhone but didn't hear anything back.
"And then I got this random call one day saying, 'Mel Gibson's on Skype and he's been waiting for you for 40 minutes'," Palmer said.
"I had no idea I was supposed to Skype with him. I guess those emails went awry."
Palmer told the radio hosts she rushed to log onto Skype but three of her devices failed her due to low battery.
"It was the most disastrous Skype meeting ever!" she said.
Extremely late and little bit flustered, Palmer eventually got onto Gibson who then asked her "a lot about the character" she was in the running to play.
"I hadn't actually read the script," Palmer confessed to Kyle and Jackie O, "I just had to wing it".
"I literally was like, 'She's layered and complex and vulnerable'. I just pulled all these words out and he was like, 'You're right! She is!' I could not believe I got that movie."
Hacksaw Ridge, which also stars Andrew Garfield, Vince Vaughn and Sam Worthington, will be released in Australia on November 3.
Palmer's not the only star who has bluffed her way into a movie though.
Here are some other actors who relied on their gift of gab to land big roles:
George Lazenby
When he was 22 years old, Lazenby watched a James Bond movie and decided he wanted to play the iconic character on the big screen.
There was just one problem, he wasn't an actor.
But so determined was Lazenby that when Sean Connery quit playing 007 in 1968, he rushed to the producer's (Harry Saltzman) office and scammed his way inside.
"All I had to do was get past this feisty female at the front desk," Lazenby said.
"I waited outside the door and as soon as she bent down behind the desk I just bolted past her and up the stairs."
The Aussie introduced himself to the producer and told him that he was desperate to play James Bond.
"Harry says, 'Where have you acted because we've never heard of you?' I said, 'Well I was acting in Germany and Russia, Czechoslovakia, I did a film in Hong Kong' ... Every place I thought they couldn't check on."
The producer was impressed and invited Lazenby to meet the director for the upcoming Bond movie, On Her Majesty's Secret Service, the following day.
"The director was cheesed off, I could tell," Lazenby said.
"He's looking at me and he said, 'OK, tell me what you've done'. I don't know what made me do this but I said, 'Peter, I've never acted before.'
"He was stunned and then he started laughing. I said why are you laughing? He said, 'well you tell me you can't act? You fooled two of the most ruthless guys I've ever met in my life. You're an actor!'"
Lazenby landed the role and was nominated for a Golden Globe for his work in the film, but he only played James Bond once.
Simon Helberg
He's famous for playing Howard Wolowitz on The Big Bang Theory but Helberg happily admits that he had to bluff his way into appearing in Florence Foster Jenkins.
The sitcom star was desperate to play the role of concert pianist Cosmé McMoon but there was a slight problem, he wasn't a great pianist.
"I really wanted to meet Meryl Streep and maybe even be in a movie with her, so I just sort of bluffed and said I could play anything that was put in front of me," Helberg confessed to The Washington Post.
In a frank chat with the director, Helberg said: "You could easily find a better piano player who could maybe do a little bit of acting, but you won't find an actor who's a better piano player and more right for this part than me."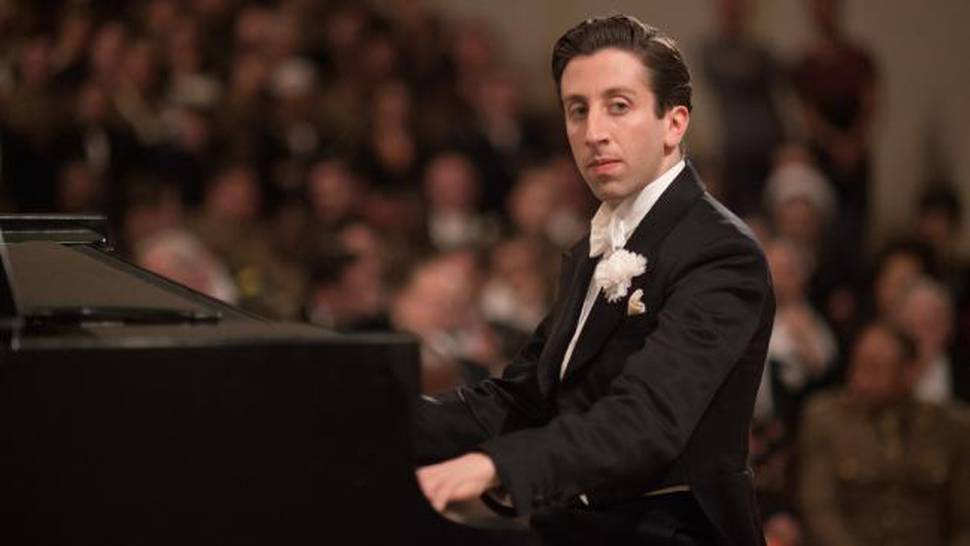 Anne Hathaway
The actress was fairly certain that she'd nailed her audition to play Lureen Newsome Twist in Brokeback Mountain, but she told Out magazine that a last minute question from director Ang Lee threw her.
"When I left the audition, the last thing Ang said was, 'Oh, by the way, can you ride a horse?' My parents have given me a lot of gifts in my life, and one of them is: If you're ever asked if you can do anything, say yes. You can learn anything in two weeks if you're motivated enough.
"So I'd never been on a horse, and I replied, 'Oh yeah, I'm a really good rider'. So I knew I had to learn to ride, and I got really, really, really good."
More from Spy:
• Spider-Man star splits from wife
• Five rules for celebrities weathering a scandal
Hathaway's bluff came back to bite her on the bum though during rehearsals.
"I was given a horse on set without being told it was a verbal command horse, so I couldn't figure out how to make it ride," she told Out.
"And I went to a rehearsal in front of 300 extras, all of whom work in rodeos, and the horse wouldn't do a damn thing I wanted it to. And at the end it threw me - in front of everyone."