Chris Evans has sensationally announced he is quitting Top Gear just hours after police revealed he will be investigated over allegations he sexually assaulted a woman in the 1990s.
The presenter, 50, revealed on Twitter that he would not be returning to the revamped motoring programme, after the series ended with a record low audience as fewer than two million people tuned in.
He wrote: "Stepping down from Top Gear. Gave it my best shot but sometimes that's not enough. The team are beyond brilliant, I wish them all the best."
Evans added: "Full steam ahead then with Radio 2, CarFest, Children In Need, 500 Words and whatever else we can dream up in the future."
The shock announcement that Evans is to quit the show after just one series came just hours after the Metropolitan Police confirmed in a statement that a woman had made an allegation of "non-recent sexual assault, said to have taken place in the Tower Hamlets area of London in the 1990s."
In a statement, he added: "I have never worked with a more committed and driven team than the team I have worked with over the last 12 months. I feel like my standing aside is the single best thing I can now do to help the cause.
"I remain a huge fan of the show, always have been, always will be. I will continue to focus on my radio show and the allied events that it encompasses."
Mark Linsey, director of BBC Studios, said: "Chris is stepping down from his duties on Top Gear. He says he gave it his best shot doing everything he could to make the show a success.
"He firmly believes that the right people remain, on both the production team and presenting team, to take the show forward and make it the hit we want it to be."
It has previously been reported that Evans is to be questioned by police over sexual assault claims in the next few days after a former colleague complained about him.
"An allegation of non-recent sexual assault was made to police on May 23," a police spokesman told MailOnline.
"The allegation was made by a woman against a man, and relates to incidents in Tower Hamlets in the 1990s.
"There have been no arrests and no person has been interviewed under caution."
Between 1992 and 1994, Evans hosted Channel 4 morning show The Big Breakfast, which was broadcast at a house in Bow - located within Tower Hamlets.
Sources told The Sun that the Radio 2 presenter will be spoken to "in the near future" by officers investigating the complaint made by a former colleague.
The claims come just two months after he was accused of grabbing a colleague's breasts and "flashing her almost every day for two years".
The woman said she worked with Evans in the 1990s and she was "bullied" by him after rejecting his advances, with her complaints falling on deaf ears.
But Evans has hit out at what he has called a 'witch hunt' around him that has had a "devastating" effect on his family.
Speaking anonymously in May, the woman said she was "sent to Coventry" after spurning the Radio 2 DJ's advances and that he "told colleagues not to talk to her".
The former colleague said she was speaking out to prevent others becoming victims of his "bullying behaviour".
She said she sought legal advice over her claims several years ago, particularly around the "flashing", which she said was a tactic to "punish those who didn't do what he wanted".
Several of the presenter's former colleagues took to social media also accusing him of bullying.
But the star himself has called the allegations 'ridiculous' and has denied ever being a bully.
In May, speaking ahead of the Top Gear relaunch, he told the Daily Mail: "Yes, I lose my rag. But not like I used to. I used to be a big shouter and screamer. But I don't bully people. And I didn't get my willy out. I wouldn't be showing it off like a megalomaniac - I wish I had reason to."
Mark Linsey, Director of BBC Studios and Bob Shennan, Controller of Radio 2, have also denied claims that Evans had a "volatile" working behaviour.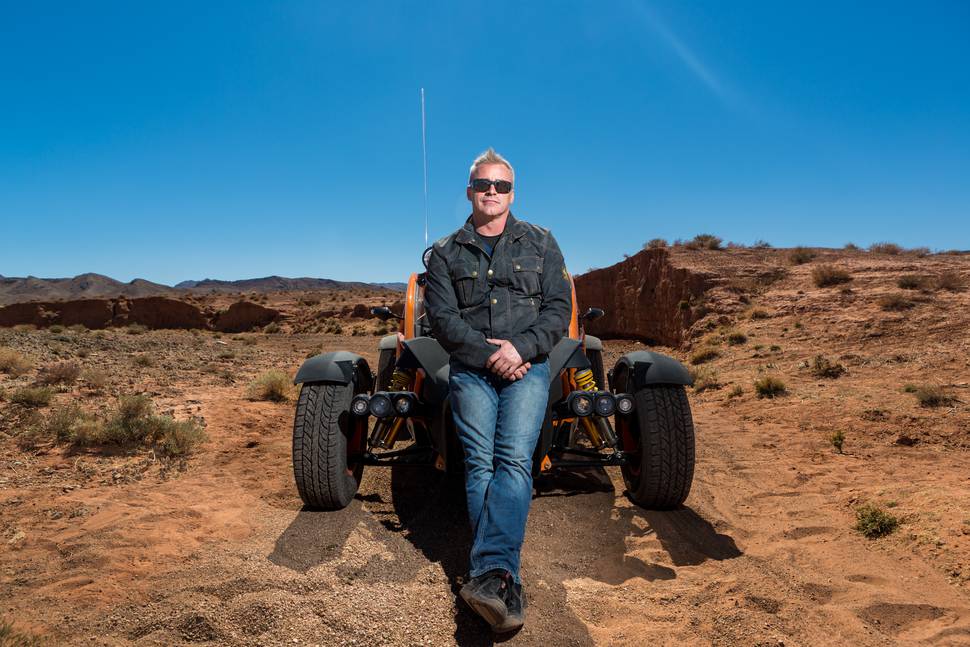 The motoring show has struggled to attract viewers since Evans took the wheel, and yesterday's Top Gear finale attracted fewer viewers than any Jeremy Clarkson episode.
The screening, which featured Hollywood actor Patrick Dempsey, drew an average of 1.9million people and an 8.7 per cent share of the available viewing audience.
The BBC declined to comment on the audience figures as the show, presented by Evans and Matt LeBlanc, lost out to ITV's coverage of Euro 2016.
The commercial channel's broadcast of France's 5-2 victory over Iceland averaged 6.6million viewers and a 31.4 per cent share, according to audience measurement organisation, BARB.
A friend of Evans told the Daily Telegraph that Evans decided to leave the programme because of the "battering" he had faced.
"Every single day he's been accused of something else. In the end you just think 'f*** off'.
"If the show had done better in the ratings, perhaps the battering would have been less fierce. Who knows."
Daily Mail TV critic Christopher Stevens gave the show a one-star rating.
He said: It's becoming obvious that many licence-payers want to see Evans kicked off the show. They find everything about the man irritating - his mouldy grey beard, his 110db whinging, even the way his jeans don't quite reach his boots.
"Evans, LeBlanc and their innumerable sidekicks tackled childish challenges, tested earsplitting supercars, and raced across glorious landscapes - but they did it all so fervently.
"The old Top Gear, with its eternal schoolboys running amuck, was a spree. Even when they were driving to the North Pole, or provoking a second Anglo-Argentine conflict, it was just an outrageous lark. Under new management, Top Gear has become so pompous that it disappeared up its own exhaust pipe."
Over the last six weeks, Top Gear has struggled to make an impact in the overnights - the figures for the previous day's viewing.
It launched over a Bank Holiday weekend with 4.4million viewers on May 29, but plummeted to 2.8 million in the second outing.
Top Gear averaged 2.4million viewers for the third and 2.3million for its fourth installment.
Last week's episode, which featured guests Jennifer Saunders and Paul Hollywood, rose for the first time since the new series began.
It drew an average of 2.7million people, with a peak of three million viewers tuning in at one point.
But even before the new version of the programme aired it was dogged by controversy, and rumours that Evans and Le Blanc did not get along.
The pair reportedly fell out over the actor's "disrespectful" donut stunt at the Cenotaph, with Evans seeking to downplay his role in the filming of the sequences, in which his fellow presenter and a stunt driver filled Whitehall with smoke and burning rubber by wheel-spinning in the shadow of Britain's main war memorials.
The BBC later admitted it knew of plans to film the controversial scenes in central London for six months, after seeking council and police permission to use the streets for filming.
There was an uproar after photos showed large tyre circles left on the streets surrounding The Cenotaph after filming had been completed, with Evans branding the incident "disrespectful" and saying the footage would not be aired.
He apologised on his BBC Radio 2 show and said he "completely understood the furore" and that "retrospectively, it was unwise to be anywhere near The Cenotaph".
He continued: "It doesn't matter what actually happened, it doesn't matter what the circumstances were that could explain this away. What is important about this is what these images look like, and they look entirely disrespectful, which is not and would never be the intention of the Top Gear team or Matt."
Evans and LeBlanc were also forced to deny claims that they were at loggerheads during filming.
LeBlanc, 48, tweeted in March: "I'm at war with @achrisevans? That's funny, I thought we were pals."
On working with the Friends star, Evans had said: "The overriding thing that hit me first was how much he's prepared to work to make the job a good job. He never looks at his watch or says 'Can we go?'."
It is not known who will replace Evans at the head of the show, although there has already been speculation about the likely line-up for second series of the new incarnation of the programme.
Le Blanc and the rest of the team, racing driver Sabine Schmitz, YouTube star Chris Harris, Formula 1 pundit Eddie Jordan and motoring journalist Rory Reid understood to be staying with the show, with the highly-regarded Reid and Harris in line for a more prominent role.
Last week, rumours swirled that Le Blanc was planning on quitting the programme unless Evans left the show, and the veteran host was said to have become jealous of praise heaped on newcomers Harris and Reid - whose screen-time was boosted after positive feedback from viewers.
On Thursday, reports claimed that Evans may be in hot water as Kate Phillips, the BBC's incoming entertainment head, had allegedly summoned him for emergency talks over his bad behaviour.
Meetings were said to have been scheduled for later this month, after the broadcaster had analysed worldwide viewing ratings.
Perry McCarthy, who portrayed Top Gear's The Stig in the first two series of the BBC Two show, has said he expected Chris Evans to quit after constant criticism.
"It's sad for Chris," he told BBC News. "But personally I was actually expecting such an announcement."
The former racing driver added: "I wasn't expecting it this quickly, but I did think Chris would step down from it."
When asked why he believed Evans would leave Top Gear, McCarthy pointed to the mixed reaction directed at the BBC Radio 2 DJ.
He said: "Chris is an enormously popular radio presenter and TV show host etc, but he hasn't quite gelled with this show and he's not really gelling with the viewers.
"It must be a little bit painful for him to receive this reaction from everybody. I don't think he'd want to continue. I probably wouldn't want to continue if I was getting constant criticism either."
Overall, the show has failed to reach the viewing figures of the last series with Jeremy Clarkson, Richard Hammond and James May at the helm.
The popular former Top Gear trio bowed out with 5.8million viewers.
The new presenting team joined after the old team left following a fracas between lead presenter Clarkson and a producer over hot food.
Clarkson, Hammond and May will debut their new motoring show The Grand Tour for Amazon Prime in the autumn.