Hit motoring show Top Gear is finally roaring back into life. Des Sampson talks to the men in the drivers' seats.
Bombing around Dunsfold Aerodrome in a souped-up muscle car, for the re-launch of Top Gear, is a rocket-fuelled rush of pure adrenalin.
But when you're riding shotgun with The Stig, on a zig-zagging, kamikaze dash at dizzying speeds, it's also a stomach-wrenching experience. Especially straight after breakfast.
Still, it's an exhilarating introduction to the new Top Gear circuit, one which now features a mixed track of gravel beds, water hazards and limestone rubble alongside the old runway tarmac.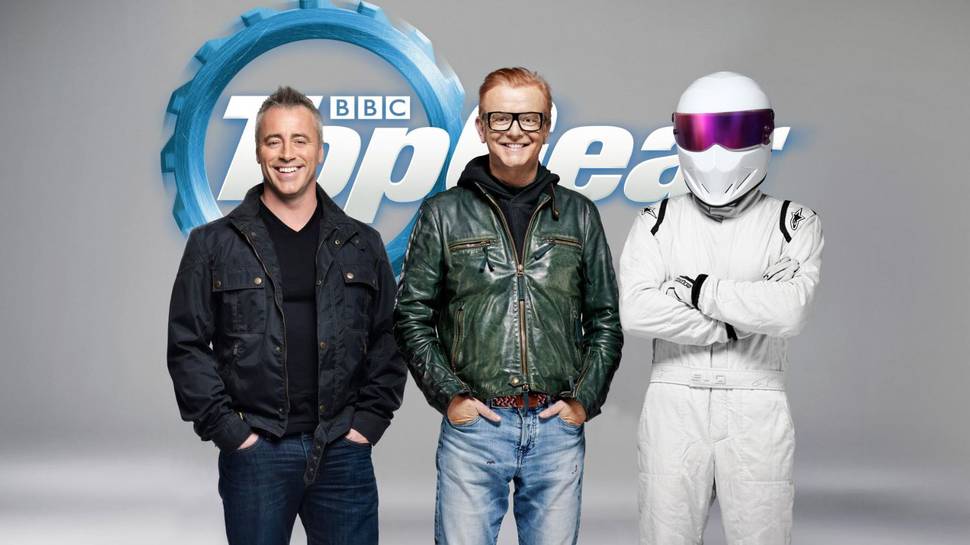 It's just one of many changes to Top Gear, as it returns for its 23rd season, following the sacking of former presenter Jeremy Clarkson for assaulting one of the show's producers, and the subsequent departure of his sidekicks, James May and Richard Hammond.
In their place there's a new crew, spearheaded by former Friends star Matt LeBlanc and British radio and TV personality Chris Evans.
"I think cars are in my genes," says LeBlanc, explaining his detour from acting to presenting. "My dad was a mechanic and did a bit of motorcycle racing, when he was younger, in Australia. He also did a bit of car racing - low-level stuff, so I think that's why I've always been drawn to cars, motorcycles and anything with an engine in it - even lawnmowers.
"I've been into cars for as long as I can remember and was one of those kids who couldn't wait to get his driver's licence - I got my learner's permit the day I turned 16," he recalls, smiling.
"I've always taken things apart and then put them back together again - even when there was nothing wrong with them - just to see how they work."
LeBlanc is no stranger to Top Gear, having twice appeared on the show. On both occasions, he set a lap record as "the star in a reasonably priced car", racing around the track in a Kia Cee'd faster than any other celebrity before him.
"I wouldn't say I was super-competitive - I don't have that killer instinct - but I do love driving fast."
Unlike LeBlanc, Chris Evans' appointment wasn't unexpected. That's because he's a car fanatic with a collection of more than 20 classic cars, including Daimlers, Ferraris, Jaguars and Mercedes. He even owned, until recently, a replica of the car from Chitty Chitty Bang Bang.
"People know I'm really passionate about cars - I genuinely love them. But what's really odd - and a little spooky - is that I used to live just two miles from where Top Gear is filmed and my mum lives just a mile away from it.
Even weirder, I was driving past Dunsfold the exact moment the newsflash came on the radio, saying Jeremy Clarkson had been sacked. Just thinking about it now gives me goosebumps.
"I remember thinking: 'I wonder who they'll get to replace him?' Then I started to fantasise that it could be me," Evans adds, animatedly. "So, when I got the call from the BBC, asking me if I wanted to present Top Gear, it felt like all my stars had aligned.
"This is the biggest gig I've had, by miles. It'll be seen in 83 countries in six continents within three days of it airing in the UK, so it's a big challenge and a big responsibility.
"We're not going to go mad and dramatically change the programme though. We're going to tart it up a bit and make it an exciting mix of cars, energy, hope and dreams, with the cars the focus, obviously. ... But we'll also throw in a few curveballs."
One of those curveballs is roping in Eddie Jordan, the veteran Formula 1 founder of Jordan Grand Prix for punditry, along with German race driver Sabine Schmitz - who famously rolled a Ford Transit while racing Jeremy Clarkson around the Top Gear track.
Schmitz: "It was such a great feeling beating Jeremy Clarkson when I raced him in a Jaguar and I think I could have beaten him in the Transit van, if I hadn't messed up and lost control. I'm sure we'll beat Jeremy again, in the ratings."
The two other newcomers to the show are motor journalist and YouTube guru Chris Harris, along with TV and YouTube presenter Rory Reid, who won a competition to find the show's final presenter, with his 30-second video clip clinching him a place in the team.
"It was surreal getting a call from Chris Evans, saying he loved my clip and wanted to meet me. Then when he called me again and offered me the job, I was blown away," says Reid.
"It's a dream come true, because I've been a Top Gear fan for years."
Reid will be channelling that eagerness into Top Gear's new technology-oriented spin-off show Extra Gear.
"It's still going to be entertainment-based though, because that's what people expect from Top Gear," Reid clarifies. "After all, we're boys with toys - that's what we love - so that's the type of programme we're going to make."
Judging by the first episode of Top Gear, it's exactly what they've done. It features Evans in a Dodge Viper ACR and Schmitz in a Corvette VO6 chasing each other, at breakneck speed, around the runway at the Top Gun fighter pilot school, in Nevada, in cars fitted with laser cannons.
Elsewhere, LeBlanc gets to toy with a trio of camera-toting paparazzi pursuing him, off-road, through the Moroccan desert in an Ariel Nomad. He also puts a Rolls-Royce Dawn though its paces.
"It's been fun so far, just ripping around in cars. Top Gear definitely services that adrenalin side of me more than acting does," he says, grinning.
"Test-driving a Rolls-Royce Dawn in Ireland, in the Ring of Kerry, on this twisting, mountain road was mad. The police had actually closed the road down for us, for the shoot, which meant there was no speed limit and we could go as fast as we wanted to. It was great."
One thing that doesn't seem to have changed about Top Gear though is the controversy that's dogged the show since Clarkson's bust-up and subsequent sacking, with LeBlanc getting into hot water about performing "donuts" around a London war memorial.
"There's a lot of controversy around Top Gear from before I even got here, but it seems to have continued, with the press making a mountain out of a molehill on that one. But we didn't do anything that wasn't agreed, allowed or accepted," says LeBlanc, shrugging off the incident near the Cenotaph.
"You can't always avoid controversy. Sometimes it just happens," says Evans. "There's nothing I've been told, by the BBC, that we cannot do. They haven't been breathing down my neck, at all. Everything I've asked to do, they've said 'yes, absolutely, go ahead, do it', 100 per cent."
If that's the case, expect some antics Downunder, with Evans promising a visit to both New Zealand and Australia in the future as part of their Top Gear tour of every continent.
"If you're a car-loving nation, like I hear New Zealand is, watch out because we're coming to you," he promises, grinning.
"I've never been to New Zealand, or Australia, for that matter, but everyone I've talked to from there is so hyped-up about the show that we've just got to come and experience that energy. We've got to do the Southern Hemisphere, we will be coming!"
You've been warned, so watch out because the Top Gear circus could be en route sooner - and faster - than planned.
Low down
What:
Top Gear starring Matt LeBlanc and Chris Evans
Where and when:
Prime TV, Sunday 7.30pm