Stamp that
The German postal service has released a collection of stamps honouring the late Lemmy Kilmister, former singer with the heavy-metal English rock band Motorhead.
There are a total of five different images of the iconic Motorhead leader in the book of 10 stamps, which will be available for sale for a month from today.
Sales of the Lemmy stamps will be limited to only 7777 books (in homage to the singer's "lucky seven"). However, you can purchase the stamps only in Germany.
Senior cop in trouble over boob-boo
A senior policewoman is under investigation amid claims she had an argument with a colleague about who had the most attractive breasts.
Assistant Chief Constable Rebekah Sutcliffe has been suspended by Greater Manchester Police after the reported late-night row in a hotel bar.
The 46-year-old is said to have got into a "loud disagreement" with Superintendent Sarah Jackson about who had the "best boobs" while attending the Senior Women in Policing conference.
It is unknown which of the two women started the row, but the Mail on Sunday reported a source claiming Ms Sutcliffe had allegedly been "comparing" breasts with Ms Jackson. (Source: The Telegraph.co.uk)
Not the best likeness of Miss Venezuela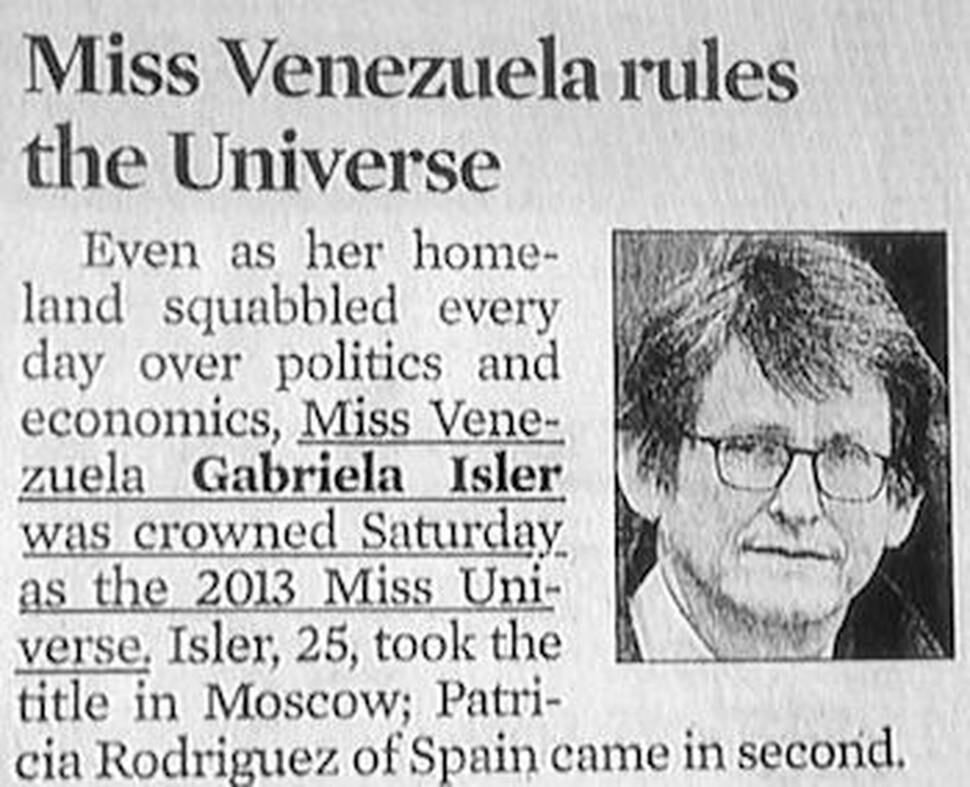 GPS faith ends in a swimming lesson
Police in Tobermory, Ontario, Canada pulled a red car from the harbour after a woman followed instructions from her GPS satellite navigation unit and drove down a boat launch ramp and into the water. Police said the woman was following her GPS "when she took a wrong turn into Little Tub Harbour" late on Thursday night.
It was raining, dark and foggy at the time. "Combining weather conditions and the driver being new to the area, a fully submerged vehicle was the result," police said. The 23-year-old Kitchener woman was able to roll down her car window, get out of the submerged car and swim about 30m to shore.
Bulldozer bash
As China's real-estate construction boom fades, tempers have flared. According to a local government officer in Hebei province, two officials from different companies - both angling for a contract - wildly duelled each other in their bulldozers in an incident captured on video. The losing driver was seen running from his toppled machine.
Local:
This must be the cheapest 2 bedroom
in Auckland!...
Lists: Best dad tweets...
Listen: Hilarious story by American writer David Sedaris about a subway ride he took in Paris. Two American tourists mistake him for a Frenchman and, thinking he can't speak English, start talking about him.
Video: Kid uses a silent, flying clown fish balloon to scare the bejesus out of his poor mother...
Herald app users tap here for today's video.
Got a Sideswipe? Send your pictures, links and anecdotes to Ana at ana.samways@nzherald.co.nz