After a year of headlines, the saga of Johnny Depp's dogs took less time to be resolved than one of the superstar's blockbuster movies.
Depp and his wife Amber Heard swept into the Southport Magistrates Court on the Gold Coast this morning as though it was a movie premiere, all camera flashes, microphones and cheering fans.
It wrapped up a few hours later, with Heard being issued with a one month good behaviour bond for failing to declare the couple's dogs on her arrival to Australia last year.
This morning, the pair featured in an educational video that was shown to a packed courtroom.
Lawyers for Heard said she had prepared the video in relation to the case.
Australia's 9NEWS said it was about immigration and biosecurity.
It showed Depp and Heard talking about their respect for Australia as a wonderful country, according to the Courier Mail.
In the video, Depp warns that when you disrespect Australian laws they will confront you directly, the Courier Mail said.
He says: "Declare everything when you enter Australia."
Depp also says Australia is a unique country and that Australians are unique too, warm and direct.
Meanwhile, Heard says in the video that Australia is a wonderful island that has to be protected.
It is less than a minute long.
The Courier Mail said it was recorded yesterday and that Depp, Heard and Australia's Department of Agriculture cooperated on the final script.
In contrast to the frenzy around him this morning, a relaxed Depp simply said "fine, thank you" when quizzed by reporters about how he was feeling on his way into the building.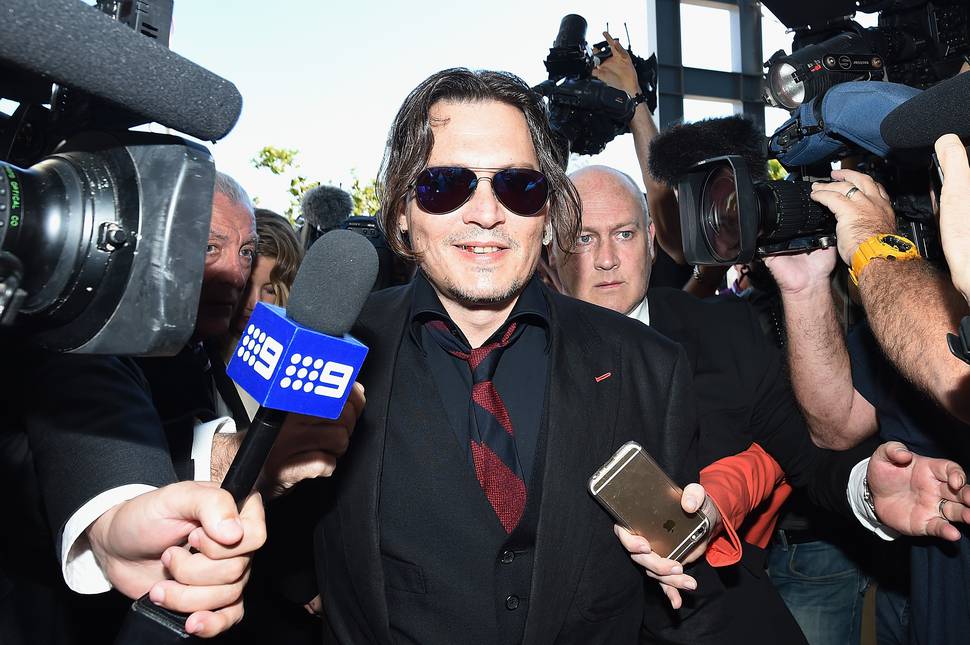 Heard, 29, was required for the first day of a scheduled four-day trial on three charges after she allegedly smuggled the couple's dogs into Australia on a private jet last year.
The Zombieland star faced one count of providing a false document and two counts of illegal importation for allegedly sneaking in Yorkshire terriers Boo and Pistol while Depp was filming the latest Pirates of the Caribbean movie on the Gold Coast.
The presence of the A-list canines was only discovered when their visit to a Gold Coast dog grooming salon was made public.
Fans hoping to spend four days alongside the famous pair during the trial were to be disappointed, however, with Heard's lawyers indicating a plea deal had been reached.
In a packed courtroom and with husband Depp by her side, Heard pleaded guilty to the false documents charge while the other two charges were dropped by the prosecution.
It was a tame end to a saga that went global when Agriculture Minister Barnaby Joyce said the dogs had better "bugger off" back to the US or he'd arrange to have them put down.
Heard's lawyer told the court that she was jet lagged and anxious about her husband's injured hand when she flew into Australia in April last year.
During submissions to Magistrate Bernadette Callaghan, Jeremy Kirk SC said his client usually left travel arrangements and documents to the couple's staff.
He said she believed everything had been taken care of in regards to the dogs when she arrived in the country and she honestly didn't need to declare the animals.
"My client never had any intention to conceal the fact the dogs were in Australia," Mr Kirk said.
"She has made a tired, terrible mistake," commonwealth prosecutor Peter Callaghan SC earlier told the court.
Mr Callaghan said regardless of Heard's state of mind, or arrangements, she was ultimately responsible for what was put on her arrival card.
Read more:
• Kiwis take over Coachella
• Paris Butter is coming

"The laws apply to everyone ... no one is entitled to put their legal entitlements to one side," he said.
The hearing was adjourned until 2.30pm (local time), when Magistrate Callaghan handed down her sentence - a one month good behaviour bond, including a $1000 recognisance.
She said it appeared to be an isolated incident and ordered that no conviction be recorded.
The Hollywood celebrities were left to cool their heels in an unassuming conference room at the court house while magistrate Bernadette Callaghan assessed the evidence.
A large media contingent swarmed them as they arrived at the court house at 8.50am this morning.
Depp was originally expected to be one of 12 witnesses called by Commonwealth prosecutors to give evidence.
- AAP