The last time Billy Crystal was in New Zealand, he did a little sheep mustering.
Yes he also went fly-fishing, took helicopters to glaciers and stayed in the sort of accommodation that can be afforded by folks who have had long and successful Hollywood careers.
But in his recent memoir Still Foolin' 'Em: Where I've Been, Where I'm Going, and Where the Hell Are My Keys?, Crystal makes special mention of rounding up a flock with a local shepherd and his dogs.
Of course, if you believe his movies, Crystal has experience at this sort of thing. Two cattle-driving City Slickers films have got to count for something, right? So, a merino-based City Slickers 3 perhaps?
"It would be a pretty beautiful place to shoot it in, that's for sure - City Slickers 3: The Lord of the Sheep!" he says on the line from the city of his birth, New York.
He and wife Janice have spent the past two weeks catching up on everything they can at Manhattan theatres.
"Broadway is pretty spectacular right now," he enthuses before rattling off a long list of plays he's seen.
Crystal has played there himself, of course. His one-man show, 700 Sundays, -- the title a reference to the number of Sundays he spent with his Dad on his one day off before he died when Crystal was 15 - played there in 2005, winning a Tony Award. It was revived in 2013 and filmed for a HBO special.
He took 700 Sundays to Australia too, heading across the Tasman for that holiday, complete with ovine recreational activities.
"It was my birthday and I spent it herding sheep with a young shepherd slash rapper who's brother was one of the Power Rangers," he chuckles. "It was fantastic working with the dogs. It was truly glorious and I just loved the whole spirit of the country."
Crystal is returning, not for more farmwork, but for his first New Zealand show.
Though as he told an Australian newspaper, he may be back again soon, should Donald Trump become president.
The American comedy perennial and nine-time Oscar host is bringing An Evening Of Sit Down with Billy Crystal. The show pairs him with Australian presenter Andrew Denton for an evening looking back at Crystal's life and career.
"We call it an evening of sit down but I am up and performing. It's like a concert with some questions breaking it up."
Between 700 Sundays and the book, Crystal, who turned 68 last month, has been doing a fair amount of reflecting on his life. His 2015 television series, The Comedians had him playing a version of himself as a superstar comic struggling with his veteran status as tries to get a new new show into production. It was cancelled after one season.
In recent times Billy Crystal has been writing about - and playing - Billy Crystal quite a lot. Why's that?
"It's the best character I've ever had to play."
Here's some more Crystal on Crystal ...
What was the initial reason for writing the book and did that change along the way?
I thought I'd maybe go out on the road and write about turning 65 and the more I wrote the more I realised I had more to say than just jokes about it.
It started to get deeper and it got more and more reflective. So I let it fly and see where it took me. And it took me where it did. I suddenly got to the point where I was getting excited about getting to the computer and writing every morning. Usually I have written with a partner on most things and this time my partner was my past.
How does the book relate to the sit-down show?
There will be essences of it because it's fun to tell these stories to a live audience. It's a performance, but it's different than being up there with a microphone and saying "good evening ladies and gentlemen ..." It becomes a very fun, informal evening. I show film clips and things they haven't seen and things that want to see again -- stories from backstage at the Oscars, movie sets and also about my life, where I am at now and where I started out from.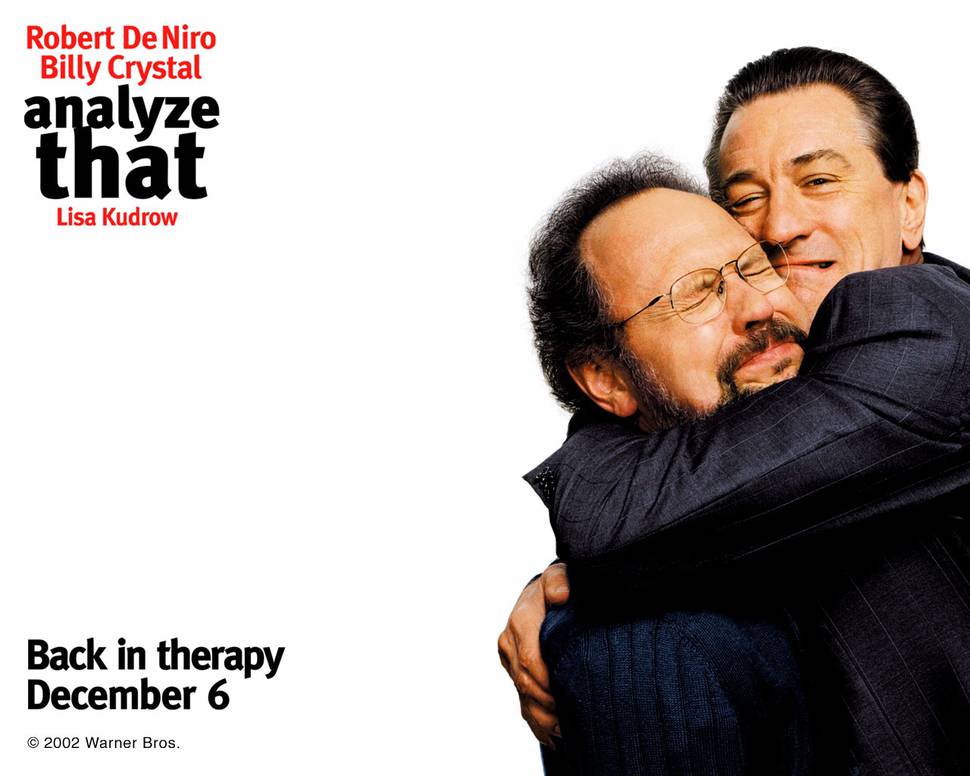 The book mentions an early turning point in your comedy career when Jack Rollins ["the dean of comedy managers"] told you "had to leave a tip" - give something of yourself in your stand-up routines.
That was the best advice I had ever been given, way back then, in 1974. It guided me into my writing and to look inward so I could get stuff to go outward. Any young comedian who seeks me out I tell them the same message. When I see the really good comics, they are giving of themselves and putting their stories and themselves and their own point of view about things. That separates them from the rest of the pack.
And the book also charts your other great calling in life -- sports.
Yeah. I was the youngest of three brothers. My dad was a very good athlete as was my mother, who was an Olympic quality swimmer as well as a terrific golfer. My dad was a very good baseball player and boxed a little bit and always encouraged us to play sports on those Sundays. When you were a little kid growing up in New York city when there was a [New York Yankees baseball legend] Mickey Mantle and these great athletes, it is what we did. It is what we looked forward to. For me it was sports and comedy and for my brothers it was the same thing.
You talk about meeting and becoming friends with your heroes, like Mantle and Muhammad Ali.
I tell ya, sometimes I just sit and shake my head at the encounters that I have had with people because of what I have been able to do. When I think about Ali, and of course Mickey Mantle - I think there are some lovely things in the book about him. Apart from all the other showbiz stuff, it's the relationships I have had; the people who have touched me. The people I've been able to hobnob with it's just been extraordinary.
But it wasn't just as a fan. They really became true friends and my relationships with them ... putting a drunk Mickey Mantle to bed to get him to calm down. Being with Ali in joyful moments and in his solitude now and still seeing him light up when he sees me. He loves it to this day when I imitate him to his face. He just smiles. He can't say anything but I know I am somewhere in his heart. It takes my breath away.
Career-wise, as a man who has had much success, does that mean you've taken the failures harder?
Oh yeah. I do. I have learned to bounce with them more and go "ok it's part of it" and try to throw the counterweight -- "all right did I have fun making it? Yes. Did I have a good time? Yes? Did I get paid yes. Ok let's move on."
It's all subjective when you are making art. I did a television series last year called The Comedians and then we didn't get a second season and I felt it was all for the wrong reasons. I am still annoyed about it because I thought the work was really good and we all had a terrific time doing it and I think the shows are really good shows. I just thought it was mishandled by [US cable network] FX. A show like that - which is a delicate kind of show - has to be nurtured. I didn't think we got a chance to keep going and explore what we were getting pretty good at.
Television has been a fraught business for you, going right back to your first TV role on Soap in 1977. It was pretty edgy for its day.
It had that aura about it when it came on as "that dirty show" and we were pretty provocative at the time. I thought we did some great work on it.
For me playing the first openly gay character on television was beyond being a challenge, creatively and personally. There was so much scrutiny about it.
I was perhaps not ready for it because I didn't see what the big deal was. At the end of it I looked at my four years on the show, I think we did some terrific things. I am glad we made a difference. It was a big hit - it was a controversial hit and we went off after four controversial years because we couldn't get any more sponsors. There were all kinds of religious groups going "get that dirty show off the air" and ABC kept us on as long as they could.
Your next big television gig was hosting the Oscars. You seem to do that better than anyone has, since. What's your secret?
I had hosted the Grammys three times before I did the Oscars and we did really good shows and right there I tried to make the host a different guy than just introducing people. That led to becoming a presenter on the Oscars and eventually being asked to host it.
You just look at it as this huge piece of clay - I have to introduce 28 different awards. How do I have fun between that? Where do we do this? Singing the medley of the nominated songs became great fun and meant I didn't have to make as many jokes in the opening. I could sing them. Then we started putting myself in the nominated films which became a big hit ...
So we started to do things that no one had done before with the hosting thing. It's a bear. It's one night. You can't really break in the material any place because it's all about them.
Now, it's a different world. At the height of it I loved doing it. And now people don't jump at it because of the social media aspect of it. It just gets too much scrutiny. It's too hard.
So you wouldn't do it again? I am not ruling that out. You just have to really work hard to create new ways to be funny. When other hosts have called me and asked "what's the key? I have said just make sure you really want to be up there. You're the captain of show business at that point. Have a good time. Show us you really want to be there. There have been hosts who don't look that happy being there. They try to make too much fun about the very show they are hosting. I don't think that is the way to go about it.
I loved being up there and I look back at it with great fondness for all of those shows. When I see my name with Johnny [Carson] and Bob [Hope] I just sort of can't believe that I did it. I'm part of that history now. It makes my knees buckle a little bit.
You've been in showbiz for 40 or so years now. You seem to have remained well-adjusted. How come?
Oh ... medication. No. I married the right person. I was raised by the right people and along the way I have had people help guide me and give me advice. But I've always been able to follow a rough sea by trying to find some calm water. That's what careers are. I've been fortunate to have a long one.
Lowdown
What:
An Evening Of Sit Down with Billy Crystal.
Where and when: July 4 and 5 at the ASB Theatre, Auckland
Tickets: On sale Monday April 18