Artists delve in to expression embracing their interpretation of mankind.
Amid the welter of styles used by artists nowadays, there still remain places for the human figure.
At Bath Street Gallery, Robert McLeod's figures are so raw, ragged and aggressive they are often like a raucous shout. Vociferous or not they are full of wild energy barely under control.
As usual he has indulged his Scottish origins with real tartan as well as deft painting. His work in recent years has never been conventionally framed but cut out and applied to the wall and often spills out on to the floor.
In this show, there is a whole suite called, The Immigrants, which hangs from coat hooks with extra pegs provided if you want to change things around. The row of garments with painted and shaped attachments is designed to be hung in a special, luridly coloured, small wardrobe.
Each garment has painted additions cut from plywood. They become extraordinary, individual characters. Gregor has a huge open hand as if seeking a handout on arrival. Caren is all bust and high heels and has no head at all.
Leod is a head hanging from a scrap of cloth. The tongue hangs out so that it resembles the severed head of Goliath in a grim painting by Caravaggio. It may be a self-portrait.
As is usual in McLeod's work, Mickey Mouse has a part to play. Immigrant Resting has arrived by Mickybomber, a long flying reptile head zooming above him. He lies on the floor in his tartan tie and underpants with his blue face beginning to sprout Mickey ears.
In Jacobean Mickeys with Micky Bag, energetic Mickey shapes dance onward toward mischief until caught in a bag. Jimmi Dives In shows another strange, character headed full-throttle downwards past a tartan apron.
It is characteristic of McLeod that in this show his imagination extends to inventive, tiny portraits done in opened sardine tins and using bottle tops. The satirical feeling is everywhere; it is not directed at any particular person or politics. McLeod does it his way and he does what he wants with remarkable invention and imagination like no one else.
The paintings in Avian by Liam Barr are also figurative, much more smooth, less hectic but equally odd. They are big works in oil on linen largely in shades of grey and generally depicting a humanoid creature with wings.
The wings are not attached to the shoulders like an angel but rather to thighs, legs and fingers. They are all highly skilful feats of drawing giving the feeling not only of muscles, but also the bone beneath the skin. The skill extends to the dim landscapes or cloudy skies that are the setting for these creatures.
Most spectacular of all is a full-frontal nude woman with bobbed hair like a helmet and vast black wings sweeping from her hips to under her feet. She also sports a tuft of white at her neck in keeping with the title of the work, Tui. She supports herself in space by spreading her arms on an all-encompassing ring perch.
The rings occur elsewhere. They suggest the figures are captured, but not caged, like falcons. Several wear hoods that reinforce the same concept. Notably the ring supports a man grotesquely hooked under the protruding clavicles of his shoulders.
The figures have elements that have been part of Barr's earlier work, such as elaborate neck braces and strange decorations. One figure is completely naked; he is a timorous youth looking upward for help while crouching on a wide empty plain.
The prevailing shades of greyness confer the realism of photography. Only one work, Plume, is in gentle colour and it also introduces a note of humour with the bird theme supported by blue eggs nesting in a mop of hair as well as big wings on the figure's legs.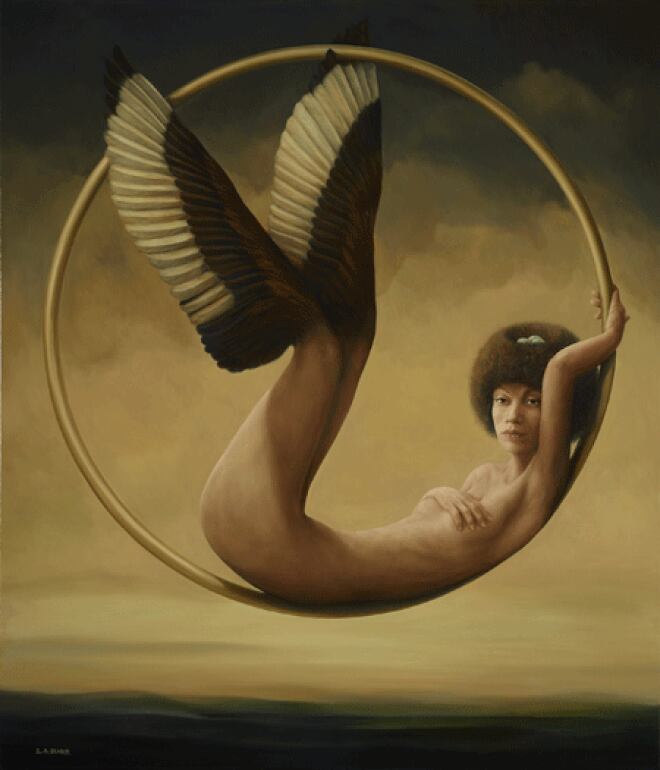 These images are symbols of the human condition that aspires to heights but is handicapped by human limitations.
Oustanding skill in traditional charcoal drawing is applied to very modern art design and publicity in Matt Ellwood's work. It references a variety of images of stunning models from the advertising world of high fashion magazines
These are redrawn exactly with charcoal so they have a uniformity of technique throughout the exhibition. They all look deceptively like black and white photography. The skill extends to the letterpress on the images that is laboriously hand-drawn.
The printed material is taken from advertisements in Frieze magazine for a big fashion house, but a reference to famous contemporary artists - whose work also appears or is commented on in the magazine - is added to it.
The sculpture on the floor adds to the abstruse nature of all this. Each is an immaculately made soapbox on which you can stand to speak about the show.
Each soapbox contains an artist's book listing almost endlessly the names of fashion houses. The skill and endeavour of this stylish show is amazing, but it follows a limited and puzzling path.