Works of two established artists and a newcomer grace Auckland venues this month.
It is some time since Christchurch-based artist Seraphine Pick had a large show in Auckland, so her copious exhibition at Michael Lett Gallery is all the more interesting.
Her work has always been visionary. Her earliest paintings had dense surfaces of chalky white through which small pieces of situations and objects appeared as memories or dreams.
Her subsequent work became much more colourful but it has usually remained something seen in the mind's eye rather than reality. It often portrayed the activities of young people in party or ecstatic mood, but there was always an edge of irony and dismay.
The ecstasy remains in these paintings but mostly as an evocation of the past, of flower people and rock festivals. The richly emotional colour is faded and the crowds shown are featureless. They evoke the way it was but the title of the exhibition suggests forcibly that it is high time to calm down.
Luna, a cityscape in potent red and yellow light, is the only work that is powerfully in the present. An anonymous crowd surges through a narrow street toward a portal; a camera on a selfie-stick is a contemporary note.
Elsewhere there is White Lighting, a Flower Child, topless, ornamented and bathed in golden light. A similar woman is elevated by a crowd in Orange Sunshine. The current fashion for allowing paint to run makes colour fall from the sky like a blessing.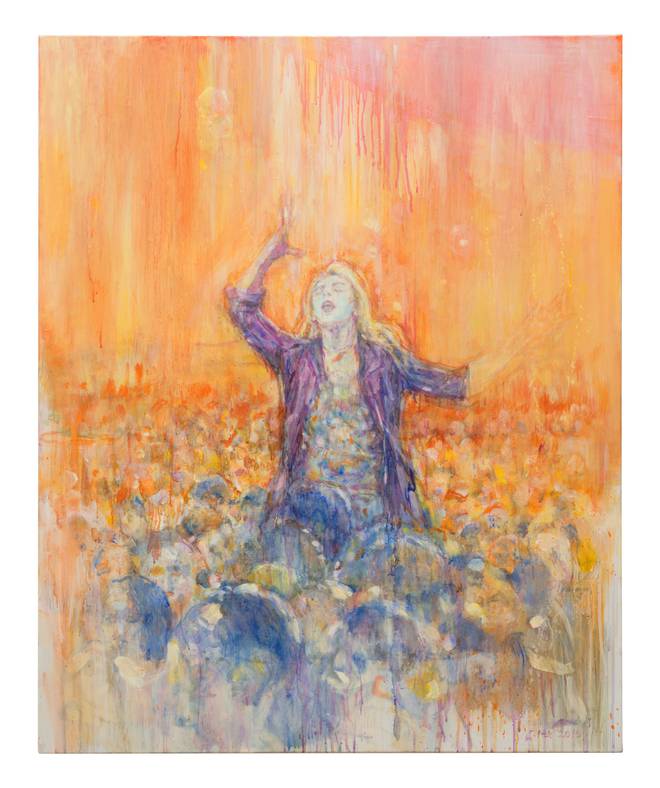 Much more sombre notes are struck in The Way, where innumerable hands, some with watches and bracelets, reach out of a black void toward some invisible source of worship.
he mood is obvious in these big oil paintings but a much more subtle and ambiguous atmosphere is richly evoked by the smaller watercolours that spread downstairs into the gallery's vault.
They include The Party's Over, where a long procession - some naked, some clothed -trudge in a line reflected in a turgid stream; in Nature Boys two long-haired young men, sharply characterised by excellent drawing, are waist-deep in water.
They are on the edge of hysteria perhaps equating themselves with Christ and John the Baptist. It makes a show of colourful work in a unique style, evoking a time long thought beautiful but here seen in elegy as damaged and gone.
Veteran artist Richard Killeen is having an unusual show called, Two Years, 1975 and 2015. Recently, he has embraced computer-generated images and modern ink-jet printing; works done with these techniques make up the recent part of the show.
They show exceptional skill and imagination. Printed work inevitably appears flat. By use of highlights, line and careful shading, Killeen gives his images the feel of thickness. They read as medallions or specimens in some extraordinary museum collection.
These invented objects combine elements of several kinds. They may have patterns on their forms taken from surfaces such as wood grain, ceramics or jewellery.
The shapes combine several forms so a table fork in wood grain can be extended to a spiral that makes it a completely original object.
This metamorphosis technique finds polished similarities in fish and spanners, sticks and spears or creates an insect with a floral pattern that hangs between triangles titled, FlyAngle. These creations are shown in multiple arrangements or as single images.
The 1975 part of the exhibition is made up of orthodox abstract paintings in oil and acrylic on canvas. They are, for the most part, concentric circles and spirals made up of bands or patterns of triangles. They achieve a considerable presence particularly when, in the circular paintings, the centre is left open.
Yet they are rather dry and mechanical except for two smaller works in the back gallery where stacks of triangles are intercepted by small rectangles of dabbed colour. All of these rhythmic intersections are loosely painted as tiny variants on a theme.
Marie Le Lievre is a young artist whose paintings are mostly big and forceful with the emphasis on intense colour in overlapping layers.
The largest painting is Slipping (Madder), a surge of thick blue reinforced by a resin overlay that drives from left to right in a background that shades from brown to grey to pale green.
From under the dominating shape rose madder ripples out to transparency. The weight and force of this painting is not repeated but other paintings have special effects.
In smaller paintings, masses of colour are connected by fine pencil lines like wiring or sometimes colours blend with each other in fine, fibrous growth patterns established by some mysterious resist technique.
A little apart from the colourful works are two sombre paintings of black forms with a haze of blue about them. The forms are invaded by complex patterns of fibrous growth established by a strange resist technique.
The authority of the use of colour emerging from under thick layers of paint and the use of the strong black shapes is impressively mature.