Among the stars of a local Bowie tribute show is one who recorded with him and one who had him as a babysitter
Yes, Flight of the Conchords did Bowie's in Space. Yes Neil Finn's Pajama Club covered Moonage Daydream. Yes, Lorde paid tribute to him at the Brits. But the connections between New Zealand musicians and the late David Bowie don't end there.
Especially among the voices of the forthcoming local tribute show, Bowie: Waiting in the Sky.

After all, Jordan Luck's mum had a nice chat with him when her son's band the Dance Exponents supported Bowie at Western Springs in 1983. The band couldn't get a word in edgeways. But Luck was chuffed Bowie watched his band from the wings.
Finn Andrews of The Veils had the man himself as babysitter. Zaine Griff recorded with Bowie in the early 1980s.
Luck, Andrews and Griff will join onetime glam rocker Alastair Riddell, former Split Enz-er Eddie Rayner, as well as Skyscraper Stan, Aussie import Olympia and backing band for the Waiting in the Sky show.
A few generations are represented among the voices - and a few different sensibilities, too. Ask the frontline gang which Bowie song they wish they'd written and you'll get everything from the relative obscurity of After All (Riddell) to the hilarity of Little Fat Man from Bowie's cameo on Ricky Gervais' Extras (that's Luck, but no, he won't be singing that one live).
Ask Griff the same and he diplomatically avoids naming any one song. Then again, he recorded with Bowie on three of them.
Griff, who left local blues-rock outfit The Human Instinct for a solo career in England in the mid-1970s, first met Bowie at a nightclub in London's Mayfair in 1977.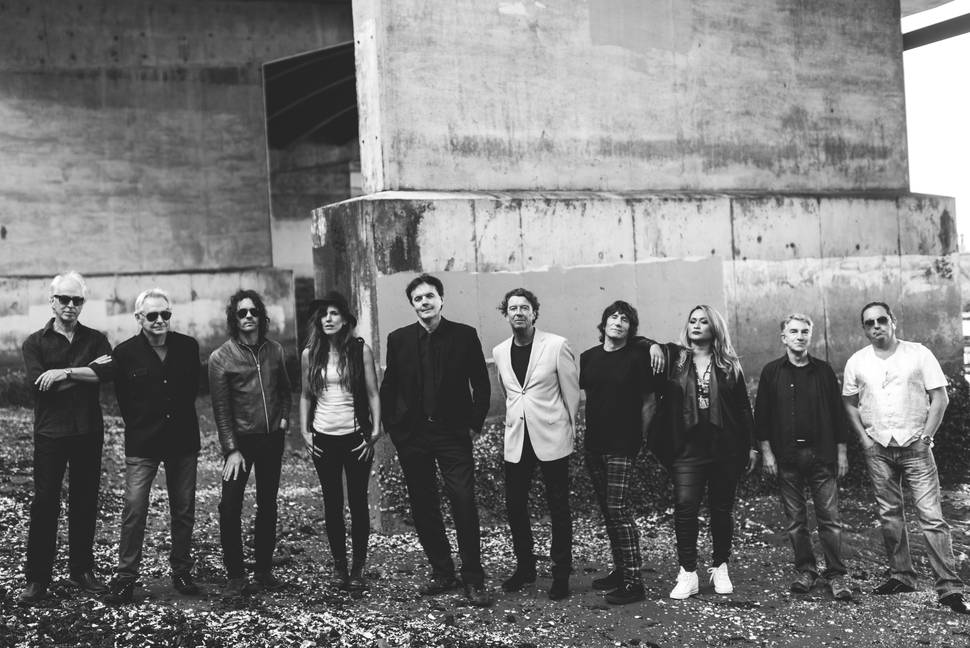 A few years later, he was in the studio with Bowie's regular producer Tony Visconti when Bowie needed to re-record some old songs for a television show, with the tracks later used as B-sides and included as extras on Bowie album reissues.
"He used my band and I played bass on Space Oddity, Rebel Rebel and Panic in Detroit," Griff said in an interview immediately after Bowie's death. "He sat cross-legged on the studio floor with a 12-string guitar and just broke into Major Tom.
"What really threw me is he walked out of the control room into the vocal booth and he laid down that track in one take, and when we did Rebel Rebel he did the same thing. And when he did Panic in Detroit he did the same thing. He just walked in and delivered one vocal take."
If Griff's early-80s solo albums suggested he, like many in the New Romantic movement, was closely following Bowie's lead, he wasn't the first.
Riddell and his bands Orb (which featured Rayner), then Space Waltz (which delivered the Bowiesque local hit Out on the Street) had done so earlier in the 70s.
Remembers Rayner: "In Orb we played several Bowie songs, before, it seemed, anybody else in New Zealand had heard of him. Those were the days when, if you played what is today a classic Bowie song, the audience response would be 'get off', or 'play something we can dance to'."
It wasn't the glam rock riffery that attracted Riddell. "Though I had heard Love You Till Tuesday earlier, it was when my friend Selwyn Jones played me the David Bowie album one day after school in 1969 that made the biggest impression.
"The moon landings and 2001: A Space Odyssey loomed very large in our world at the time and I was immersed in science fiction as well, so I loved his otherworldly, almost childlike dystopian approach. Selwyn and I were both interested in [actor-singer] Anthony Newley, too. Bowie had that as well. So it was a double-whammy."
"I felt sure with [Bowie's final] Blackstar album there is definitely a reference back to the same themes that also obsessed me in the early 70s and are a major part of the ideas in my Space Waltz material."
Songs Riddell will be singing in the show include Space Oddity, Changes, Oh You Pretty Things , and Ashes to Ashes. Griff is up for Let's Dance, Golden Years, Suffragette City and Jean Genie.
British-born, Devonport-raised Andrews, whose keyboardist father Barry Andrews' musical ties extend to onetime Bowie guitarist Robert Fripp and Iggy Pop as well as 80s art-funk outfit Shriekback, won't say what he's singing. Though he does have a good story about first encountering the Bowie of the 1986 fantasy movie Labyrinth.
"My dad was filming a music video under Jim Henson's workshop a few years after the film came out and I remember wandering around the building and seeing all those incredible puppets and sets in storage, and then walking towards an enormous picture of Bowie hung on the wall with his amazing hair and his tight pants and just thinking 'who the hell is this and how do I become him?'
"Apparently he babysat me one afternoon when I was very little, but I don't remember it.
"I like to imagine it was just like the scene in Labyrinth with him singing You Remind Me Of the Babe surrounded by rowdy goblins. In fact, it was almost certainly like that."
Our favourite Bowie album
Andrews
:
Low
probably got the longest and most sustained hammering over the years.
Luck: Aladdin Sane. I believe he had fun making this record. Crankin' guitars (Mick Ronson) and one-take piano pieces (Mike Garson).
Griff: Station to Station.
Rayner: Low has a darkness and a consistency in its vibe that really appeals to my personal aesthetic. It was probably the influence of his producer Brian Eno.
Riddell: I love The Man Who Sold The World album and Aladdin Sane, but for consistency I would have to say Hunky Dory. Most of his songs at this stage were discernibly about subjects or had a narrative, as opposed to his later "word-collage" approach.
Olympia: At the moment it's Young Americans. I'm drawn to the record for its considered departure from Bowie's earlier work - particular the influence of R&B.
Skyscraper Stan: The Rise and Fall of Ziggy Stardust. It's an epic and it tells a story from start to finish. So many classic tunes on one record.
Our favourite Bowie look
Andrews
: I'm a Thin White Duke kind of guy, for obvious reasons.
Luck: Once Ziggy was dead, well, he dressed exceptionally well.
Griff: Thin White Duke.
Rayner: He always looked stunning. The Berlin period was my favourite.
Riddell: I was a glam rocker and could probably be expected to like his Ziggy/Aladdin look but while I very much enjoyed the experimentation with clothes and costume, I never really like the mullet haircut. So I would have to say the Low/Heroes/Station to Station look was the best. It combined a kind of sartorial style with an otherworldly Man Who Fell To Earth quality that visually complemented his music of the time perfectly.
Olympia: The Thin White Duke.
Skyscraper Stan: I've always thought Bowie looked best in a kimono.
Lowdown
What:
Tribute show Bowie: Waiting in the Sky
When and Where:
ASB Theatre, Auckland, April 15; St James, Wellington, April 16; Isaac Theatre Royal, Christchurch, April 19
Who:
Eddie Rayner, Finn Andrews, Jordan Luck, Alastair Riddell, Zaine Griff, Olympia, Skyscraper Stan