A new arena show will let audiences sit in on the Beatles in their Abbey Road studios, says Neil McCormick.
What would it be like to be in the studio with the Beatles? Geoff Emerick was a 15-year-old assistant engineer at Abbey Road when John, Paul, George and Ringo arrived for their first session in 1962.
Late, great producer George Martin had a pop song for them to cover, "but they wanted to do one of their own, so they ran through a couple of passes of Love Me Do", recalls the 70-year-old Emerick. "I'd only been two days in the job. But that was my life for the next eight years."
As a "very nervous" 19-year-old, Emerick was promoted to chief engineer for Revolver in 1966. His first session was recording the psychedelic epic Tomorrow Never Knows.
"John's thinking process was completely different to anyone else. He said, 'I want to sound like the Dalai Lama sitting on a mountain top 25 miles away'."
Emerick wired Lennon's vocals through a Hammond organ's revolving Leslie speaker. "The Beatles didn't want to sound like anyone or anything else. The only way we could get what they wanted was by abusing the equipment, so there was always a kerfuffle. We had so much fun."
Emerick grins recalling the first monitor mix of A Day in the Life, after a long day multi-tracking an improvising orchestra in tuxedos and comedy noses. Members of the Rolling Stones had dropped by.
"There was absolute silence after it finished. It was like the world had gone from a square, black and white picture to Technicolor Cinemascope overnight. People were in awe, they were dumbstruck. You had to be there."
And now, perhaps, you can be.
In a vast, hanger-like rehearsal space in Purfleet, Essex, stagehands pull a retractable staircase on to an enormous set. Vintage microphones are suspended from shiny stands, amid white sound bafflers and tall speaker cabinets. "I'm getting deja vu," says Emerick, stepping over snaking tangles of instrument leads.
A skinny young man sits at a black baby grand piano, dreamily playing All You Need Is Love while conversing quietly with a chap holding a Hofner bass.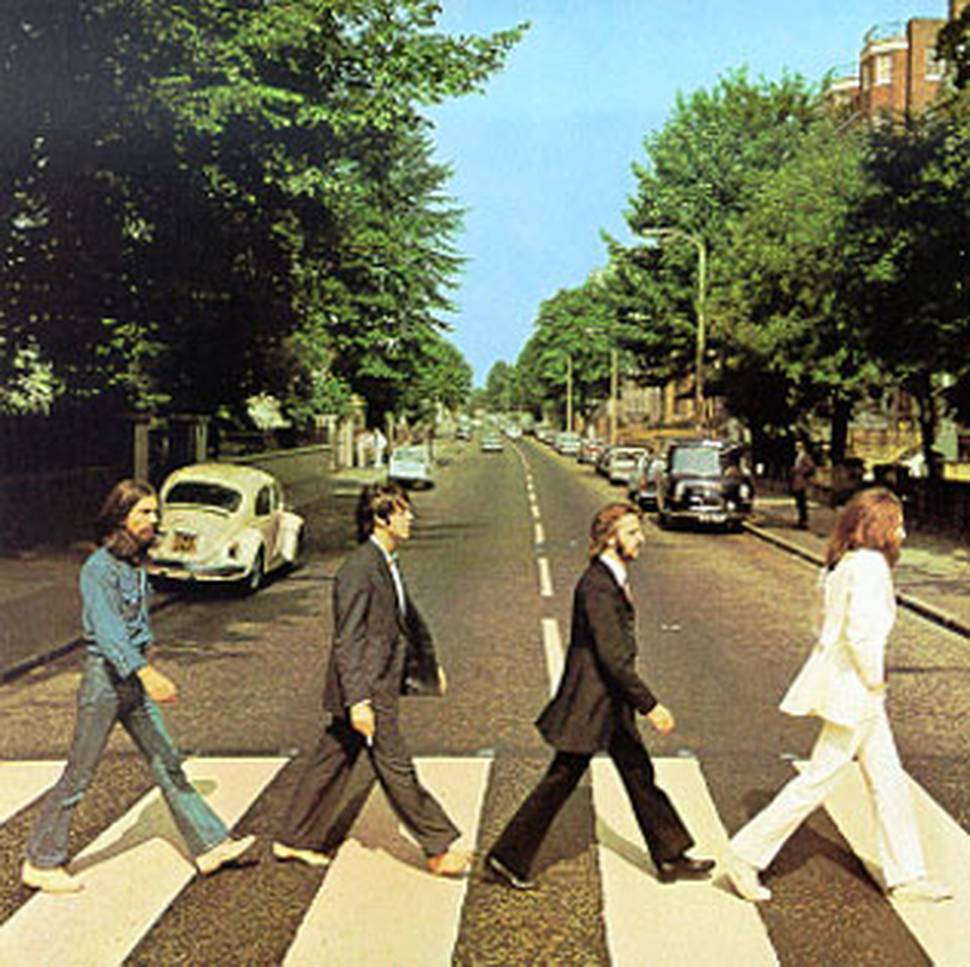 In one corner, another lean young fellow noodles on a sunburst Epiphone guitar, exuding solitude and concentration. When they suddenly break out in song, their voices blend in harmonies spookily familiar.
"It's time travel," says Emerick, appreciatively. Most music fans would recognise this environment instantly.
We are in Studio Two at Abbey Road, The Beatles' legendary base. Or rather, an exact replica assembled from modular, portable lightweight aluminium units. It is the centrepiece of what has been conceived as an ambitious arena touring show, The Sessions, in which audiences will eavesdrop on the Beatles at work.
"This is the most complex show I've been involved in," declares American producer Stig Edgren. An events specialist, Edgren has worked with Nelson Mandela, US Presidents Reagan and Clinton and three Popes, most recently overseeing Pope Francis' 2015 visit to Washington DC.
Edgren also produced Elvis: the Concert in 1997, in which a live band interacted with cinematic projections of Presley.
The recreated studio will sit in the centre of arenas, where three walls have been replaced with transparent screens, through which audiences watch a cast of 45 musicians and actors offer exact recreations of 60 Beatles songs, supported by an unseen seven-piece live band and a 20-piece orchestra to perfectly match the recordings. Every note, quip and comment has been faithfully transcribed from Beatles out-takes.
"The devil is in the detail," says Edgren. "It's a way to present the Beatles in a serious light, rather than just four old guys in mop-top wigs playing cover versions."
There is a babble of Liverpool accents all over the set, with different combinations of Beatle impersonators breaking into harmony. All of the musicians have a background in tribute bands.
"There is a whole weird network," says 27-year-old American Tyson Kelly, one of two Lennons. "There's a lot of rivalry, you know ... Ringo bitching that another Ringo stole his gig. Pauls have to be left-handed, so right-handed guys switch over and relearn how to play. It can be very competitive."
Kelly leads a fine little indie band, King Washington. "But I drop in with four or five different Beatle groups. I'm like a go-to John if somebody's sick." He knows how odd it all sounds. "The Beatles were originals. There's nothing original about this. But it's as close as you can get to feeling what it was like to make this music."
Emerick laughs to recall the band throwing a party during the recording of Yellow Submarine when George Martin was away ill. "It was like the headmaster was away. John was running around with a megaphone, shouting nautical nonsense. Mick Jagger and Chrissie Shrimpton were there, drinking champagne. You can hear the clinking of glasses on the track."
As the crew set up for the band's final 1969 sessions, a bed is dragged on to the set and a young Asian actress appears."There's the girl who destroyed the Beatles," says Emerick.
Following a car crash, Lennon had a bed installed in the studio, where an injured Yoko Ono would recline during recordings, exacerbating growing tensions. Telegraph Group Ltd