The Easter break is a great chance to relax and catch up on some TV. TimeOut writers recommend some of the best shows worth binge-watching this long weekend.
Daredevil (season 2)
Where:
Netflix
Yes, it's yet another dude from a comic book fighting crime in a mask. And yes, Daredevil's second season does that Avengers thing by inviting a whole lot more characters from the comic books to the party. So get ready to spend a fair bit of time getting to know The Punisher and Elektra in the first few episodes. But even if you're completely jaded about all things superhero, Daredevil is still binge-worthy.
Just when Matt thinks he is bringing order back to the city, new forces are rising in Hell's Kitchen. Now the Man Without Fear must take on a new adversary in Frank Castle and face an old flame – Elektra Natchios
That's because it has incredible fight sequences worthy of lighting up a big screen. It's got a great supporting cast, including affable lawyer Foggy (played by Elden Henson) and Daredevil's potential love interest (Deborah Ann Woll). And Charlie Cox, who plays the masked crusader, delivers a pitch-perfect performance that requires him to play two roles: blind lawyer Matt Murdock by day, and ass-kicking do-gooder Daredevil by night. In season two, he's about to meet his match thanks to The Punisher, played with brutal force by Jon Bernthal. I won't be bingeing on easter eggs this Easter, I'll be bingeing on this.
- Chris Schulz

UnReal
Where:
Lightbox
If you've been sucked into the drama of The Bachelor NZ recently, do yourself a favour and watch UnReal this weekend for a new insight into the "reality" of reality television. It may be a work of fiction but the inspiration for the series comes straight from real-life, with series creator Sarah Shapiro working as a producer on The Bachelor for nine seasons. Revealing a world of scheming manipulation and outrageously bad behaviour, it's even more addictive than the reality show it portrays.
*Warning: Trailer contains explicit content*

- Joanna Hunkin

Chef's Table
Where:
Netflix
Not only will this Netflix series divert your attention away from all the chocolate and hot cross buns flying around over Easter weekend, but might even hypnotise you into feeling full, with it's stunning, serene cinematography (though I make no promises).
The six-part documentary series is a fascinating homage to some of the most innovative chefs in the world. Each episode covers one chef, telling their life story and showcasing their different food philosophies.
From passionate, eccentric Argentinian chef Francis Mallman, who cooks with fire and snow, to sweet, obsessive American-Japanese master Niki Nakayama, and charming Italian renegade Massimo Bottura, the series (which is made by Jiro Dreams of Sushi director David Gelb) is not so much about the fine points of gastronomic creation, but the way each chef tells their unique story through their restaurant.
- Lydia Jenkin

Love
Where:
Netflix
With a modest 10 episodes to get through, Love, streaming on Netflix, is a great option for a long weekend binge.
Starring Paul Rust - who is also a co-creator of the show - and Community actress Gillian Jacobs, Love explores the messy relationship between Gus and Mikey. The two main characters are equally delightful and horrible, both having good and bad moments. You alternate between loving them and hating them from episode to episode.
*Warning: Trailer contains explicit content*

One of the best parts of the show is the surrounding cast. Bertie, Mickey's new roommate, played by Australian actress Claudia O'Doherty, is completely loveable and funny, as are many of the other supporting players, notably House star Charlyne Yi, who plays Cori.
Love is co-created by Judd Apatow, known for his work on Trainwreck, Knocked Up, Girls and cult classic TV show Freaks and Geeks. If you enjoyed any of these, there's a chance you'll dig his new Netflix original series. Love's story is small, but one that many people will be able to relate to.
- Rachel Bache

Occupied
Where:
Netflix
It was the infamous Nordic Nazi-collaborator who gave the world "Quisling" for traitor. You almost expect it to crop up in this ten episode drama created by Scandinavian superstar author Jo Nesbo which follows what happens in the near future after Norwegian Prime Minister Jesper Berg announces a stop to his country's fossil fuel production, provoking the EU and Russia to keep the North Sea gas turned on. But interestingly, Quisling doesn't get a mention. Maybe because in this, the geopolitics of this aren't quite black and white.
The stylish Norwegian-French production follows as the PM as he is forced to accept Russian intervention while trying to stave off a full-scale invasion, as various citizens either rebel against the intrusion or revel in the economic or career benefits the men from Moscow bring with them.
The premise may come with a strong echo of Putin's efforts in the Ukraine - his ambassador to Oslo officially objected to the series when it screened there last year. But while Occupied engages with its plausible political scenario, it's the show's ensemble of engaging characters, who get caught in the political - and sometimes actual - crossfire, that make it such addictive viewing.
- Russell Baillie

Also ...
• If you're looking for easy diversions on the box over Easter weekend, there are plenty of movies on offer. TV2 is catering for family needs, offering The Karate Kid tonight, and then throughout Friday Sophia Grace & Rosie's Royal Adventure, Fly Away Home, Stuart Little, The Waterboy, and The Avengers.
• Sky Movies Family are also screening some 90s classics across the weekend including Babe, The Jetsons, and the Back to the Future movies (all three in the trilogy).
• Sky Movies' pop-up channel pays tribute to selected directors each day, featuring the films of Tim Burton on Friday, Martin Scorsese on Saturday, Ridley and Tony Scott on Sunday, and Francis Ford Coppola on Monday.
• If you've been feeling some Downton Abbey withdrawals, there's a British period film on Saturday evening (Prime, 7.30pm) called Cheerful Weather For The Wedding, starring Felicity Jones and Elizabeth McGovern, along with Luke Treadaway, in a proper romantic triangle rom-com.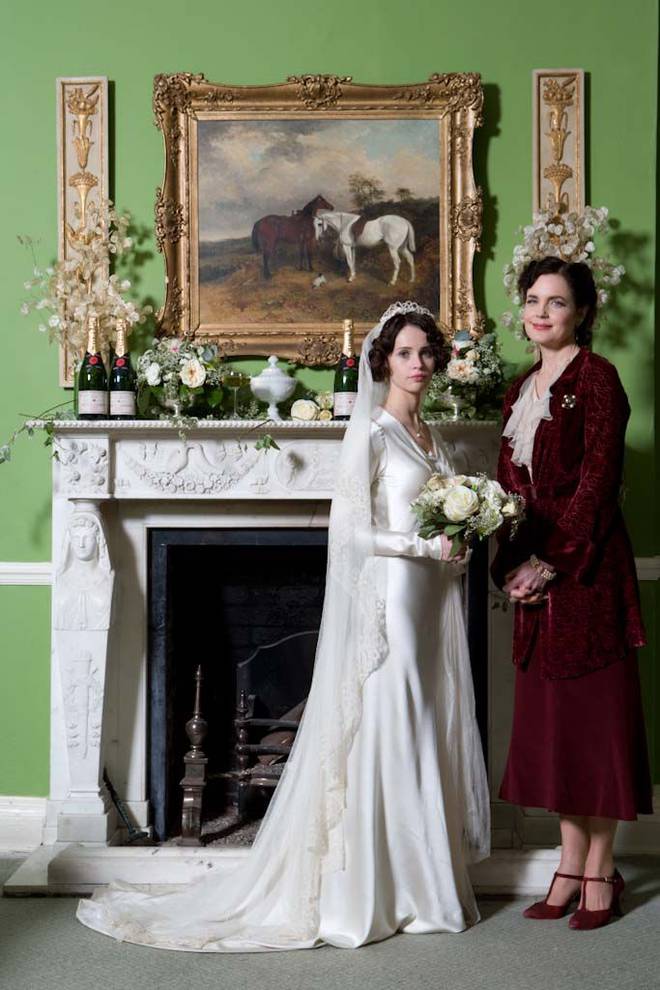 • Aside from the movies, you can look forward to Michael McIntyre's Easter Night at the Coliseum (Friday, 7.45pm, TV One), which has the British comedian presenting a variety show with who include Bill Bailey, Eddie Izzard, Sia, and an impressive bunch of acrobats and dancers.
• And finally Ripper Street begins its fourth season on UKTV tonight (10pm), with Matthew Macfadyen returning as Detective Inspector Edmund Reid and Game of Thrones' Jerome Flynn as Detective Sergeant Bennet Drake. In the high summer of 1897, the detectives confront the fallout of an all-too-human monstrosity crawling up from the city's underbelly.