Taika Waititi and Sam Neill talk about going bush in the director's latest childhood adventure, The Hunt for the Wilderpeople.
It's Taika Waititi's fourth feature and, after all-time Kiwi box office champ Boy, the second about a kid caught up in a world of uncaring adults.
But The Hunt for the Wilderpeople is still a slight departure for Waititi.
For one thing, it's his first book adaptation, the story having been inspired by Barry Crump's Wild Pork and Watercress.
For another, it's also the first film where he's directed someone as seasoned as veteran actor Sam Neill.
"Sam's so relaxed, just chilled-out, like me. He's done everything and doesn't have anything else to prove," says Waititi.
"You know he can do it and he's not precious about it and just goes in and gets the job done. I think it's really good for him to play a character like this because it's something he's not known for. It's good for him to shake himself up and do something that's out of the ordinary."
Taika Waititi features on the cover of this week's TimeOut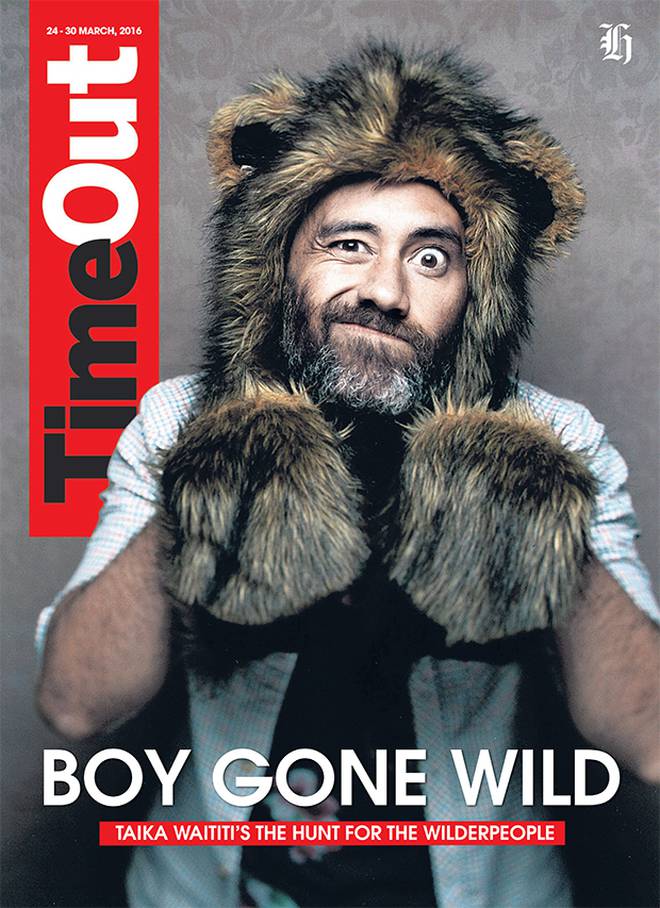 Taika cast the 68-year-old star as crusty bushman Uncle Hec, who goes on the lam with delinquent foster-nephew Ricky (a scene-stealing Julian Dennison).
Sewn into the comedic adventure are gags making references to 70s and 80s New Zealand films and a couple of nods to classic television ads. Neill was first chased through the New Zealand bush by helicopters in 1977's Sleeping Dogs.
Yes, he had an occasional sense of deja vu, he tells TimeOut from his Central Otago vineyard, where he's preparing for the annual harvest. And he's been running through forests looking after kids before, too, in the original Jurassic Park.
"I always end up acting with children but I have to say this is possibly the best of them. I'm very fond of Julian. He's a great kid and dangerously entertaining. Which is good, because even though we shot this quickly, there was still a lot of sitting round and twiddling your thumbs.
"It's good to have someone entertaining by your side at those times. He's one of the best."
Neill is the straight man of the piece. "My function is to really give the story some bottom end really. A lot of it's pretty wild, so you need someone to keep things real. You know that other people are going to the get the laughs - that is just the nature of the beast.
He's been a Waititi fan since his early short films.
"I would call him endlessly inventive," he says. "He's got an imagination that is firing on all six cylinders."
"On this you've got Taika's very idiosyncratic sensibility, spliced with that very old-school New Zealand humour, I think it makes for a pretty happy marriage actually."
The movie is funny, says Neill, but don't mistake it for a comedy. Or for being a Barry Crump film.
"This is Barry Crump seen through the lens of the bloke who made Boy. Just as in Boy, there are some very sad and poignant things in it as well. It is not a straight-out comedy. People have tried to describe it as a comedy. I wouldn't at all.
"It is a kind of wild drama that has some very funny things in it."
Other than Dennison, laughs come from a cast that includes Rhys Darby as a crazy hermit, Rachel House as an overbearing child welfare officer, Oscar Kightley as a cop, Rima Te Wiata as Aunt Bella and Waititi himself in an extended cameo.
As well as the Crump story, Waititi was inspired by the adventures of his own childhood. "I grew up in the kind of environment where Boy was shot. We'd go into the bush and that was normal. Making Wilderpeople was the first time Julian had spent a lot of time in the bush, but he fell into it very naturally. Of course we were making a film so there's always a coffee machine somewhere."
Ultimately the film, like all of Waititi's is a fusion of genres.
"It's hard to categorise my films," he admits. "Comedy's hard - not that this is just a comedy. "When the film screened at Sundance I was pleased that audiences laughed in the right places."
After four New Zealand features, Waititi is now readying himself to direct Marvel movie Thor: Ragnarok. He had some experience of superhero movies with a small role in Martin Campbell's much-derided DC comic adaptation Green Lantern.
Nevertheless, the Thor gig, with a multimillion-dollar budget, comes as a surprise.
"Yeah, it is," he sniggers, "but that's the reason I did it. I don't want to be too predictable and I even want to shock myself with the decisions I make. Doing this new film was something I felt would be such a big challenge and it has the potential to be really, really fun. Why wouldn't I take the opportunity? If the door is open, you should just walk through it."
Usefully, he has long been a comic book fan. "I collected comics a lot when I was a kid, to the point of having backing covers and sealing each comic individually in a plastic bag like a nerd. I've seen every Marvel film that came out, so I suppose it's something I've always subconsciously wanted to do. But you know when you start off making films in New Zealand it's not the kind of thing that's on your radar."
"I just want Thor to be fun and entertaining. I think that these days films are too serious and the cool thing about Marvel comics is they've got a great history of crazy entertaining stories, which is what I love."
After an extended cameo in Wilderpeople, "I actually made that longer than it used to be," he chuckles, he probably won't insert himself in this one.
"I never say never; I probably can't help myself. But I think I need to concentrate on directing rather than putting myself in there.
"It's about 10 times more involved than the films I make in New Zealand where I can just sort of go, 'Yeah I'll do that'. I'll have to concentrate on doing a good job."
Turning 40 last year has made him realise he won't be around forever and he wants to be more productive.
"With The Hunt for the Wilderpeople I wanted to do something fast, because between my first two films there was nearly four years and that, for me, was far too long.
"I'm trying to get the gap down a bit. Quantity not quality," he jokes, and then laughs loudly to make sure I don't take him seriously.
"I do want to make more stuff. I've got so many ideas and I always worry there's not enough time to do them. I've always wanted to do bigger stuff."
Who: Taika Waititi and Sam Neill
What: The Hunt for the Wilderpeople
When: Opens at cinemas on Thursday, March 31