Follow all the action from today's Laneway music festival in Auckland with as many reviews as Chris Schulz, Rachel Bache and Amy Shanks can muster.
Battles
Hey Seuss Stage, 5.30pm
Explosive and rhythmic, New York act Battles make a hell of a lot more noise than you might expect from a three piece.
Digging into material from new album La Di Da Di, the experimental rockers pulled a large crowd, though the mosh pit was contained to a small but very enthusiastic pack. The set progressed through a series trippy guitar and drum beats under the sweaty afternoon sun.
Fresh off a flight from Singapore, Battles engaged the crowd - thanking them for coming out in their New York Yankees hats and Yogi Bear shirts.
Without words swimming around in the mass of sound, there was a slightly repetitive element to the set. But it didn't seem to faze fans.
- Amy Shanks
Hudson Mohawke
Cactus Cat Stage, 6.45pm
There were hundreds of spent cups strewn across the lawn by the time Hudson Mohawke appeared on the Cactus Cat Stage in a shroud of smoke.
The speakers, the ground, the atmosphere literally hummed.
Everything about this performance had a go big or go home vibe, from the heavy bass and moshing crowd to colourful strobed lighting on stage.
HudMo won over Kanye West, who signed Him as a producer with label G.O.O.D Music, and it's safe to say he won over the crowd at Laneway.
Chimes, with its supernova of synths was an obvious standout with punters.
There was no room for sitting here, only dancing, vigorous dancing.
- Amy Shanks
Beach House
Cactus Cat Stage, 8.10pm
Baltimore duo Beach House took the stage with little fuss and no introduction.
But soon their distinctive, hypnotic sound had people flooding to the Cactus Cat Stage, filling every inch of spare ground.
Their whole act was dreamy - from Victoria Legrand's misty vocals to the way she gently swayed on stage.
"Thank you so much we are so happy to be with you" she said softly.
Space Song off the album Depression Cherry, was met with rowdy applause.
As were the likes of Myth, with its echoing layers and Elegy to the Void's familiar chugging drums.
It's been five years since Beach House last performed in Auckland and the crowd was happy to have them back.
The applause was something many other acts didn't muster at Laneway.
- Amy Shanks
Chvrches
Hey Seuss Stage, 8.50pm
Last time synth pop trio, Chvrches ran into some technical difficulties on stage, forcing them to cut their set short, luckily this wasn't the case this year. Performing songs of their latest record Every Eye Open, the band, lead by vocalist Lauren Mayberry, came out punching. Never Ending Circles and Bury It earned a roar of cheers, while Recover from Chvrches' first record made people move. Coloured lights flashed in time with a throbbing bass line & synth pop melodies. Though their set wasn't quite as wild as Grimes, who performed before them, Chvrches still put on a great show.
- Rachel Bache
Courtney Barnett
Hey Seuss Stage, 7.10pm
Courtney Barnett returned to Laneway for the second year in a row, and this time around was just as good as the last. Sharing songs from Sometimes I Sit And Think And Sometimes I Just Sit, as well as some of her older tracks, Barnett owned the stage with her unique style of rock. Pickles From The Jar started off the singer/songwriter's set - one of many amazing spoken-word sung songs. The grungy squeals from Barnett's electric guitar got the crowd cheering during Nobody Really Cares If You Don't Go To The Party, while the slow paced Depreston had festival goers swaying and singing along.
- Rachel Bache
Hermitude
Mysterex Stage, 6.20pm
Australian electronic duo, Hermitude kicked off the evening with energy, busting out track after track from their latest album, Dark Night Sweet Light. With the sun starting to set, being at the Mysterex Stage became more bearable and Hermitude brought a massive crowd to the main stage. Screens showed the pair creating their bass drenched beats live, with close ups of their instruments. A calypso remix of In The Jungle that morphed into HyperParadise (remixed my Flume, who is set to take the stage later tonight) was easily a crowd favourite, as was Hermitude's remix of ODESZA's I Wanna Dance With You.
- Rachel Bache
The Internet
Mysterex Stage 4.40pm
Soul, trip-hop band The Internet got fans grooving at the Mysterex Stage. The group is made up of Odd Future members, including Syd the Kyd, who controlled the crowd, getting people waving their hands in the air and clapping, her vocals at times reaching the kind of notes FKA Twigs might hit. The Internet's jazz fusion songs fit perfectly into the summer festival's line up, creating a delicious vibe for the afternoon. Though the hot concrete underfoot made standing at the stage too hot to handle at times, Syd the Kyd's cool attitude made it worth it, especially during new song Just Sayin - where the audience turned into a chorus, singing "You f***ed up" and Girl, one of the band's most popular songs - it didn't disappoint.
- Rachel Bache
Thundercat
Cactus Cat Stage, 3.15pm
Thundercat aka Stephen Bruner took the stage with a badass bass guitar,and proceeded to captivate everyone in earshot.
As his first notes trickled out through the speakers, a snowballing crowd, now spilling out into gardens and shady nooks immediately stood to attention, letting out a collective "woo!"
"What's going on NZ...its f*****g beautiful" he said.
Jazzy notes wrapped around his smooth as silk voice on track after track, peppered with punchy drum lines and bass solos.
This is music to groove to, and that's exactly what the audience did.
Tron Song, an ode to his real life cat, proved a chance for the American native to stretch his plucking skills, and we were suitably impressed.
- Amy Shanks
Shamir
Hey Seuss Stage, 3.55pm
Shamir was the infectious ear candy Laneway needed to get the late afternoon party started.
Hailing from sunny Vegas this uber energetic artist commanded the stage in a pink striped shirt and dad jeans.
His sound is totally unique - merging popping beats with driving baselines that push right through the soles of your feet.
It's a little bit R&B with elements of disco, pop, house and a whole lot of sparkle.
His tune Hot Mess, which the singer describes as "my autobiography", literally dared you not to move.
Head in the Clouds was another bounce-around crowd pleaser, there was even one slower groove slotted into his set - "for the lovers".
This is Shamir's first time in New Zealand which he observed was, "nice and sunny".
If crowd response is anything to go by, it won't be the last time see this dynamite performer down under.
- Amy Shanks
Goldlink
Mysterex Stage, 3.05pm
Part DJ set, part live hip-hop show, and part throwback bloc party, DC rapper Goldlink's Laneway debut was all over the show. Sometimes it was a good thing: a mid-set medley included Dr Dre, 2Live Crew and DMX classics, and also found time for a rousing rendition of Nirvana's Smells Like Teen Spirit. And the producer-turned-rapper sure knows how to use bass as a weapon, with outbreaks of trap inducing plenty of dance-induced sweat in the afternoon sun. But Goldlink's lack of original material showed he's still working out his sound and what he has to say.
-Chris Schulz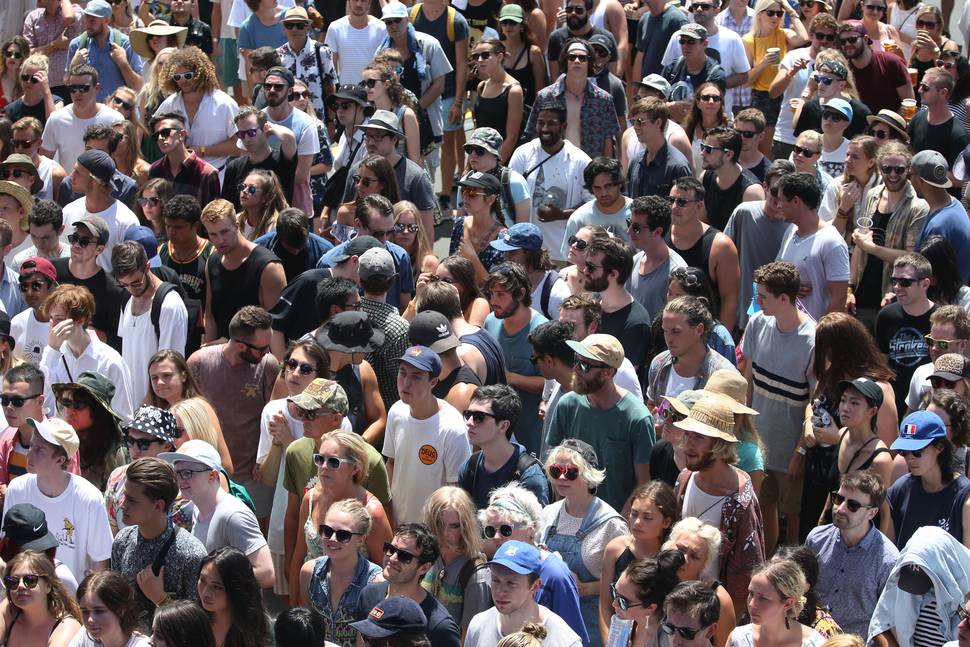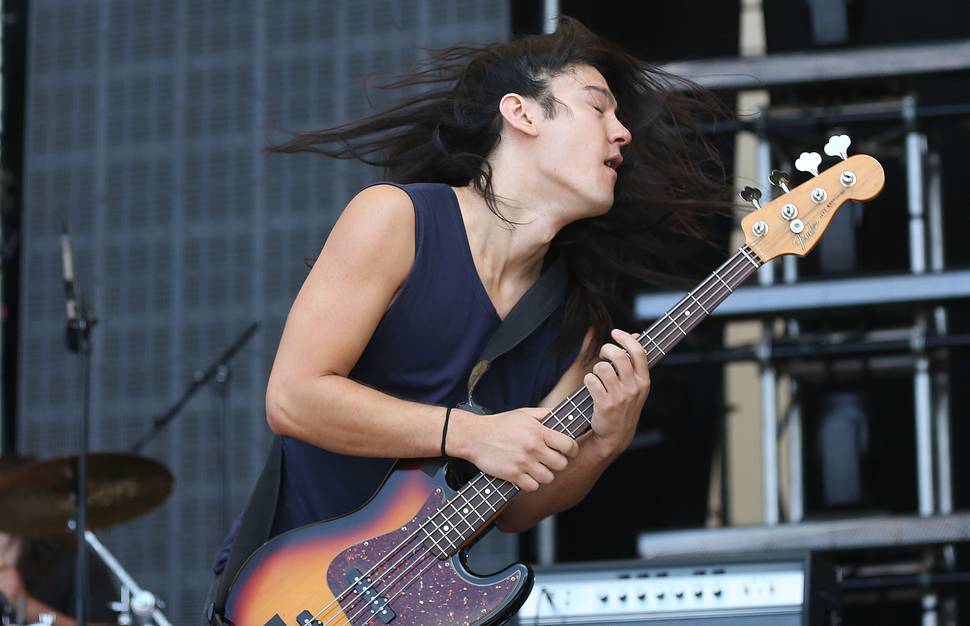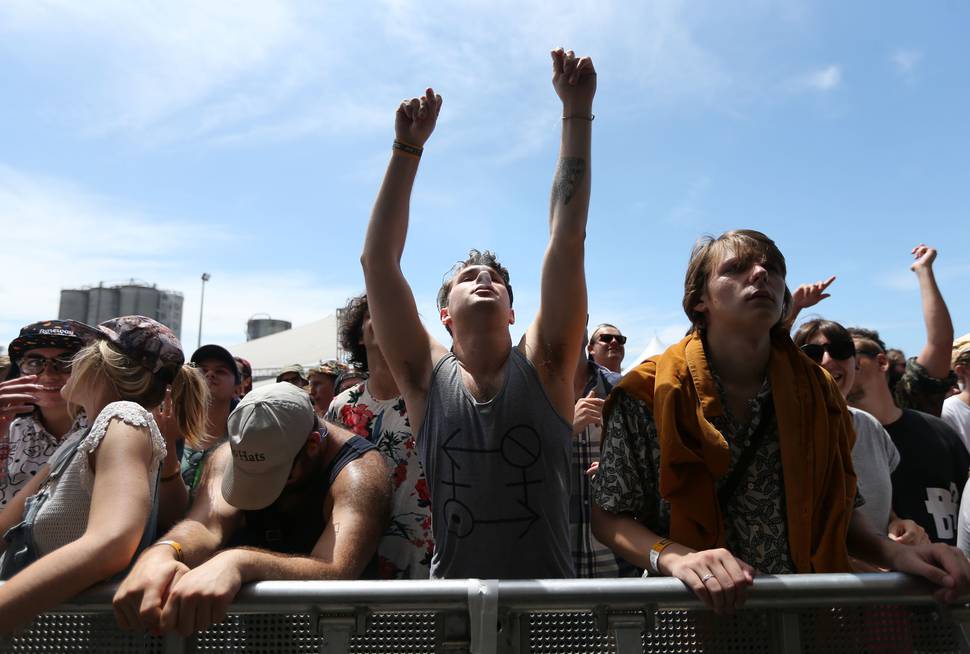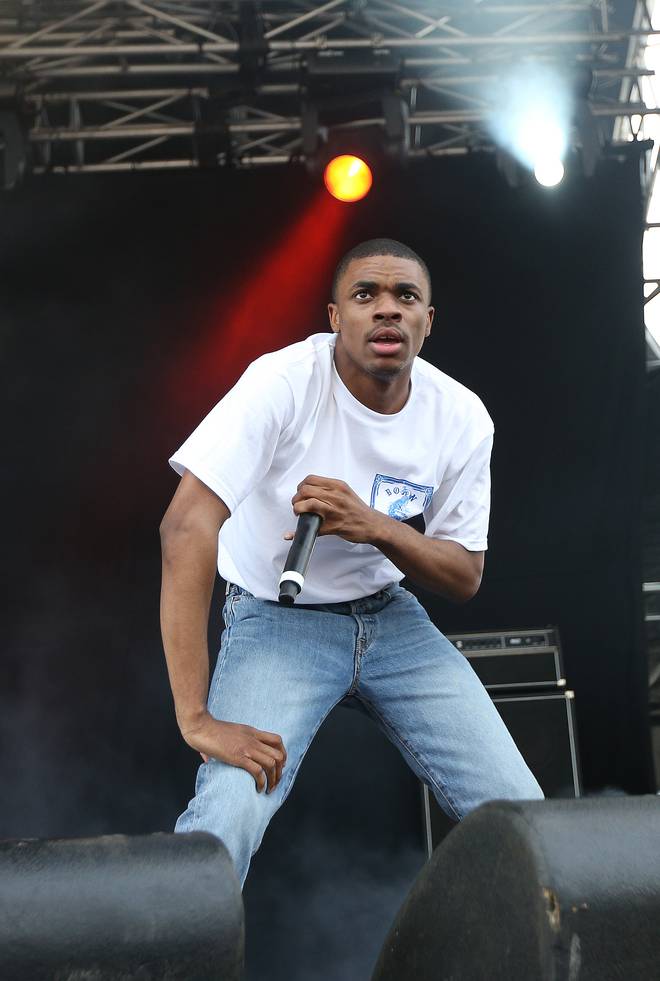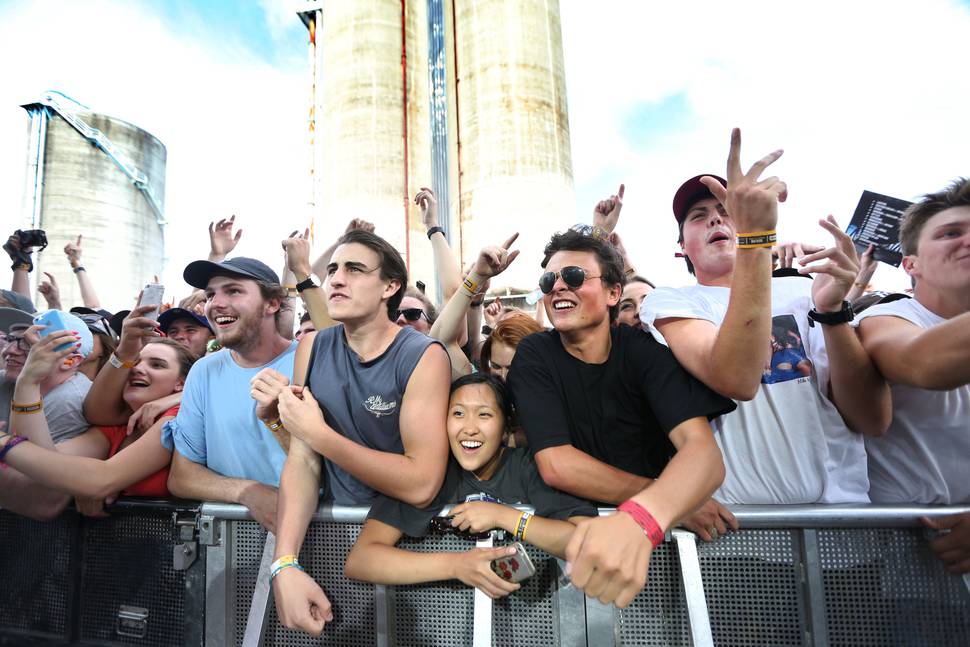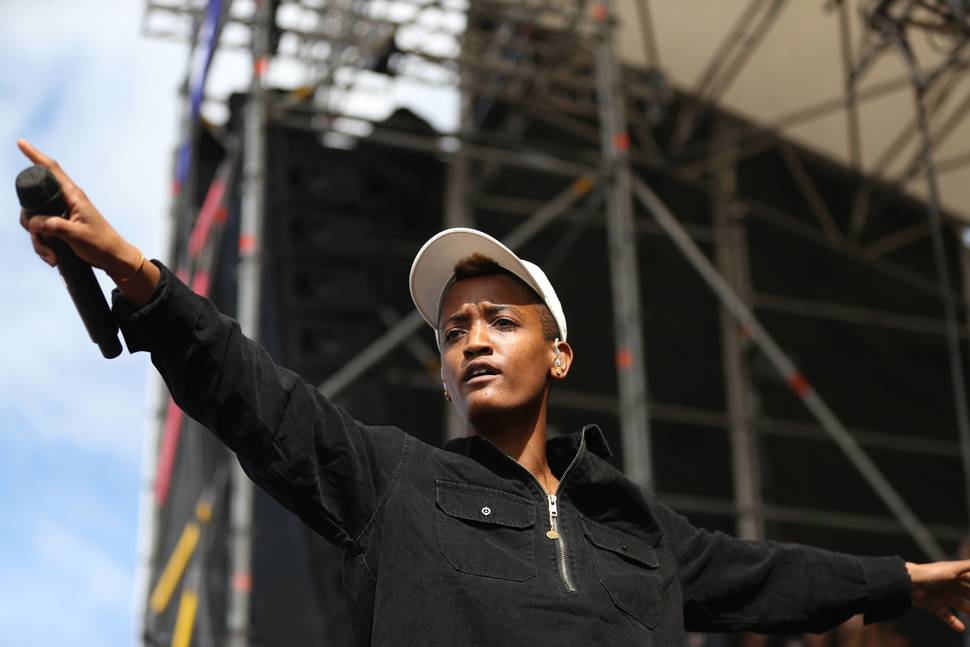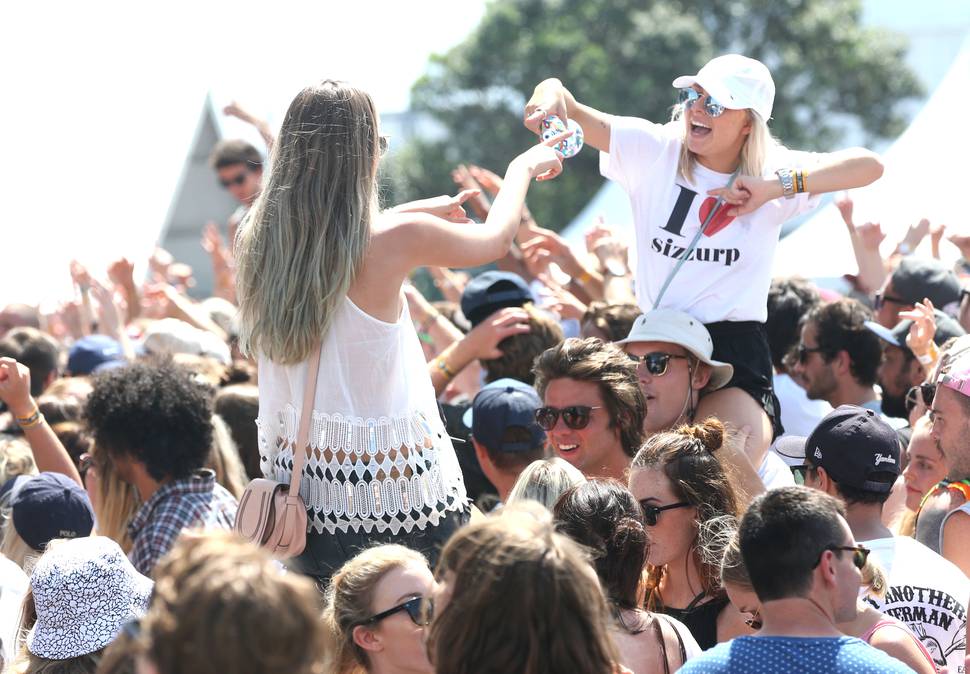 Baynk
Thunderdome, 3.10pm
From the moment Baynk stepped onto the small Thunderdome stage under the Silo Park silo, the crowd were screaming and dancing. Spinning his bass-heavy electronic tunes, Baynk got a good vibe going, merging one summery dance track into the next. Though it's almost impossible to get a good view in the Thunderdome, punters at the packed stage let loose to the music in the much sort-after shade. Baynk, aka Jock Nowell-Usticke, kept the party going for his entire set, and even inspired a few people to climb up onto the shoulders of their friends.
- Rachel Bache
Health
Hey Seuss Stage, 2.15pm
Laneway punters had an interesting choice to make mid-afternoon: did you choose Los Angeles-based skate-brats Fidlar, or Los Angeles-based noise-brats Health? While the latter acted like they should be on the Warped tour over on the Cactus Cat Stage, Health hit the Hey Seuss Stage like a punch to the face, with their industrial-strength post-rock shenanigans reminding of those good old days when heavy acts tested the eardrums early at the Big Day Out. Their blitzkrieg performance not only raised a sweat, it also inspired some heavy petting, with several couples choosing Health as the soundtrack for some loved-up shenanigans.
-Chris Schulz
Fidlar
Cactus Cat Stage, 2.10pm
US skater punk band, Fidlar went nuts in the afternoon heat, ripping out rough power riffs. Bringing a slightly different sound to the festival, which is mainly comprised of indie-electro-pop acts, Fidlar got people near the front of the stage jumping and head-banging to songs like
40oz. On Repeat
and
West Coast
. The band's fast-paced garage rock was a lot of fun and drew a decent crowd, it was also Fidlar's first time performing in New Zealand. Lead singer Zac Carper did an excellent job switching between husky screams and yells, to a nasal singing voice, before instructing the crowd to all sit down and jump up again during the build up for their final song.
- Rachel Bache
East India Youth
Hey Seuss Stage, 12.55pm
Hailing from England, William Doyle, aka East India Youth, was the first to take on the Hey Seuss stage, with his electronic synth-pop. Performing songs from his latest album
Culture of Volume,
EIY generated a mess of sound, with heavy bass buzzing through the speakers. The solo act swayed his body as he smashed his keyboard, laid down beats on his drum machine and strummed his electric guitar, while his light pop vocals floated over top. While most of the crowd watching were fairly stationary and still getting a feel for the festival, EIY didn't let that discourage him from dancing across the stage.
- Rachel Bache
Leisure
Mysterex Stage, 12.15pm
Two songs. That's all anyone really knew about this Auckland-based six-piece before today's debut New Zealand appearance, which helped open Laneway's main stages. Those flooding in the gates were treated to an all-in jam session, with '70s funk, Jungle-esque grooves and Tame Impala-style indie rock mixed into Leisure's eclectic melting pot. The results work better than they deserve to: their echoey guitar solos tested Laneway's boundaries early, and in
Got It Bad
they've got an anthem that you can't help but feel could one day close Laneway, not open it. Groovy, baby.
- Chris Schulz
Nadia Reid
Cactus Cat Stage, 12pm
Kiwi musician, Nadia Reid, one of the first acts to play at Laneway this year, gently plucked at an acoustic guitar as her deep dreamy voice filled the seaside stage. Backed by a band that included a giant double bass, Reid welcomed the early crowds to the Cactus Cat stage, most of whom sat relaxing in the shade on the grass.
Call the City's
beautiful melodies swirled with the ocean breeze, as did Reid's floaty black dress, before she jokingly asked the audience if their "drugs have kicked in yet". Her sleepy Americana-folk sound, featuring songs about love and various New Zealand cities, was a soothing way to start the festival, for what is sure to be a long hot day. Nadia Reid's advice for the surviving was: "Don't get too wasted and keep drinking water, okay!"
- Rachel Bache