Every generation gets the superhero it deserves - as much as it would have been a useful way to start a review of the hyper-perky Supergirl (TV2, 7.30 Sunday) and the grim unsettling Jessica Jones (Netflix), that's not my line.
It's a line from Cat Grant's exclusive story on the woman of steel in the latest episode of Supergirl. Manic media maven Grant (Calista Flockhart) is the head of her own magazine and online empire but likes to keep her eye in, writing wise.
So after a brief five question encounter with a hovering Supergirl she pens a deeply snarky profile of the new arrival in "National City" (the nom de comic of Los Angeles).
Grant is the Devil Wears Prada-like boss of her long-suffering assistant, Kara. Kara, like Clark Kent, wears glasses and is bit of a dweeb.
So Cat is oblivious to Kara being, well, her magazine's cover star - the one in the red cape and boots with the big S on her chest. The one whose cousin holds down a media job in Metropolis in between bouts of trying to find a phone box to get changed in.
Understandably, Kara takes it personally when her boss writes: "Supergirl embodies the worst traits of her generation. The earnestness without purpose. The unshakeable belief she has a right to be heard even when she has nothing to say."
Yes, Supergirl might be yet another superhero show, the fourth in recent years to pop out of the DC Comics empire after Arrow, Gotham, and The Flash.
But it's certainly the first one to stray into Girls territory. No it didn't stay there long. Because the main purpose of last week's episode was the usual superhero business - save everyone from that week's supervillain, a kind of Iron Man from the dark side called Reactron.
There have been other villains in these early weeks - including the first of a large bunch of superpowered Krypton jailbirds which the planet accidentally deported when it blew up all those light years ago, the parents of the Superkid cousins having earlier fired them off to be fostered by nice American families.
The show's early episodes might have been going over some familiar mythical territory. But it added some enjoyable twists (including the kiss-curl on the forehead of the infant Superman) and had fun with the twentysomething Kara finally embracing her superpowers - first outing, rescue a crashing 747 containing her adopted sister.
The show does an impressive line in special effects but it's Melissa Benoist's infectious energetic presence as Kara/Supergirl that helps makes Supergirl fly when she isn't actually punching through the clouds.
There is a risk that once past the origin stuff, this could fall into a villain-of-the-week affair, something that can dog The Flash.
But it's got plenty of other things going on -- like Kara's crush on Superman's sidekick Jimmy/James Olsen (Mehcad Brooks), newly arrived from The Daily Planet and no longer the dweeb he was in the comics.
He's African American, handsome and possibly taken.
He's also the one who has her cousin on speed dial. A problem when you're trying to establish your own superheroine credentials.
Giving that interview turns out to be a bad idea.
As one of the many - possibly too many - characters who knows the secret of the Kara/Supergirl double act says: "What's next? A reality show? Keeping up with the Kryptonians?"
With the proliferation of shows from DC and Marvel comics, that seems like a distinct possibility.
Until then, Supergirl feels like a fresh take on the formula with a winning performance at its centre.
Yes, you wait decades for a female superhero to headline their own series and two come along at once. Jessica Jones is Netflix's second original superhero series after Daredevil. It's also the second of a team-building exercise to get us to an eventual Defenders squad miniseries also involving Luke Cage and Iron Fist, all the characters hailing from the pulpy 70s crime New York mean streets end of the Marvel catalogue.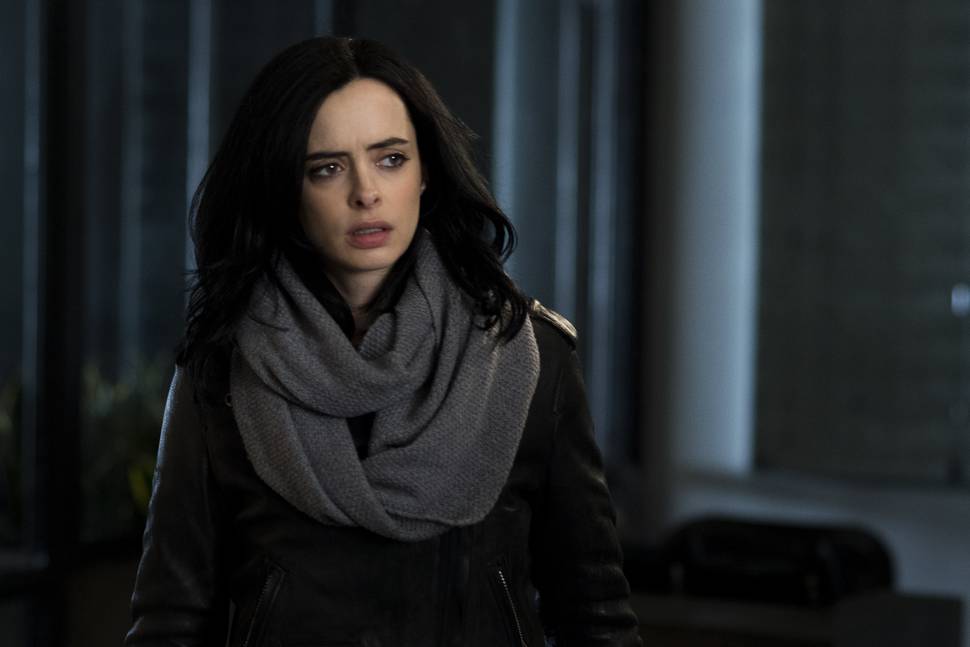 Like Supergirl, the early episodes of Jessica Jones feature a riveting performance with Krysten Ritter (Jesse's girl in Breaking Bad) in the title role.
Unlike Supergirl, Jones isn't indestructible - she's been damaged by some past incident.

Her physical superpowers occasionally come in handy in her job as a private eye, snooping on adulterers and serving writs. But she's unhappy in her work - seeking solace at the bottom of a bottle, and in the bed of a local barman by the name of Luke Cage.
Yes, there's sex in Jessica Jones (but no nudity yet) and it seems to be set a few neon-lit blocks over from the dingy Daredevil neighbourhood. If you liked him, you'll certainly like this.
But unlike Daredevil, JJ's first episodes play more like a noir mystery with a superpowered sideline as Jones goes in search of what it was wrecked her superlife.
While Supergirl's glossy giddiness makes it enjoyable once-a-week escapism just like the comics it sprang from, Jessica Jones is more a graphic novel page-tuner.
Yes it's good that this generation has finally got a couple of female screen superheroes.
What's better is they are so captivating in very different ways.