Last here fronting Queen, Adam Lambert returns next week for a free show in the wake of his third solo album, The Original High. He talks to Rachel Bache.
• For a chance to win tickets to the show register at iHeartRadio.co.nz or 2degreespromotions.co.nz
Are you looking forward to coming back to perform in New Zealand?
Oh, you know it! I was down there last year with the Queen tour and the audience was amazing.
It's always such a great warm feeling from the audiences down there. People in New Zealand just want to hear great music and have a great time.
This time, we're just gonna throw down. I'm going to do a lot of new stuff from this new album. I'm very excited about this new music.
Your upcoming show is at our Civic Theatre - is that something that excites you, being about to perform in a more intimate setting as opposed to an arena?
Yeah, I love performing in theatres; it reminds me of where I came from - I did a lot of theatre. I love that feeling of being on stage with an audience in front of you. I like it, it feels nostalgic.
What was it like touring with Queen?
You know, they're legends, so I tried so soak up as much as I could.
There were a lot of great stories that I got to hear and they would reminisce about the old times and laugh. What was interesting is it didn't feel like I was on stage with gentlemen who were, you know, two generations ahead of me, it felt like I was on stage with some friends.
It was definitely an evolution for us to get to that point. I was in such awe of them at the beginning and then, as we got more and more comfortable, it felt like friends, it felt like family.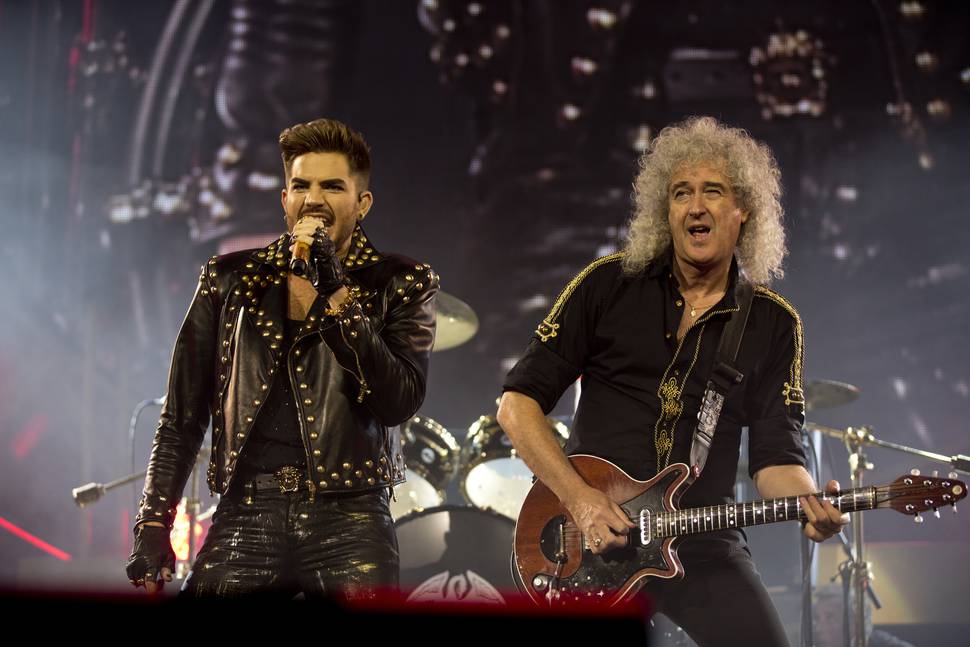 It must have been intimidating at first?
Yeah, it was a little intimidating at first, but they were always so good to me and made me feel so comfortable.
But now it's back to your own songs. What are you trying to say with the new album?
What I love about it is that it's a really great insight into my heart and my head and the battle between the two. There're a lot more honest, revealing truths that I sing about.
For example, the song Another Lonely Night is about being alone and missing somebody or missing that companionship in your life. I think that's something we've all gone through.
This album has a ton of dance music. The album is very influenced by house music, by current pop sounds, by tramp production.
It's the kind of music that I listen to, like, in my free time. It sounds like my life and going out with my friends to a club. It sounds like that experience. It sounds like the after-party to a night out. It sounds like the morning after. It sounds like those ins and outs and ups and downs of life in Hollywood.
How hands-on were you with the recording?
I was very involved - I'm a little bit of a control freak. [But] I've found that it's almost more important to know when to step back and when to relinquish a little control. Sometimes that can be more powerful than trying to control everything. I went into it very open-minded and really, in the studio, things developed very organically - it was great. It was about the music.
Because a lot of your songs are so personal, was it difficult to give up that control at first?
Part of the magic of being in the studio is that you can kind of find a zone where you're your most vulnerable.
Being on stage in front of a bunch of people is a totally different feeling, but there's a privacy, there's an intimacy of being in a recording studio and I think that's one of the things I really went for on a lot of these songs.
The album as a whole shows a lot more intimacy and dynamics in my vocals than maybe I had gone into in the past and it had a lot to do with comfort. I have to be comfortable with the people I'm working with and I think that added to the environment.
And taking that to the stage - what are you most excited about when performing your new music live?
I just want to see everyone's reaction in the audience; I like to see how people are responding.
This music is personal and I love it, it is music that I listen to, but ultimately you make it for the ears in front of you. I think that's been the most exciting thing.
You've got a passionate fanbase. What has been the reception from the fans so far?
They seem to really love it, which is great. I'm pretty tied in with my fans on Twitter and Facebook and I try to see what people are saying, and everybody's been really into it, which is great.
It's really exciting too because everyone seems to have a different favourite song, which I think is a really good sign.
So everyone can relate to a different aspect?
Yeah, I think it's probably my most cohesive album yet, but at the same time there's something on there for everybody.
I hear from a lot of different people - "Oh this song is my favourite song", "You should have this as the next single", "You should have this as the next single". It's a good sign. It means there's a lot of different energy on the album. I feel really satisfied.
Who: Adam Lambert
Where: Free show at The Civic Theatre, Auckland, supported by iHeartRadio and 2degrees mobile
When: August 5
What: New album, The Original High, out now.
Tickets: For a chance to win tickets to the show register at iHeartRadio.co.nz or 2degreespromotions.co.nz
- TimeOut