Wondering what to see at the International Film Festival? Here are our latest reviews from the Auckland leg of the nationwide event.
Monday 27 July: The End of the Tour
The End of the Tour
follows
Rolling Stones
journalist, David Lipsky (Jesse Eisenberg), as he interviews celebrated author, David Foster Wallace (Jason Segel) who is finishing the promotion of his novel,
Infinite Jest
. A true story based on Lipsky's book
Although of Course You End Up Becoming Yourself
, the film shows the relationship between the two writers, their insecurities, jealousies and their want for something more than what they have.
Jason Segel is absolutely brilliant as Wallace, keeping a balance of sensitivity, seriousness and humour in his portrayal of the author, who both likes the attention he's receiving for his latest hit book and is deeply afraid of what kind of person he might turn into because of it. Struggling with depression and loneliness, Wallace finds an odd quasi-friendship with Lipsky through the interview process, though he is always wary that Lipsky is there for a story.
Lipsky on the other hand admires Wallace's talent success - "He wants something better than he has, I want precisely what he has already," says Lipsky about Wallace and time together. Jesse Eisenberg shows a softer side as he grapples with the tension of needing to press uncomfortable subjects for his article, while genuinely wanting to understand and be liked by the man he holds in high esteem.
The beautifully shot film is endearing and relatable, director James Ponsoldt (The Spectacular Now) has definitely delivered something that is really special.
- Rachel Bache
Director: James Ponsoldt
Starring: Jesse Eisenberg, Jason Segel, Anna Chlumsky, Mamie Gummer, Mickey Sumner, Joan Cusack
Rating: M (offensive language, sexual references)
Run time: 106 minutes
For more showings of The End of the Tour visit nziff.co.nz
******************************************************************
Saturday 25 July: Grandma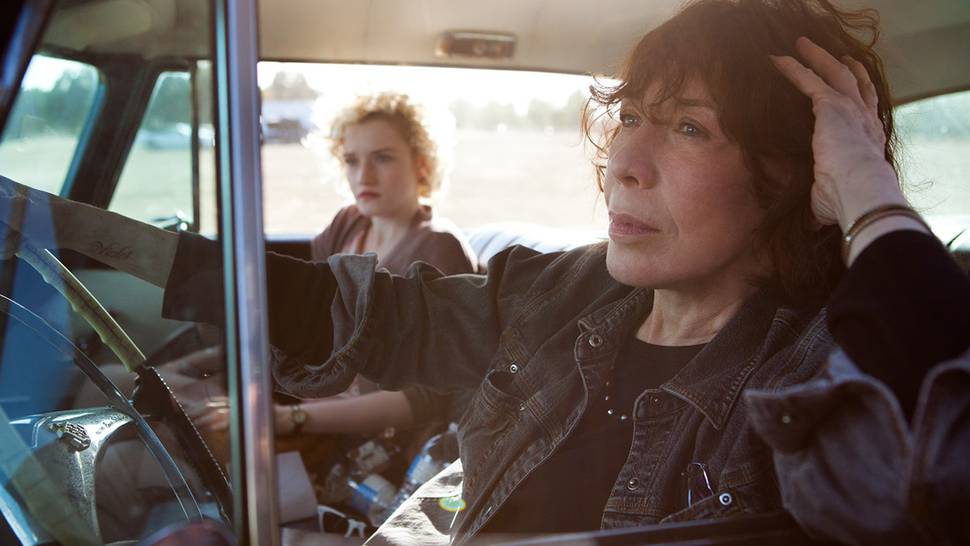 Lily Tomlin is hilarious and heart-felt as Elle in the film Grandma, directed by Paul Weitz (About a Boy, Nick and Norah's Infinite Playlist). Elle is not the typical image of a grandma, she's a strong headed feminist and foul-mouthed lesbian, who cuts through the bull.
When her teenage granddaughter Sage (Julia Garner) turns up on her doorstep looking for money for an abortion, Elle makes it her mission to help Sage round up the cash. The first half of the film is full of laughs, thanks to Elle's blunt and sarcastic remarks about Sage's situation.
The pair - looking for half the money to pay for the abortion - visit Sage's loser, pothead ex-boyfriend, Cam, played brilliantly by Nat Wolff (Paper Towns). Cam refuses to help and threatens Elle, which leads to a comical scene where he ends up on the floor after being hit with a hockey stick by Elle. Elle later tells Sage, "You know, I liked your boyfriend, he's special. Really charismatic." Another standout appearance is by transgendered Orange Is The New Black actress Laverne Cox, playing tattoo artist, Deathly, who owes Elle money. Deathly, unable to help out Sage and Elle, offers a free tattoo instead, which Elle gladly accepts. Not your regular grandma behaviour.
The film also has its more emotional moments as it delves into Elle's past loves and current troubles with her own recent ex, Olivia (Judy Greer). Though these story lines give more depth to who Elle is, it does feel a little out of place and brings are darker mood to the comedy. At its heart, Grandma is a touching, thoughtful comedy, about family and the dysfunctional relationship a mother can have with her daughter - Elle with her daughter, a scary businesswoman named Judy (Marcia Gay Harden) and Judy's disconnected relationship with Sage. Putting their differences - and similarities - aside they all come together to help Sage when she needs them the most.
- Rachel Bache
Director: Paul Weitz
Staring: Lily Tomlin, Julia Garner, Marcia Gay Harden, Judy Greer, Laverne Cox and Nat Wolff.
Run time: 80 minutes
Rating: M (drug use, offensive language)
******************************************************************
Saturday 18 July: Amy
Amy Winehouse really was a musical force of nature. Her voice and her songwriting were incredibly special - as Tony Bennett says in this excellent documentary, she was right up there with Billie Holiday and Janis Joplin. But it was hard to keep that in perspective as she very publicly spiraled out of control in the years preceding her death. The drugs, alcohol, wayward husband, the walks home in the early hours wearing bloodied shoes and her signature beehive askew - it all created a picture of tragic chaos that made everyone forget what made Winehouse famous in the first place.
And that's what makes this documentary special: director Asif Kapadia (who also made Senna, one of the best movies about racing car drivers you'll ever see) has managed to uncover the version of Amy Winehouse we should remember, while keeping the context of her demise in the balance.
He has managed to get those who were closest to her - her best friends, family, ex-husband, and collaborators - to talk in an impressively unguarded fashion, and has meshed those interviews together with a wonderful collection of footage, both private and public, in such a precise and cinematic way, that even though we already know the story of Winehouse, we experience it afresh.
The highlights include a hilarious holiday video of young Amy pretending to be a Spanish house boy, and giving her best friend Lauren a very satirical tour of their apartment, clips of early interviews where she crackles with wit and energy, and of course some tear-inducing footage of her recording Back To Black with Mark Ronson.
Keeping the interviews to audio-only somehow gives them greater intimacy, and the observations about her deteriorating health, both physical and mental, and the fact that nobody seemed prepared to stop it, only become more chilling.
And it offers plenty to those who weren't necessarily great Winehouse fans too - a cautionary tale of celebrity culture and the ruinous power of the media, and a gentle reminder that society really should look after people like Winehouse as cultural treasures, rather than tear them down for the sake of tomorrow's tabloid headlines.
Lydia Jenkin
Director: Asif Kapadia
With: Amy Winehouse, Tony Bennett, Salaam Remi, Yasiin Bey, Lauren Gilbert, Juliette Ashby, Nick Shymansky, Andrew Morris, Raye Cosbert, Mark Ronson, Blake Fielder
Run time: 128 minutes
Rating: M (content may disturb, drug use, offensive language)
******************************************************************
Friday 17 July: She's Beautiful When She's Angry
A documentary about the American feminist revolution of the late 60s may not sound exciting, but She's Beautiful When She's Angry, directed by Mary Dore, proves that theory very wrong. The film is truly entertaining, thought-provoking, shocking, witty and sassy, managing to keep a sense of humour, whilst also keeping an honesty and sensitivity to the seriousness of the cause.
Interviewing the mothers of the Women's Liberation Movement - most of whom were young women in their 20s and 30s at the time - the film shares how they came together to create social change that would send a ripple throughout the world and help shape society for generations to come. These women got angry about the blatant injustices of the time and decided to do something about it.
The documentary covers the different facets of the movement and the issues they were fighting for: equal pay and job opportunities, childcare, education, fighting against domestic violence and rape, giving women the right to make decisions about their own bodies - including having the choice of if they want to have children or not. Many of these issues are still hot topics that are fought for today. But the wheel was set spinning by these inspiring older women. Interviews mixed with archive footage showed women leading protests, marches, demonstrations, conferences - even standing up to movement men who were, in the same era, fighting for black civil rights and protesting the war in Vietnam. Out of those movements the Woman's lib was born. These women set out to change the world - and that's exactly what they did.
The film also touches on times when they maybe went too far as they figured out what it meant to be a feminist and making the personal, political. Not only is She's Beautiful visually appealing, but the soundtrack helped create the scene that fuelled the sisterhood. It is great to see a slice of the worlds history, told by women who were there at the front line. Every woman - and man - need to see this film.
Director: Mary Dore
Run time: 93min
Rating: Exempt
- Rachel Bache
For more showings of She's Beautiful When She's Angry visit nziff.co.nz
******************************************************************
Thursday, July 17: The Lobster
Weird, confounding, amusing but perplexing - those are all words which spring to mind when trying to describe The Lobster. As NZIFF director Bill Gosden pointed out as he introduced the opening film for this year's festival, movies have done a lot to promote the notion of coupledom over the years. But Greek director Yorgos Lanthimos goes out of his way to subvert these conventions, even if, in the end, you still want the leading man and woman to have a chance at happily ever after.
The narrative is built on the primary idea that in the very near future, everyone is required to have a partner. You can't be single, and if somehow you find yourself single (your partner dies, you get a divorce, or you just haven't found the right one), you get sent to an oddly old-fashioned hotel-resort complex, where you're given 45 days to couple up. If you don't find a partner in 45 days, you get turned into an animal of your choice.
The key protagonist David (played by a beer-bellied Colin Farrell) says he would choose a lobster, because they live for a hundred years and he likes the sea. A fellow single man, John C Reilly, would go for a parrot, and their friend with a limp, Ben Wishaw, gets angry at them both for choosing silly animals.
There are a whole bunch of bizzare rules and rituals and violent punishments thrown into the mix. You can add extra days to your alotted time by hunting down "loners" (renegade single people who have escaped - among them Lea Seydoux and Rachel Weisz) in the woods for example, and there's a strange air of sadism to all proceedings.
If the premise intrigues you, and you've got a taste for black, bleak entertainment, then you'll definitely come away with a good conversation starter.
But even though the script allows for plenty of laughs, the performances are strong, and it's beautifully shot, it's hard to maintain much emotional engagement with an often cruel and arbitrarily ridiculous story. It's one that's aimed more at the head than at the heart, as it seeks to question whether the need for relationships are a social construct or a human condition.
- Lydia Jenkin
Director: Yorgos Lanthimos
Starring: Colin Farrell, Rachel Weisz
Run time: 118 minutes
Rating: R16 (content that may disturb, offensive language, sex scenes, violence)
For more showings of The Lobster click here

******************************************************************
Come back for more reviews throughout the festival.
- nzherald.co.nz