Label:
Tommy Boy Records
Verdict:
Ghostface makes a mockery of Wu-Tang reunion
If you're into Wu-Tang trivia, here's an interesting fact: Ghostface Killah has released nearly twice as many albums solo as he has as part of the Clan. Here's another fact: 36 Seasons, his 11th, is about twice as good as the wayward recent Wu-Tang reunion record.
It's everything A Better Tomorrow's not - fiery, focused and frequently thrilling. Much of that is thanks to Brooklyn production team The Revelations, who channel '60s-era soul for their simple but effective Blaxploitation soundtrack-referencing blueprints.
That gives Ghostface a brilliant backdrop to deliver a concept album featuring his drug-dealing alter-ego Tony Stark.
"I look down in my bag and see a stack of cheese, start making calls, buying artillery," he rhymes on Blood in the Streets, the album's climax that sees Stark tooling up over a funky riff on the Knight Rider theme.
Though never quite reaching the heights of 2006's Fishscale, it's hard to quibble when there are so many highlights, from the mission statement of The Battlefield, to the sinister kick of The Dogs of War and the shouty, Wu-Tang inspired grime of Pieces to the Puzzle. It's unlikely he's actually dealt cocaine for a while, but 36 Seasons shows Ghostface hasn't lost any of his knack for telling a ripping crime yarn. Wu-Tang? Who needs them.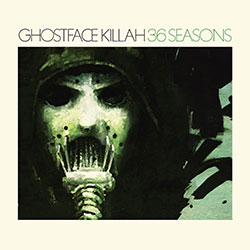 * Follow TimeOut on Facebook
- TimeOut