Our roving correspondent, Steve Braunias, presents his vision of the 20 best things in Auckland life.
Best sandwiches
Herne Bay Bakery, 192 Jervois Rd, Herne Bay. Strange that Herne Bay, with its million-dollar homes and its boring talk of espresso and pesto, should excel in the humble sandwich. But the bakery does the business. It does tuna sandwiches, no stupid mayo. It does cheese sandwiches, choice of white bread or brown. It does corned beef rolls, no stupid pickle. It does pork and apple - no one else does pork and apple, only the Herne Bay Bakery, one of the great jewels in the crown of Auckland food.
Best toasted sandwiches
Food's, 580 Te Atatu Rd, Te Atatu Peninsula. I love everything about Food's, including the rogue apostrophe, charging in where it doesn't belong but bringing a sense of joy to the shop-sign. I always order a cheese, ham and red onion toasted sandwich, and it's always good. So are the scones. Plus, every customer is given a free saucer of sliced fruit. What a lovely thing to do. It's as original as their use of that apostrophe.
Best fish and chips
Kippers, Shop 2, The Village, Moenui Rd, Orewa. The fish and chip shop in nearby Silverdale won a national award, and it's good, very good, but Kippers is even better. Beautiful fish, just-right chips, and the seafood chowder is the go, too. While you're waiting, you can pop in next door to the charming second-hand bookstore Never Ending Books - its website claims it has 3981 novels, 288 Mills & Boon, 308 sci-fi and fantasy, and five unopened puzzles.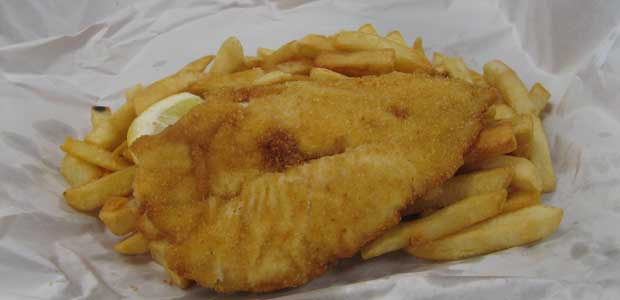 Kippers, Shop 2, The Village, Moenui Rd, Orewa
Best hotel lobby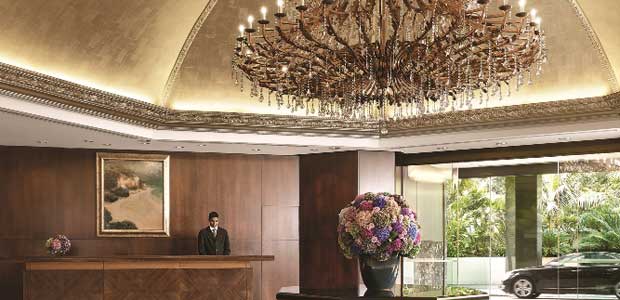 The Langham, all that a hotel lobby should be.
The Langham, Symonds St. Auckland does some very good hotel lobbies. Stamford Plaza (Albert St) has a sort of cool jazz vibe, there are always a lot of gorgeous Air Emirates flight stewardesses who look like Bianca Jagger trotting around the Pullman (Princes St), and the Copthorne (Quay St) is rubbish, frankly, but I mention it because the upstairs house bar, Tactics, has a rare charm - so rare that it's as deserted as the Marie Celeste. On the run, wanting some privacy, a lover of peace and gin? You should go there at once. Anyway, the Langham lobby is always busy, and elegant, luxurious, and expensive. It's a sumptuous palace of snobbery and inconceivable wealth - all that a hotel lobby ought to aspire to.
Best sign
The Rug Guru, 68 St Lukes Rd, St Lukes. The Rug Guru! O, Rug Guru. Lay down thy carpet of enlightenment. Everyone who goes shopping at the St Lukes mall will have seen this enchanting little sign at the house on the corner; and I warrant everyone will have instantly felt better about themselves, at peace, closer to God, just knowing that there is such an entity as a Rug Guru. The small print reads, "If you love your carpet, it will love you back." Words to live by.
Best island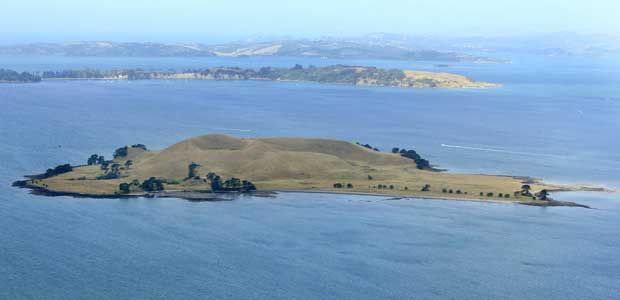 Browns Island is a dainty thing.
Browns Island, Hauraki Gulf. A kid at Karaka Bay - that amazing, obscure beach around the corner from Mission Bay - was telling me recently that it takes him about 20 minutes to kayak out from the shore to Browns Island. Me want to do that. He said it's got long grass and he's collected lots of black volcanic rock over the years. Me want to do that, too. What a soft little island. It looks almost dainty, a thing of beauty.
Best front gate
4265 Great North Rd, Glendene. I just absolutely love this gate, and I warrant it's given cheer and delight to generations of Aucklanders driving the Great North Rd. It's large. It's round. It's white. It's made of iron, with a lot of filigree. I have a feeling it's purely decorative, that it doesn't actually open or do anything. It's not so much a gate as a symbol of a gate. In short, it's art.
Best library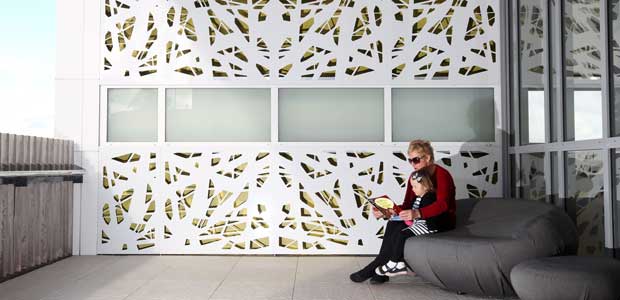 Birkenhead Library has just about the most sensational view.
Birkenhead. Smart, nicely designed building, superbly curated by intelligent librarians, and with just about the most sensational view in Auckland - the big windows upstairs offer a wide open vista of Chelsea Bay and Little Shoal Bay, looking like all the water in the world.
Best second-hand bookstore
Second Hand Books, Shop 5, St Kevin's Arcade, 183 Karangahape Rd. Note the absence of any kind of name. It tells it like it is. But to enter is to enter a parallel universe, or to go back in time. It does a great line in books and authors no one ever talks about anymore - Colin Wilson, Anais Nin, Sartre, Castaneda, those sorts of cats. It also has lots of really good comics. Best of all, it has a curtain. An actual curtain, no metaphor or anything like that; and behind the curtain are magazines with pictures of, you know, women. The whole shop deserves heritage status. It's a classic.
Best peninsula
Musick Point. Bizarre place! It hosts the Howick Golf Club, and an abandoned modernist building that operated as a kind of lighthouse of sound - it was a maritime radio station, ship-to-shore and all that. There are nice walks, and dudes catch snapper and trevally from the rocks. There's nothing else there. Strange to see urban sprawl kept at reach.
Best show
New Zealand Cactus and Succulent Society (Auckland Branch), November 7, Mt Albert Memorial Hall. The society stages a show every two years, and the 2014 event was another triumph. Beautiful, dream-like works of pulp and prickle were on display, with 704 plants entered into competition. Maribel and Martin Walker, John and Janeen Strong, and the ubiquitous Roy Plackett were among the winners. The event is also a great place to pick up bargains. Mark late 2016 in your calendar now.
Best publishing company
Luncheon Sausage Books. Golly, what a coincidence that's my publishing company. I formed it to self-publish my book Madmen: Inside the Weirdest Election Campaign Ever, the surprise hit of Christmas - it's ripped through four print runs, shot into the best-seller charts (number seven this week), and put about $70,000 into the economy. With luck I'll see some of that. Thanks are due to subversive Hamilton man Joshua Drummond, who painted the cover of John Key; thanks, too, to the Prime Minister, who posed for Josh's portrait. Lucky shoppers may still find a copy at Time Out, Unity, Whitcoulls, Paper Plus, or Unicorn in Warkworth. Merry Xmas!
Best concert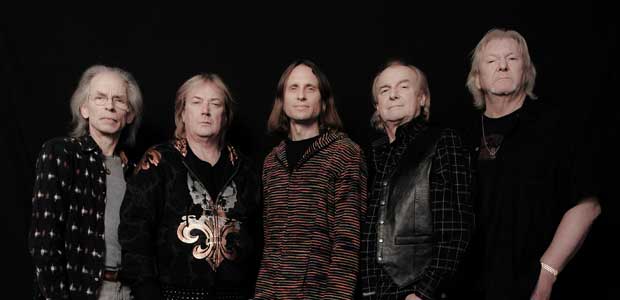 Best concert award goes to Yes - a transcendental experience.
Yes, November 10, ASB Theatre. Yes, who were in their pomp in the 1970s as perhaps the most ambitious and pretentious prog-rock band in the world, played two complete albums live, note for note, second for second, to an audience who were moved, transported, taken away from this world to a celestial galaxy or something. Honestly, it was a transcendental experience, actually cosmic. God was there and I think I saw the Rug Guru.
Best Elvis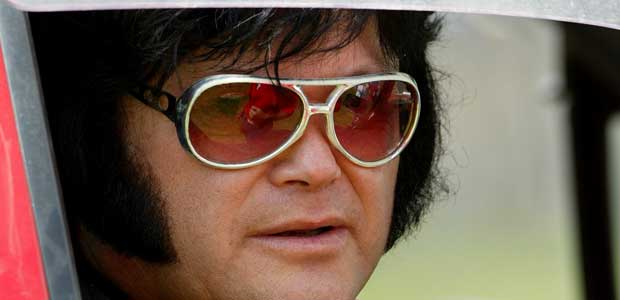 Andy Stankovich is the next best thing to Elvis.
Andy Stankovich. Auckland's best-loved Elvis impersonator, Andy Stankovich, was seized with a genius idea in 2014. He decided to put aside the Elvis jumpsuits, those clown costumes with their sequins and their belts, and just do what makes him loved: sing Elvis songs. He staged a dynamic live show at the Civic on August 16 with a full band including backing vocals and choir, and set the place on fire. He wore sharp suits. Everything else was his sound. The guy just has such a pure Elvis voice. He did That's Alright Mama, Are you Lonesome Tonight, If I Can Dream, Always on my Mind - he was Elvis. More, please.
Best traffic bridge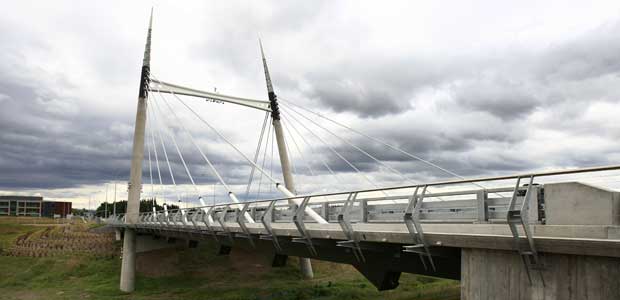 The Ormiston bridge - a magnificent statement of intent.
Ormiston Road Bridge, Ormiston. It's not a bridge. It's a conceit. It's a delusion of grandeur. It's a white, glowing elephant, with two 45m-tall pylons, long and wide and garish, its bright lights burning in the dark for miles around - it's out near Flat Bush, and welcomes visitors to the newly developed town of Ormiston. Ormiston, O, Ormiston! It's a statement of intent, and it's magnificent.
Best pedestrian bridge
Over State Highways 16 and 18, Massey. This is like walking on air over death. A sensual looping bridge, painted curious yellow, begins innocently enough just behind the Westgate Mall in Massey, and then crosses over the roaring mayhem of the northbound and southbound Upper Harbour Motorway (State Highways 16 and 18) - and minutes later, takes you to the peace and dappled light of the Manutewhau Stream walkway in West Harbour.
Best motorway
State Highway 20 Waterview connection. Actually, the whole western ring route project thing is an epic and genuinely awesome engineering feat - the tunnelling Alice machine excavating a great many statistics of earth, the overpasses on a robot march around the edge of Pt Chevalier, the lifting and widening of the causeway to Te Atatu, etc. It's quite possibly a waste of money and won't do a damned thing to unsnarl Auckland traffic. But it's history in the making, Pyramidic.
Best train station
Papakura. The last stop on the southern line. The station is like a cottage, wonderfully restored, a quaint, sad reminder of a time when rail was king. It's an ode, a lyric. Plus the air always feels fresh on the platform.
Best estuary
Orakei Basin. In particular, that bit you can only see on the train, between Hobson Bay and Meadowbank - travelling south, the basin narrows, and nuzzles up to Kepa Bush. It's such a gorgeous, sinuous stretch of water and mangrove, very green, very dark, almost completely hidden from view, one of Auckland's many watery secrets.
Best Aucklander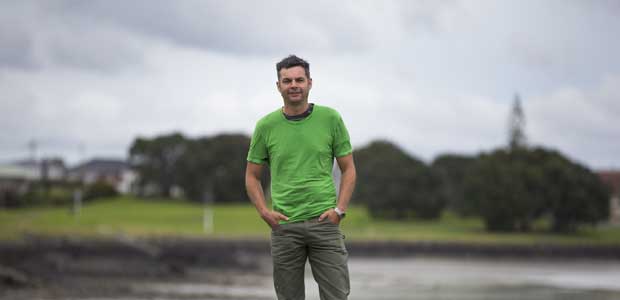 Marcus Lush's skirting of Auckland bought the place alive.
Marcus Lush. The greatest New Zealand travel writer since old A.H. Reed has spent the past couple of years "skirting Auckland" - his term for walking the waterways and coasts of the entire isthmus, and recording the experience in a series of really funny and acutely observed photos and captions on Twitter. A book is due. Good. I'm not actually sure if he even lives in Auckland but his skirting brought the place alive in a way no one else has ever achieved. It makes you want to go out and see what he's seen, or just feel real good that you live here. Lush deserves a community award, or some kind of medal. Or would he like to run for mayor? Dude's got my vote.