Killer Mike and El-P's underground careers have exploded since joining forces as Run the Jewels - and they're loving every second of it. Chris Schulz joins the happy rappers on tour in Los Angeles.
Parked in front of hip Los Angeles venue, The Echoplex is a bus so large it takes up four car parks - five if you count the trailer attached to the back of it.
Bright red and emblazoned with the owners' names, Run the Jewels' tour bus is so impressive fans queuing ahead of tonight's show kill time by posing for awkward photos in front of it.
• Read more: Album review: Run the Jewels, Run the Jewels 2
Inside the venue, RTJ members Killer Mike and El-P are hunched over their phones in front of a rider table covered in corn chips and guacamole, unaware of the fuss their bus is causing outside.
They know it's a big statement - later on they'll tell the Echoplex's sold-out crowd they were pulled over by police within hours of getting it, and they're keen to swap it for something less conspicuous.
They're joking, because if there's one rap group that deserves to make grand gestures, it's Run the Jewels. The LA-based duo are responsible for RTJ2, the year's most destructive hip-hop album. It's full of face-melting beats, bruising verbal attacks and hazy conspiracy theories, delivered via the duo's intricately entwined rhyme schemes.
Listen: Run the Jewels talk to Chris Schulz: Part 1:

You'd be hard-pressed to find a better rap record this year, and with an eclectic guest roster that includes Rage Against the Machine's Zach de la Rocha, Blink 182's Travis Barker and Beyonce producer Boots, it's streets ahead of last year's already very good debut.
As Mike, (real name: Michael Render, 39) says: "It's harder, darker and angrier..."
El-P (Jaime Meline, also 39) finishes his sentence: "... and funnier. We wanted to take it up a notch, we wanted to really make it a bigger experience."
It's also become a zeitgeist-grabbing behemoth, with Run the Jewels backing up the free download with a hilarious Twitter feed that sparked a must-read feud with a Taylor Swift fan, and the fan-funded charity companion album Meow the Jewels, consisting entirely of - yes - cat noises.
They've been on tour since RTJ2 dropped in October, and although their bus won't make the trip, Killer Mike and El-P will land in New Zealand in January for two shows, the follow-up to a breathless performance at this year's Laneway Festival.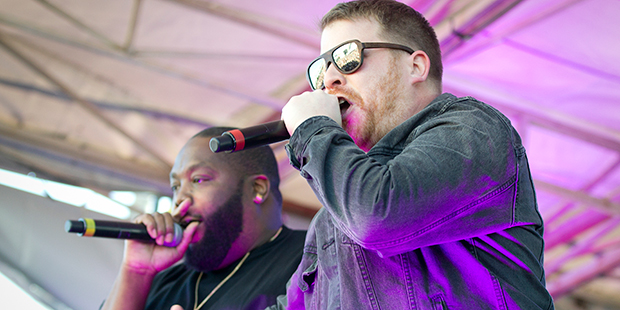 Run The Jewels on the Cactus Cat Stage at Laneways Festival at Silo Park, Auckland. Photo / Sarah Ivey
Tonight's LA show is sold out, and El-P admits the success of RTJ2 means life has become a "whirlwind" for them.
"We're level-headed about it. We've been around for a long time and we've been working really hard. We're not kids getting our first taste of something but it is bigger than anything we've been a part of individually. It means we get to smile a lot and see a lot of people in front of us."
Dig a little deeper, and you'll find the real reason behind those smiles: Run the Jewels came just in the nick of time for both of them.
Listen: Run the Jewels talk to Chris Schulz: Part 2:

"I have four children to feed," explains Killer Mike, who has released six solo albums. "The practical truth of it is, I have to feed my children. I did entertain [giving rap up] at some point."
El-P admits he was nearing breaking point with his own career, which spawned three critically acclaimed records but had failed to break through to rap's mainstream.
"If you're around long enough you go through doubts, and you wonder what the future is going to be," he says. "For me, it was, 'Has it plateaued? Or is there something else out there that I haven't experienced yet?
"Sometimes you get a little exhausted of the hustle and you want to see something new happening - and that's happening. We're lucky guys."
*Warning: Music video contains explicit content*
Watch the music video for Blockbuster Night Part 1 by Run the Jewels:

App users: Tap here to view video
Killer Mike agrees: "I never doubted myself as a rapper, or that I was making dope music [but] I doubted myself working in the music industry in some way. Now, I rap hard enough so I never have to feel that feeling again."
The pair met through a mutual friend, initially working together on Killer Mike's 2012 record R.A.P. Music. After touring together, they realised there was something special about the two of them on stage together.
But El-P was sceptical: "There was a little bit of resistance in the beginning on my part because I didn't really plan on working with anyone else at the time."
Killer Mike's response? "I badgered the shit out of him."
El-P: "I'm glad you did because once we opened ourselves up to that experience, everything has fallen into place. It was really quick. It turned into a working relationship and a friendship and a family, and that's a big deal. You don't find that every day and you don't ignore it when it happens."
Later that night, the bass rumbling from the Echoplex's speaker system rattles the venue's air conditioning units so loudly it sounds like a jet engine is bursting into life.
It's a great metaphor for the power Killer Mike and El-P bring to the stage: in quickfire succession, they blast through some of RTJ2's most frenetic moments - the brooding menace of Oh My Darling Don't Cry, the thuggish grind of All My Life, and the comical chorus of Lie, Cheat, Steal that has the entire venue shouting in unison.
Listen: Run the Jewels talk to Chris Schulz: Part 3:

The pair interact the entire time, often performing arm-in-arm, touching each other on the shoulder when they're trading verses, and between songs they crack jokes at each other's expense - many of them aimed at the dieting efforts of Killer Mike.
More importantly, they're smiling the entire time - and that's something El-P believes has been integral to their success.
"People get the vibe that we are really enjoying this shit. From what people tell us, that is a good feeling, it's refreshing. For us, it's the truth, it's natural, you can't fake it: it's us really enjoying making music together."
It's infectious for other musicians too - many of the album's LA-based guests make it on stage tonight, with Gangsta Boo flipping rap's sexual cliches during Love Again and Travis Barker flailing away on a drum set during All Due Respect. When Rage Against the Machine front man Zach de la Rocha shows up halfway through Close Your Eyes (And Count to F***) it sends the venue into overdrive.
Afterwards, tired and sweaty fans stagger towards the doors as small white bags are thrust into their hands. They contain warm chocolate cookies, a genius initiative that will apparently happen at their upcoming New Zealand shows, too.
Yes, Run the Jewels have their cake - and they're letting their fans eat the cookies too.
Who: Run the Jewels
Where: Playing with Joey Bada$$ on January 9 at Wellington's James Cabaret, and January 10 at Auckland's Studio.
New album: Run the Jewels 2 available through runthejewels.net
* Follow TimeOut on Facebook
- TimeOut