Friday night fish and chips, organic food and daytime naps may not sound very rock and roll, but they were all part of Rolling Stone Keith Richards' stay at Auckland's exclusive Cotter House in 2006.
The Remuera hotel, now on the market for $5.2 million, is owned by chic 68-year-old Gloria Poupard-Walbridge.
It was booked exclusively for the entirety of Richards' stay, while he recovered from a head injury.
Read more:
• Rachel Glucina: My night with Mick Jagger
In 2006 Ms Poupard-Walbridge told the Herald she would not talk about the guitarist, as she had signed a confidentiality agreement. But the agreement has lapsed and she was happy to share details of the now 70-year-old's stay for the first time.
Richards' neurosurgeon, Andrew Law, had suggested the hotel.
"They were looking for a very quiet place which could be reserved on a totally exclusive basis and obviously the convenience and charm of Cotter House," Ms Poupard-Walbridge said.
Privacy and a very high level of security were conditions which sealed the deal for Richards, his wife, Patti Hansen, and children.
Media organisations had helicopters flying over Remuera trying to figure out where he was staying, Ms Poupard-Walbridge said, but it wasn't until the arrival of his daughters, followed by hordes of photographers, that his location was pinpointed.
Ms Poupard-Walbridge said Richards' entire family stayed in the house, at which a single night's stay now costs between $605 and $1200.
"They were absolutely delightful, exquisite people," Ms Poupard-Walbridge said.
Neighbours would leave treats in the mailbox - bottles of booze or baked goods with accompanying "get well soon Keith" notes, and would call if they saw paparazzi waiting outside.
"Keith was able to work in the ballroom - he set up a painting studio there," she said.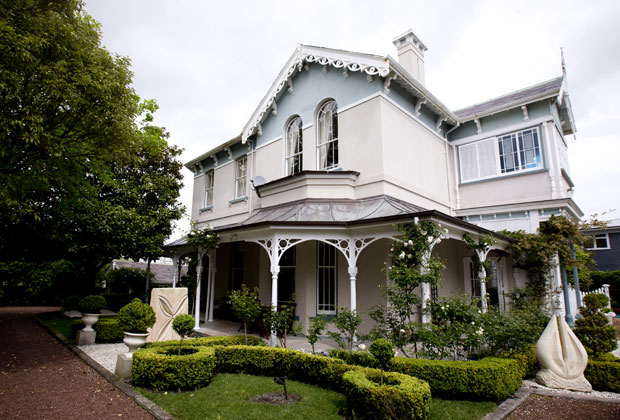 Remuera's Cotter House. Photo / Dean Purcell
The house's part-time groundskeeper at the time, artist Daniel Calvert, became great friends with Richards, and would get art supplies for him. The pair even exchanged artworks.
Richards' family had guests over and dinner parties just about every night, at which only organic food was eaten, and he was quite taken with the hotel's chef.
On Friday evenings, the owner's night off, Richards' security guard would get the rocker fish and chips for tea.
Ms Poupard-Walbridge said that when the Rolling Stone got tired, he would lie down in one of the house's lounges and watch TV, or take a nap on a small bed in a room adjoining his and his wife's master bedroom.
"His room was always impeccable. He'd slip into the day bed and have a snooze, because his wife would not have the bedroom messed up."
Early on in his stay, when something went wrong with the TV's satellite, Richards hid while technicians came around to fix it, so as not to risk his location being leaked to media.
In the last few days of the family's stay, Ms Poupard-Walbridge said the photographers disappeared, the security guards were sent home, and Hansen was able to go shopping in Remuera without being bothered.
"Nobody recognised her, or nobody cared. She'd have her nails done, go to the hairdresser, go to the shops, stop in at the pharmacy, without being pestered at all. It was rather funny. At first they behaved like they were in Europe - hiding away, but by the end they just let go. It was really lovely.
"It was a very unique experience for them."
Dr Law became close to Richards after performing lifesaving surgery on the guitarist. The Daily Mail reported that Dr Law toured with the Rolling Stones through Italy, Austria and Germany in 2006 at the demand of the band's insurance company.
Dr Law admitted to being a Stones fan and said he was going to the concert on Saturday night, but he didn't hear from his Richards too often any more.
"It was many years ago now and I haven't had much to do with him for a while," he said.