We trawl through the gossip mags, so you don't have to.
Kiwi star gets engaged to her American love
The Block NZ
host Shannon Ryan has shared her engagement joy with the
Woman's Day
, revealing she will wed her American sweetheart Justin Greenwood.
The adorable couple have been dating since 2012. "From the moment we met, everything felt special and unique," Ryan told Woman's Day.
The pair picked out engagement rings together at Jim Saylor Jewelers, owned by Greenwood's uncle, in Kauai, Hawaii. "I was never one to wear a ring," Greenwood admitted, "but having one and seeing Shannon with hers is pretty special. It's just another link in our love."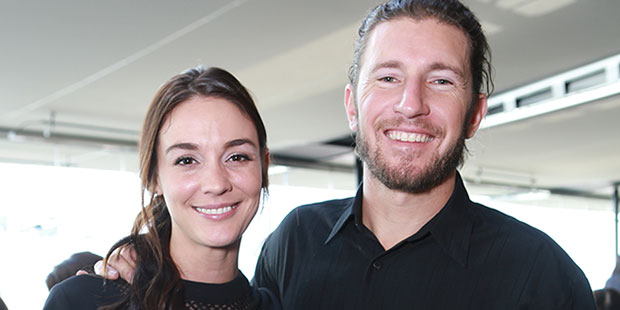 Shannon Ryan and Justin Greenwood. Photo / Norrie Montgomery
As for the big day, the love birds aren't making too many plans, however there will be two ceremonies, one in New Zealand and one in California.
Because of their love for surfing, one thing Ryan and Greenwood are considering for their wedding is the possibility of an ocean side ceremony.
"We could always try learn to tandem surf," Ryan suggested.
Too cute.
Bruce Jenner with a new woman or becoming a new woman?
Bruce Jenner. Photo / Getty Images
Just weeks after Kris Jenner filed to divorce her husband of 22 years, Bruce Jenner, the Keeping Up With The Kardashians' star is reportedly heartbroken that her ex has already moved on so quickly.
New Idea revealed that Bruce Jenner was spotted leaving an Elton John concert with a new potential new beau and wonders whether the unnamed arm candy could be the reason for the couple's split. However, Woman's Day is speculating that the former Olympian is in fact wanting to go under the knife for a sex-change operation.
"Bruce has battled with this for decades," a source told Woman's Day.
"The reality is that he has wanted to live as a woman for as long as he can remember and he's desperate to go through with the full gender reassignment."
I guess you gotta do what you gotta do.
Redfoo's Tinder addiction
Singer and X Factor judge Redfoo.
Not only does X Factor Australia judge Redfoo like to get up in the club, he also likes to get online finding "matches" on the dating app Tinder.
The newly single 39-year-old singer told New Idea, "nothing is more exciting than getting a match. I don't care who you are! It's fun."
"Girls see me at the club and ask if I'm on Tinder" the star said, talking to Woman's Day.
"Then they complain I never come up in their profile. It's because no girl in her 20s puts their age preference up to 39!"
Which is probably a good thing ...
Baby reveals softer side to Cowell
Simon Cowell.
Having a baby has changed Simon Cowell.
The celeb is usually known for his nasty remarks as a judge on reality TV shows X Factor, Britain's Got Talent and American Idol, but it seems his son has got him singing a happier tune.
Cowell gushed to Woman's Weekly about his baby boy Eric, who was born earlier this year, even suggesting he'd be up for baby number two. "Of course I'd like another child," Cowell told the gossip mag.
"You have one, and I'd always have another."
Cuddles aside, Cowell has admitted he's not the most hands on dad.
"I don't think you have to" he said about the task of nappy changing, "It's like watching your girlfriend go to the loo. You don't really want to."
Luckily Cowell has more than enough money to pay for people to do those dirty jobs for him.
Mrs McGee's awkward family photo
Michelle "Bombshell" McGee. Photo / Doug Sherring
It seems the lady who had an affair with Sandra Bullock's (now ex) husband Jesse James back in 2010 has turned over a new leaf.
Michelle "Bombshell" McGee, a tattooed stripper and former porn star has revealed to New Idea that she is desperate to turn her life around.
New Idea have a, um, lovely family photo of McGee with her husband Tony and three sons all wearing rather hideous Christmas sweaters. McGee has even grown out her hair to cover her prominent forehead tattoo.
"I actually want to get my tattoos removed because I want to eventually get a real job," she told New Idea. "I'm finishing up my bachelor degree right now, I'm studying biology."
Although she may be regretting some of those facial tatts, she doesn't regret her scandalous affair with Jesse James.
"I don't have regrets about Jess. I have regrets [that] Sandra got hurt. I can't say I broke up a marriage - I don't believe I did."
- nzherald.co.nz