Who knew Lady Gaga was a lover of the Great American Songbook? There's been an inkling in her past collaborations with Elton John, The Muppets, and her compadre here, Tony Bennett, but 18 tracks worth? Who knew? It ain't half bad though. Bennett, who's now 88, has turned his warm, twinkling charm on his fellow Italian-American New Yorker.
Despite the 60-year age gap, their voices and style work together mostly very well. Bennett's still deep and resonant, and his delivery is perfectly phrased and paced. He sounds knowing and generous, and he's as capable as ever of balancing the wink and glance style, with a more soulful, sombre tone.
Gaga does indulge in a fair bit of pop star belting, occasionally using force instead of restraint, but she does have a wide range, both in pitch and tone, and when she lets a little personality shine through it can be a delight to hear her dance vocal rings around Bennetts old-school tones.
Which songs you find most appealing will most likely depend on which are old favourites - there's snappy, brassy numbers like Cole Porter's Anything Goes, and Duke Ellington's It Don't Mean A Thing, and lusher, slower numbers like Nat King Cole's Nature Boy, and they're all seamlessly arranged and performed by the band and orchestra.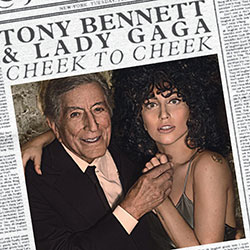 Verdict: Seamless standard renditions
- TimeOut