Imagine cruising down California's Highway 101 in an old Cadillac. Tunes up, top down, and the sun setting over the Pacific Ocean highlights a haze over the horizon.
The Madden Brothers put you right on the edge of the Californian coastline with their debut album, Greetings from California.
• Read more: Brotherly instinct fuels Madden Bros
Joel and Benji Madden, of pop-punk band Good Charlotte, have ditched the fast-paced drum-lines and distorted guitars, taking a different turn together as The Madden Brothers.
The twins have drawn musical inspiration from times gone by, from Brixton and Out of My Mind's Beach Boys-style rock 'n' roll, to Jealousy (All Your Friends In Silverlake)'s 80s synth pop, throwing in their own flavour to encapsulate the vibe of The Golden State. The album is split into two sides, with first single We Are Done kicking off side A, while the second half of the album slows down a notch with the acoustic guitars of Brother and Suddenly.
Layering of instruments and harmonies are executed well, letting you pick out a new sound each time you listen through the mixed-genre tracks.
If you're looking for another Good Charlotte you won't find it in Greetings from California. But what you will find is thoughtful, well-crafted pop.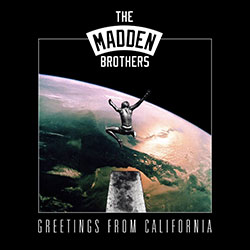 Verdict: Ready for some cool Californian vibes?
* The Herald will host a livestream Q&A session with the Madden Brothers on Tuesday at 11am. Send us your questions on Twitter using the hashtag #askmadden and come back to see them answer live at nzherald.co.nz
- TimeOut