Paul Casserly signs up to Lightbox and examines its offerings.
So anyway, I signed up to Lightbox. It's the new Netflix like service from Spark aka Telecom aka The New Zealand Post Office.
At first I thought meh, aka, no thanks. For one thing, I've already seen a lot of the shows, and then there's the fact that I'm already paying through the nose for SKY, with extra extortion doled out to the shakedown merchants of Soho and Rialto, supplemented with the occasional computer sourced programming or OCSP for short. I already feel well covered.
Still, I write stuff about TV, and more importantly, it's free for the first month, and they promise to tell me in time to pull the plug before the next.
I have an aversion to signing up to regular payments without the insistence of the courts. I mean who even pays for porn? Apart from Shane Jones that is. He clearly wasn't fit for office. Not because he indulged in one-handed TV watching on the taxpayer, he's not fit because he PAID FOR IT! For all his faults, even Colin Craig wouldn't do that. (Sorry for putting that image in your head, just don't picture it. Hey at least I didn't say Peter Dunne. SORRY)
The charities that call at my door also try to get a monthly sub for their various good causes but that's too much commitment for me and I send the poor people packing. I'm getting better at being nice to them though. After all, I live down a long driveway, so I admire their tenacity. But I'm a binge giver. If I'm cashed up I'll slam down some folding, but sign me up? Doubt it. Nada. Nope.
I nearly slammed the door on Lightbox too, but as a binge watcher I figured I should give it a go.
"It better be easy to set up and get running", I grumped to myself as I tapped my finger on a few buttons as if it was some great chore. It was easy, but you'll need to give over your credit card details - cue small intake of breath.
You will also need to have some way of getting an HDMI out of your laptop into your TV, unless you just plan to watch the shows on your lappy or have an Apple TV or similar. On the downside there are no movies.
Also, it seems that Lightbox is somewhere where old shows go to die. It's a graveyard full of great TV, like an abandoned video store filled with all the box sets you have never seen. So if you don't have Sky and you can handle TVNZ On Demand, this could be the service for you.
My mum has one of those TVs that only works in the wrong aspect ratio thus making everyone fat. "He's put on weight", she says as Duncan Garner looms on screen in a 3rd Degree advert. Even whippet thin Sam Hayes looks well fed in this world.
Many people don't notice the aspect ratio. These are the people who can watch TVNZ OnDemand without noticing that it looks like someone has put some dirty pantyhose over the lens before urinating on it. I swear I can smell asparagus. TV3's service is several notches better, but still not up to my exacting standards.
Lightbox does not suffer this fate. The image is pretty bloody good. Not quite DVD or Sky level, but miles above OnDemand. The brilliance of the business model is that you are probably paying twice, once as a Telecom/Spark customer who's forking out for broadband and once as a loyal Lightbox customer. Yes that's the sound of clicking tickets - and you thought it was your laptop's fan working overtime.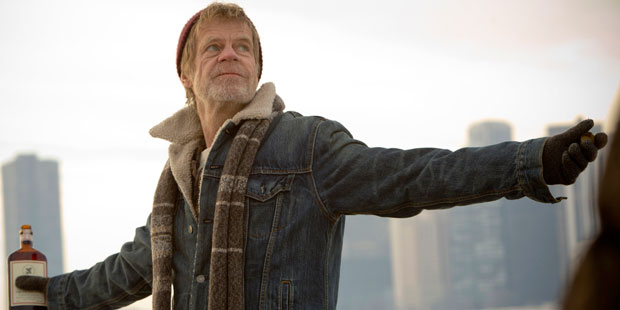 William H. Macy in Shameless.
I clicked on an episode of the brilliant Vikings (a GOT like period series that I've been addicted to of late) when I began writing this blog. It's still trying to load, flicking between a screen that says "logging in - please wait" and a white screen. A wheel spins.
I should stop and try again but the temptation to get to the end of this piece in the time it takes to log into a show is too much. I could do a Slater! I could take these bastards down! Or I could just try it again. Ah, there we are, good as gold.
Damn. What am I supposed to do with my residual rage now? Wait for someone to launch a denial of service attack on the network rendering the whole shebang unusable for an entire weekend perhaps? Too easy.
The truth about Lightbox is that for the moment it's free and it looks great. For people without Sky + Soho or Netflix this could be revelatory.
The revelation for me will be if I actually want to pay for it come the end of the month. Most likely I will send them packing like that nice lady who was trying to sign me up to the Fred Hollows Foundation.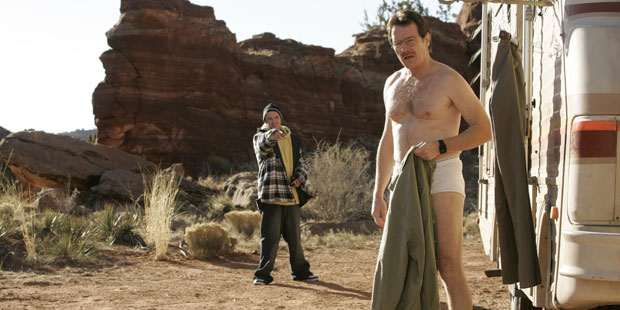 Aaron Paul and Bryan Cranston in Breaking Bad.
BTW Vikings is a great watch, if politically incorrect dry humping, general pillage and Gabriel Byrne sounds like your bag, and why wouldn't it? There's a great chance to catch up on stuff you may not have seen but should, like Madmen, Breaking Bad, Boss, House of Cards, Shameless, Louie, Gavin and Stacey, Peep Show.
Not all shows are complete, The Killing is sans the tremendous third series and only series one of Orange is The New Black is on hand. Delve into the pages marked 'Factual' or 'Reality' and the bottom of the barrel looks back at you and winks.
I might swerve Celebrity Ghost Stories, but Lady Hoggers, episode one, looks very promising. "A domestic sow in heat attracts boars and juveniles to a family's backyard; a cattle ranch owned by Miss Virginia has a boar infestation that threatens not only her property, but also her livelihood."
* What's your experience with Lightbox or Netflix? Post your comments below.