With octogenarian comedian Joan Rivers, host of Fashion Police, going strong until being hospitalised this week, Michael Thornton finds age has not withered the talents or audience appeal of women turning 80.
When I was 17", as Frank Sinatra used to sing soulfully, "it was a very good year.
"What is it about certain years that usher in a high percentage of extraordinarily charismatic babies destined to amaze and electrify us with their talents, and staying power? In 1934, was there some magic glitter-dust in the air?
If so, it must have been very widely disseminated, for that year has provided us with a thriving generation of spectacular octogenarians, most with eerie links banding themtogether.
Perhaps it was nature's reaction to Adolf Hitler becoming the Fuhrer of Germany that August?
In answer to his screaming harangues, Hollywood produced the 6-year-old Shirley Temple as the most popular star in theworld.
By courtesy of 1934, the year of their arrival, two of the greatest actresses in the English language, Dame Judi Dench and Dame Maggie Smith, are about to clock up their 80th birthdays without a sign of faltering, despite both being challengedin recent years by health problems: Dame Judi through macular degeneration, which now requires helpers to read scripts, and Dame Maggie with breast cancer.
Great actresses do not always co-exist in perfect harmony. But "Mags" and "Jude" have always been the greatest of friends.
They have also worked together, memorably and felicitously, without stealing each other's light or thunder, adding their lustre to remarkable films, including E M Forster's A Room with A View, Tea with Mussolini, and The Best Exotic Marigold Hotel, the sequel towhich, The Second Best Exotic Marigold Hotel is on its way to our screens.
Britain's most prolific playwright, Alan Bennett, who has created material for Dame Maggie in A Bed Among the Lentils, part of his Talking Heads season, and on stage in The Lady in the Van, and for Dame Judi in Two in Torquay, part of Bennett's Triple Bill-arrived at his own 80th in May.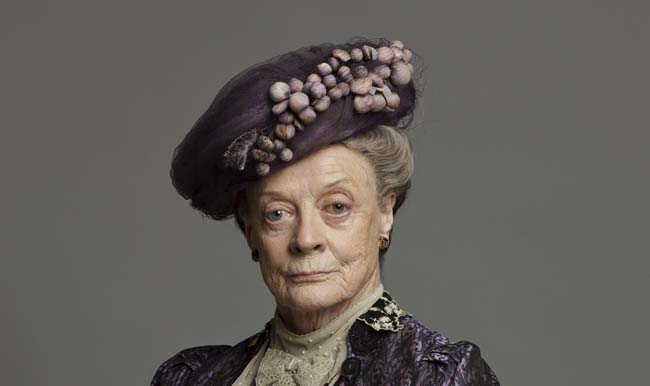 Maggie Smith.
An equally distinguished British dramatist, Sir Ronald Harwood, who wrote the play Quartet, in the film version of which Maggie Smith starred in 2012, also arrives at 80 in November.
Smith and Dench, are blunt, down-to-earth, no-nonsense characters, not given to prevarication.
Who but Dame Maggie, on inspecting bras in Fortnum and Mason in the company of the late Kenneth Williams, would have shrieked aloud: "How much? Cheaper to have 'emoff!"
But Dame Judi, a piercingly forthright M in the Bond films, does not take kindly to being described as a national treasure.
"I don't like that, I'm afraid. That sounds pretty dusty to me. It's Alan Bennett and I behind glass in some forgotten old cupboard. I don't like it at all."
A third great English actress, Dame Eileen Atkins, the equal of Dench and Smith in talent and forthright style, clocked up her 80th birthday in June. Atkins stars with Simon McBurney and Colin Firth in Woody Allen's latest comedy movie Magic in the Moonlight in which she plays Aunt Vanessa.
She is a close friend of Dame Maggie, and I saw them together on stage in Edward Albee's A Delicate Balance, in which Atkins displayed nerves of steel.
At the climax of one scene, her bracelet suddenly broke, showering the stage with bouncing pearls.
Many an actress would have been disconcerted by this mishap, but Atkins kept her cool as impeccably as the character she portrays as Martin Clunes' aunt, Dr Ruth Ellingham, in television's Doc Martin.
Shading her eyes, as if warding off tiresome sunlight, she bent down and calmly picked up the pearls one by one, receiving a round of admiring applause from the audience.
Atkins, of course, is associatedin the public mind with another of this year's octogenarians, Jean Marsh, who was her co-creator and the star of the massively successful television series Upstairs, Downstairs, in which Marsh brilliantly played the central role of housemaid Rose Buck. The recent attempt to revive Upstairs, Downstairs was an unhappy experience for bothwomen.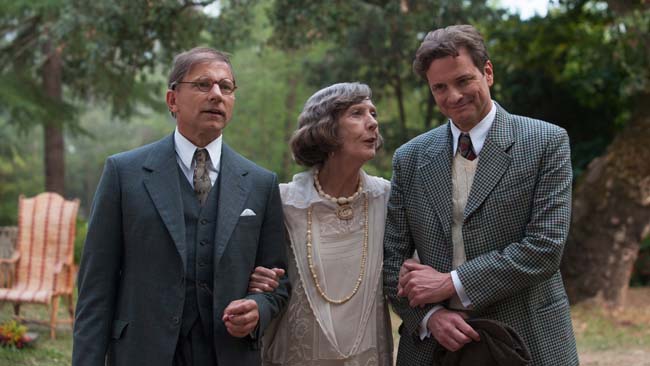 SimonMcBurney, Eileen Atkins and Colin Firth in Magic in the Moonlight.
Atkins disliked the scripts, and it was widely felt her character, the redoubtable Maud, Lady Holland, was a not very skilful attempt to upstage Dame Maggie Smith as the Dowager Countess of Grantham in the rival series Downton Abbey.
Atkins withdrew from Upstairs at the end of the first series, and the domineering Maud had to be killed off. This reportedly upset Marsh, who had returned to her original role as Rose, andwho suffered a stroke.
The revival was axed, and there were suggestions that, for a time, the long and close friendship of Atkins an dMarsh was under somestrain.
Another of this year's thriving octogenarians is the Scottish character actress Annette Crosbie, the long-suffering Margaret Meldrew in One Foot in the Grave,and the retired school teacher Jessie in the film Calendar Girls.
In 1975, she played Queen Victoria in the ITV period drama Edward the Seventh in which she co-starred with Timothy West, who will be 80 in October, and who, in spite of the recent decline in health of his actress wife, Prunella Scales, is still working at full throttle as Stan Carter, the father of the host of theQueen Vic in EastEnders.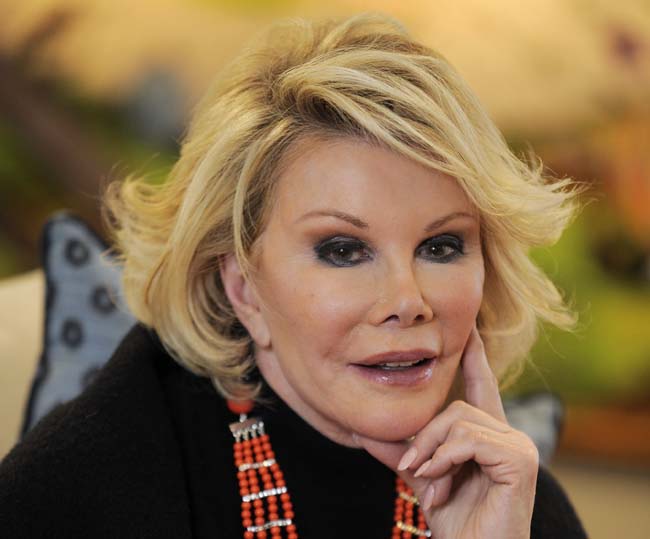 Joan Rivers.
Sylvia Syms, the star of countless films since her first, as Dame Anna Neagle's troubled offspring in My Teenage Daughter, in 1956, was 80 in January.
She continues to work, and memorably portrayed the late Queen Mother to Dame Helen Mirren's Elizabeth II in The Queen, in 2006.
But she says: "People who see me in all these films on television think I must have earned a fortune. The truth is very different. "For Ice Cold in Alex, I received the glorious sum of £30 a week!"
When they filmed Victim in 1961, Syms was the only British female star brave enough to play opposite Dirk Bogarde as the wife of a homosexual barrister.
This year ushers in a galaxy of 80-year-old superstars. They include Shirley MacLaine, Dame Maggie Smith's American protagonist in Downton Abbey; Richard Chamberlain, who came to fame as television's dashing Dr Kildare but was compelled by studio pressure to remain a closet gay until he bravely came out in his autobiography Shattered Love in 2003; Barry Humphries, creator of the immortal Dame Edna Everage; John Standing, still such a fine actor that few people know that he is a baronet; the original "sex kitten", Brigitte Bardot; and Sophia Loren, who arrives at her 80th birthday on September 20 with her lustrous Italian beauty remarkably unscathed.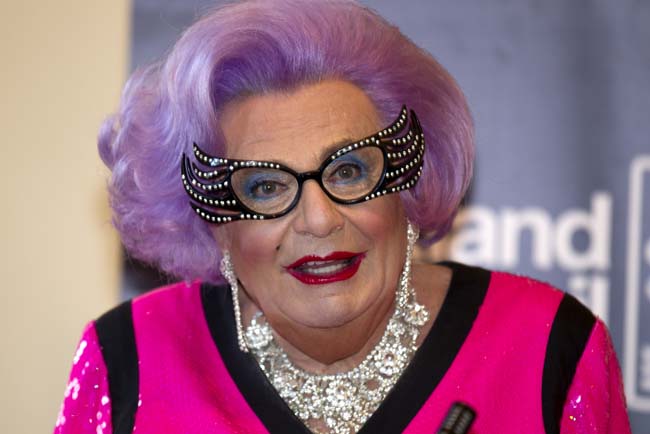 Barry Humphries is the creator of Dame Edna.
But this amazing bunch of survivors have more than longevity going for them. There was a time when a film like The Best Exotic Marigold Hotel, about an establishment that caters for troubled senior citizens, would have been regarded by film financiers and distributors as "uncommercial" and "not box office".
Yet it earned US$135 million worldwide. Now we await the sequel, in which Smith and Dench are joined by the 65-year-old Richard Gere, once the heart-throb hero of Pretty Woman.
A further blockbuster is anticipated. Suddenly it is cool, and no longer unfashionable, to be old.
The ancient cinematic bastions of ageism are being systematically dismantled. The later lyrics of Sinatra's song - "But now the days grow short, I'm in the autumn of the year.
"And now I think of my life as vintage wine from fine old kegs" - are being spectacularly rewritten by Dames Judi, Maggie, Eileen and their magnificent band of indestructible contemporaries.