On June 21 1964, the Beatles arrived on what was a winter Sunday.
There had been pop hysteria in Godzone before. But nothing like it before - or since. Thousands lined the streets outside their hotels in Auckland, Wellington, Christchurch and Dunedin. Thousands saw them play two shows a night of less than a dozen songs during their eight-day jaunt.
The 1950s and Elvis might have invented the teenager - the adolescent with tastes and attitudes distinct from their parents but the 1960s unleashed them on the world and here, the Beatles tour marked the actual start of that influential decade. True, their time in Australia and New Zealand rates barely a blip in the many volumes of Beatles history. It was the quiet patch after conquering America earlier in the year and making A Hard Day's Night and releasing it for the UK and US.
But here, it was bedlam from the moment the plane door opened at Wellington's Rongotai Airport and the four were bestowed with those head-scratchingly large tikis.
Is this for fertility?

SHARE THIS QUOTE:
Is this for fertility? John Lennon reportedly asked the bearer of his gift. Funnily enough it probably wasn't his first South Seas souvenir. He, wife Cynthia, George Harrison and Pattie Boyd had been on holiday in Tahiti the previous mont,h only to head back to Britain to start their world tour via stops in Denmark, Holland, Hong Kong and Australia before arriving here.
They might have dressed nicely beneath their moptops but the Beatles' visit to New Zealand was, by all accounts, including the band's, a tour of sex and drugs with occasional breaks for rock 'n' roll. There will be a fair few Kiwi grandmothers who have stories about close encounter of the Fab kind.
The Beatles who arrived here were a long way from the group that was to deliver the likes of Sergeant Pepper's Hearts Club Band referenced in our headline and the other albums that have made them endure as far more than a pop culture earthquake from a now-distant time.
But plenty of those who saw them in 1964 were already in bands. Plenty more went on to form them. Plenty more remember that week as the biggest thing to happen to their otherwise sheltered New Zealand teenage years.
Just as the Beatles changed the history of pop culture in the rest of the world, the band's eight days here were an event that went way beyond four guys from Liverpool bashing out a few decent tunes.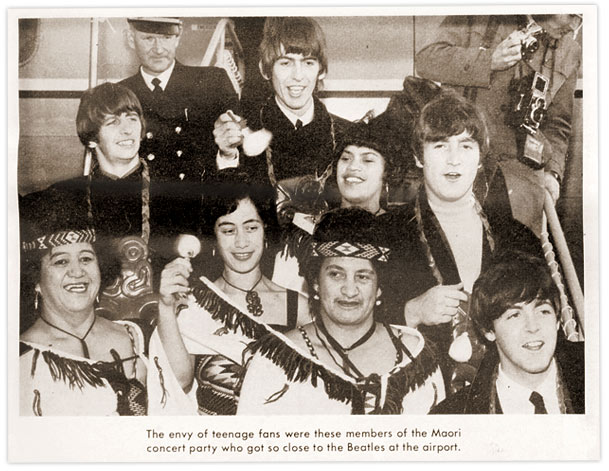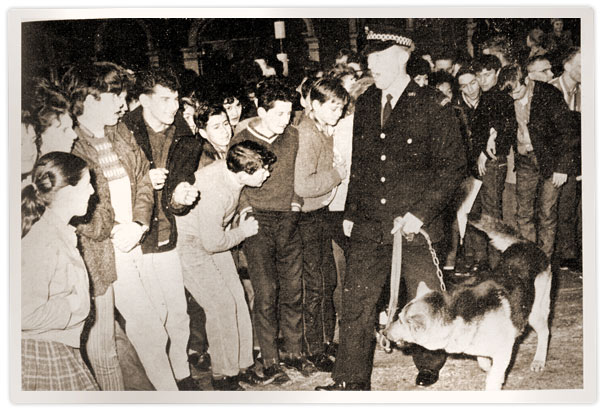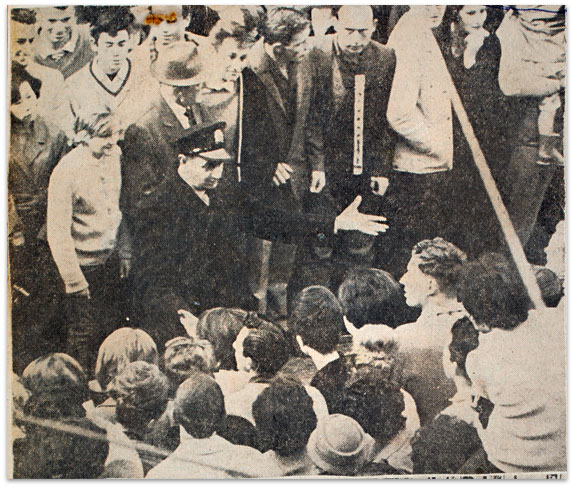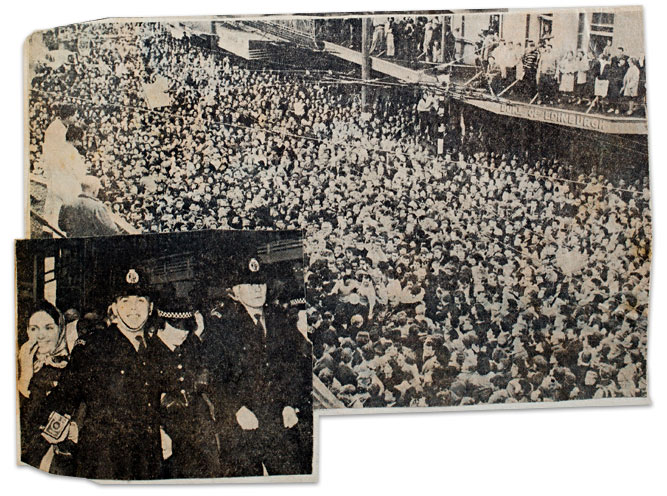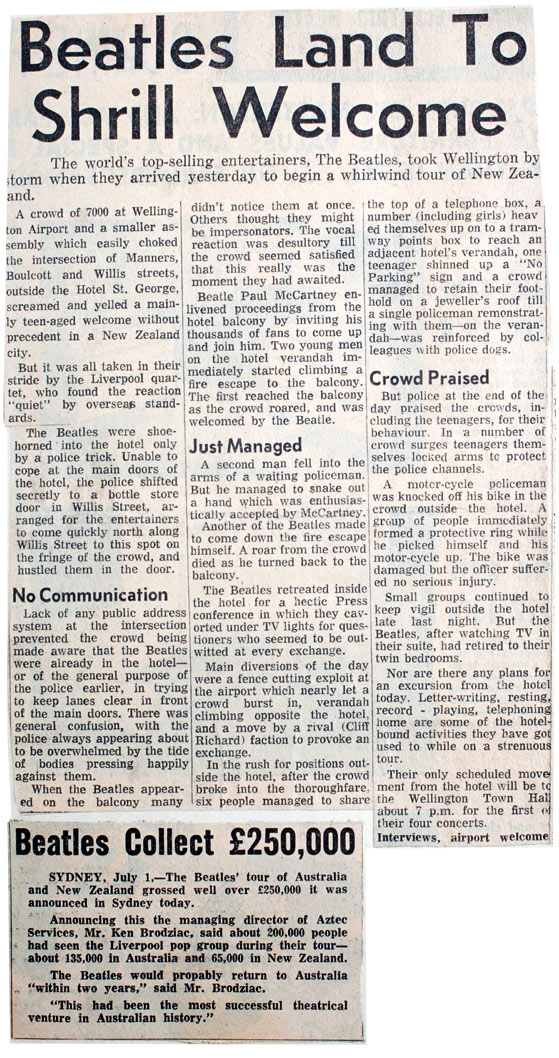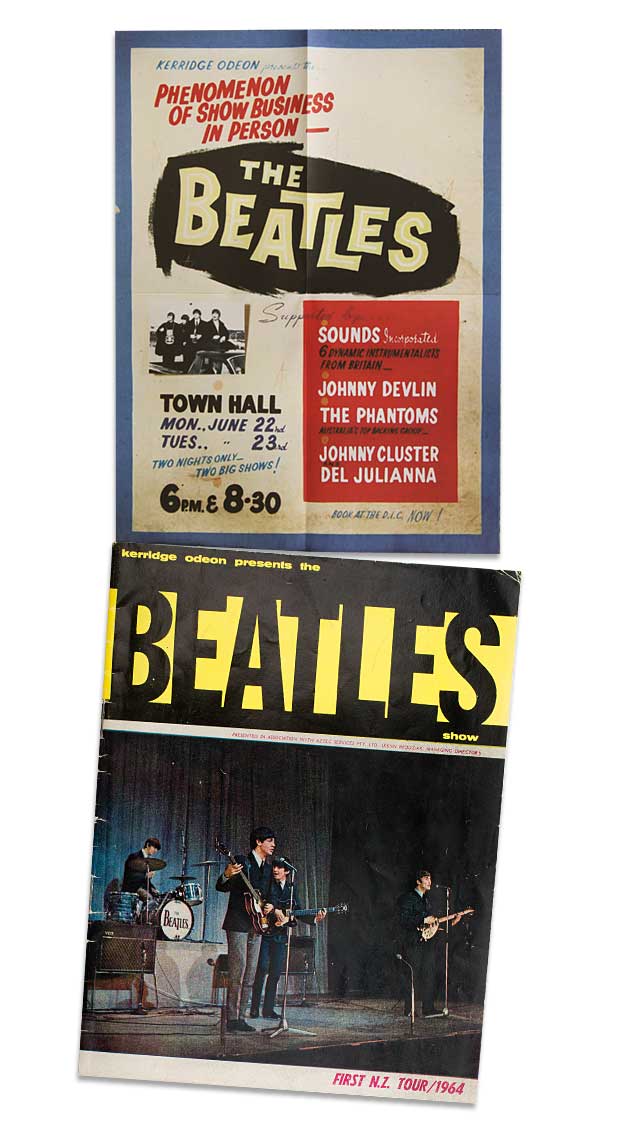 Where they were in '64
Three days before the Beatles arrived in Wellington, Sydney streets were lined with jealous girls hurling abuse at a fleet of passing limousines. Inside the cars were 17 young ladies who had been selected from tens of thousands of applicants by a panel, including visiting Irish comedian Dave Allen, to attend Paul McCartney's 22nd birthday party. The do went on until at least 3am, when a tired and emotional Ringo Starr finally passed out and slumped to the floor.
Just two months before that the band held the top five charts spots on one side of the Atlantic while finishing their first movie, A Hard Day's Night, on the other. John Lennon and George Harrison had already ventured to the Pacific the previous month, holidaying in the Tahiti before heading back to Britain, only to jump back on a plane to bring them back Downunder via Hong Kong - where they got some suits and capes made.
These were crazy times for a band whose first album Please Please Me was still only a year old and whose second had come out the previous November among a constant stream of singles.
All the same, if the Fab Four's hit-and-run New Zealand tour somehow dragged us out of the rock 'n' roll 50s in only eight days, musically, they remained a work in progress. The Times newspaper's classical music critic may have lauded Lennon-McCartney as the greatest composers since Beethoven, but their 11-song sets still featured cover versions and none of their first three self-penned singles. Non-believers were thick on the ground, with many here thinking their appeal would pass quickly.
Hear the songs The Beatles played in their Auckland shows as they appeared in the setlist...

Even the Beatles' American label, Capitol Records, had refused to release their records until only a few weeksahead of their first visit there in February 1964 and their history-making appearance on The Ed Sullivan Show.
So their rise had been as swift as it was unexpected and, without any form of social media outside of radio, newspapers and the odd television appearance.
When they were landing here the establishment was reassuring themselves that young New Zealanders were far more sensible than elsewhere. Certainly the police numbers at the band's public appearances suggest they never anticipated any fuss.
These long-haired Poms would be gone before anyone noticed they'd arrived ...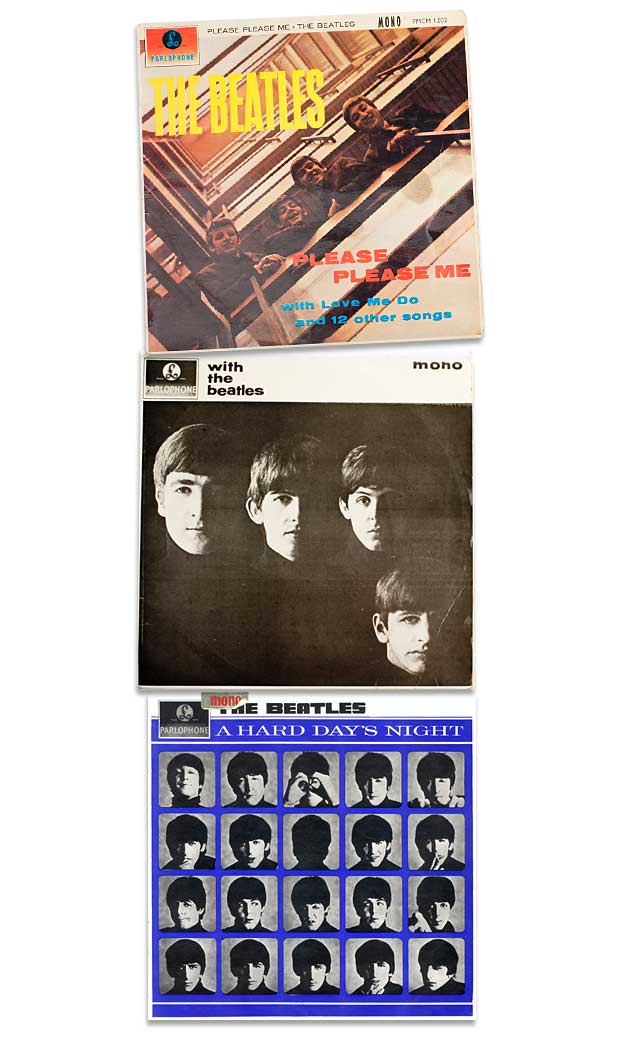 Stay tuned: nzherald.co.nz will be running a series of stories this week on The Beatles' 1964 tour of New Zealand.