Has Dominic Bowden found love again? Sky TV's roving celebrity interviewer has been spending a lot of quality time with Auckland blonde beauty Amy Louise Burgess, an assistant account manager at North Shore media company Benefitz. It's his first serious relationship since he and ex-wife, TV3 journalist Claire Robbie, separated in 2012.
The pair holidayed in Queenstown over summer, and have recently begun sharing details of their friendship on social media. But they weren't so keen to spill the beans to Spy. Bowden was unusually quiet when we tried to chat to him about it.
Burgess was reportedly spending time with Bowden in LA last week, where he interviewed Angelina Jolie about her role in new Disney movie, Maleficent. Jolie plays the title character, a powerful and evil fairy. The week before, Bowden had a trip down memory lane with his idol past, catching up with American Idol judges Jennifer Lopez, Harry Connick and Keith Urban.
Spy looks forward to seeing the striking couple on the Auckland social circuit.
Hospo trends
We've never been so spoiled on the Auckland dining scene as top-notch eateries seem to open every few months. Now it seems the Prime Minister's swanky suburb of Parnell is set to get some love.
Leading hospo trendsetter Mark Wallbank is heading back to his roots to resuscitate the once uber-cool strip of Parnell Rd. Wallbank left Parnell restaurant Cibo in 1999 and went on to carve out huge success in Ponsonby, as the owner of MooChowChow and The Blue Breeze Inn.
Wallbank confirmed all to Spy: "How did you know? I've just signed on the bottom line. I can't wait to come home to Parnell, I am so excited. We have taken over The Parnell Bar and Grill and it will be Asian. We are still working through the type. We are a few months off but we will create an indoor-outdoor feel that people will love."
And will he be joined by celebrity chef Michael Van de Elzen? Spy hears he's moving on from the Food Truck and looking to open a restaurant in Auckland. He's been spotted checking out Parnell premises, though Ponsonby and Britomart locations are also on his radar. Now that should be a healthy, fun place to dine.
Dane's nuptials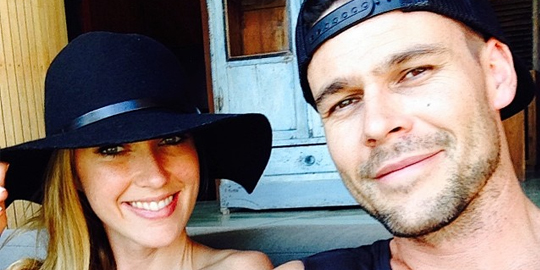 Nikki Phillips and Dane Rumble.
Spy believes congratulations are in order for Sydney-based expats, musician Dane Rumble and his model wife Nikki Phillips, who reportedly got hitched in an intimate ceremony in Bali last Sunday.
The glamorous couple, known for their love of celebrity status, reportedly kept invites strictly to invited family and friends for their fairytale wedding in the exotic Indonesian setting.
Would the real celebrity envelope opener please stand up!
Seems Paul Henry can't leave Shane Cortese alone, if the constant jibes on his TV show are anything to go by. Every time a party or event is discussed, the brazen broadcaster says: "You can bet Shane Cortese was there, Shane's always at those things."
Not so, says Spy photographer Norrie Montgomery. "Colin Mathura-Jeffree, without a doubt, is the celebrity who turns up everywhere. He might be right re Cortese in the early days, but since becoming a dad, Cortese is out less and less."
So what gives? Cortese laughed it off. "I'm a big fan of PH and we like each other a lot.
I've heard through the grapevine of his piss-taking but I haven't seen it live as I'm usually in bed (not out!) at the time the networks deem safe enough to let him loose. If we do see each other out - and we usually bump into each other at something cause he's always out - we have a laugh and a wine. I'm glad he's back home. But you are quite correct on how little I am out these days."
Cortese has just wrapped filming the Nothing Trivial finale, is auditioning in Australia, and has formed SC and the 8 Track Band. They play 70s and 80s music and he finally gets to play with his cousin and rock drumming god Scott Cortese.
Pic of the week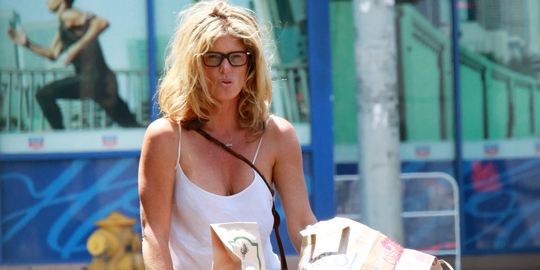 Rachel Hunter.
We think you're sexy Rach.
The British Mail Online had a go at our Rach this week: "It appears Rachel Hunter is no longer interested in dolling herself up every time she leaves the house, looking quite laid back on a Monday outing," it reported. "The 44-year-old was spotted alongside a friend in Los Angeles with a trolley full of Bristol Farm goodies sporting a bad case of bed hair and bra-less as she shopped up a storm." They must have a newbie at the Mail as her friend was actually sister Jackie.
One of these things is not like the other


Pat Musico, Benji and Zoe with Steven Khalil.
Zoe and Benji Marshall sent two very different messages about leaving New Zealand this week.
The pair have hightailed it back to Sydney after the Auckland Blues and the league convert parted company just a few months into the season. Marshall now plays for NRL team the Dragons, his All Black dreams shattered.
The obligatory Kiwi women's mag story about their "shock departure" hit the shelves this week, complete with the cover line: "We didn't want to leave."
In the piece, the pair wax lyrical about their time in Auckland and how hard it was to say goodbye to family, new friends and Zoe's flourishing radio career.
But just days later, Zoe instagrammed a picture from the Sydney's very chic Sokyo Lounge with the message: "Back where we belong". The pair are with Zoe's designer pal Steven Khalil, the man responsible for creating many of the gowns Zoe wore on the Auckland celebrity circuit, and his partner Pat Musico.
Zoe calls them her "Gusbands". Perhaps a better message to have grammed would have been, "Good to be back with old friends".
All that jazz
Kiwi born, London-based designer turned DJ Jaimie Webster shared a star-struck moment when she was snapped with Bill Clinton while playing a gig at Chiltern Fire House in London this week. Webster, wife of leading Kiwi jazz musician Nathan Haines, wrote to friends on Facebook that the pair shared their passion for jazz and that Clinton specifically requested she play Jimmy Smith. Webster gushed: "A man of good taste! I'm not one for celeb snaps etc but one of his many security guards suggested a photo - who was I to say no?!"
Birthday girls


Millie Elder, Ashley Allen and Amber Young.
Celebrating her 26th birthday last week, the late Sir Paul Holmes' daughter Millie spent the weekend with close friends and family, including brother Reuben and stepmum Deborah Holmes at her family estate, Mana Lodge in Hawke's Bay. She told Spy the weekend was spent relaxing with drinks and beautiful dinners. Holmes was delighted to be given a pair of Timberland boots she had been "lusting over for some time", and tells us she felt blessed to have time away with those close to her.
Also celebrating her 26th last week was Shortland Street star Kimberley Crossman. She had an afternoon tea party with family and friends and, in keeping with the shoe theme, her favourite present was some ballet shoes from her mum.
Celebrities raising their teacups included Olympian Blair Tuke and Anna and Jay Reeve, whose twin boys were a huge hit.