The new Mandela film might be about the great man, but it also shines a spotlight on his controversial wife, Winnie, as played by Naomie Harris. The actress talks about the role to Des Sampson.
When British actress Naomie Harris was asked to play Winnie Mandela in Mandela: Long Walk to Freedom, she had no idea what she was getting herself in to.
In fact, with the film drawn from Nelson Mandela's biography, A Long Walk to Freedom, she assumed she'd be a peripheral figure to the central character, played by Idris Elba.
But Harris quickly realised just how big a part Winnie played in Mandela's story - and how controversial a figure she still remains.
She says she originally said yes to director Justin Chadwick because she had worked with him before on The First Grader, another real-life political African story, in which she played the principal of a Kenyan primary school where an 84-year-old former Mau Mau fighter wants to learn to read and write.
"So, when he told me he wanted me to play Winnie, I naively thought, 'Oh my gosh, a film about Nelson Mandela - this extraordinary man who contributed so much to South African history - yes, please!' But I assumed I'd just be playing his wife, in the background, because that's all I saw her as. I didn't know she was controversial. I didn't know she was a political activist in her own right. I didn't know how much she'd contributed to South Africa's history, either," Harris admits. "It was a huge shock when I discovered that - and what she had endured in her fight against apartheid."
Winnie's part in the Mandela story is a largely unknown, harrowing tale that Harris deftly brings to life. It shows her unyielding quest to free Nelson Mandela and keep his dreams alive for a democratic South Africa by organising ANC rallies, instigating acts of terrorism and sanctioning the murder of dissidents. It also documents the personal tragedies she suffered, including countless arrests, brutal imprisonment and being forcibly separated from her children, which fuelled her hatred for the authorities.
"A big part of her hatred is the cruelty she suffered at the hands of the police. She went through some really horrific things because they couldn't get to Mandela, as he was already behind bars, so they got to Winnie instead.
"All their anger towards Mandela who, frustratingly for them, was still a symbol of the anti-apartheid struggle, was vented on her - a mum stuck at home with her two children. It would take a very saintly person to have turned out differently from her and a very cold-hearted one not to find some compassion for her, knowing everything she went through.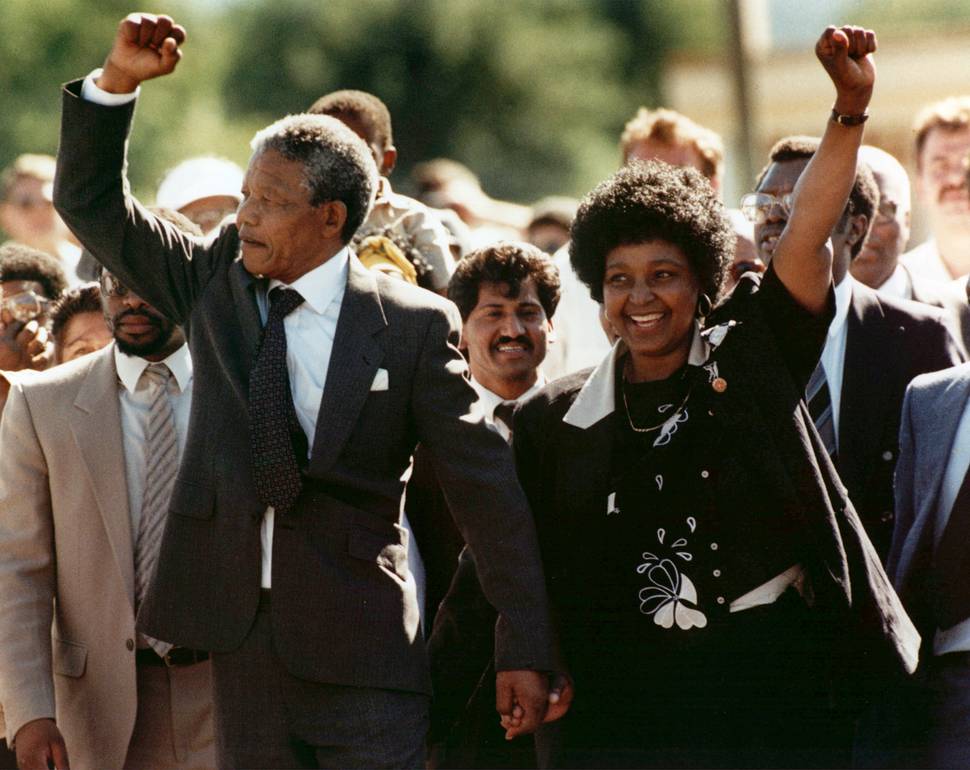 "When I was researching her, I had to take that all into account because there are such polarised views about who this woman is," she adds.
"Some people paint her as a saint - as Mother Africa - but others like to demonise her and say she's a fraudster, a murderer and a terrorist. It was really difficult trying to formulate a cohesive person from such disparate views and to play her sympathetically, especially when you're charting her journey from the age of 21 to 57."
Harris says she worried about what Winnie's reaction would be when she eventually saw the film.
"I met Winnie three times while filming and asked her how she'd like to be portrayed. She just told me to be honest, so that's what I did. But when we premiered it in South Africa, there was silence throughout the film and at the end, too, which was terrifying," she recalls. "I thought, 'Oh my God, nobody likes it.' I looked over at Winnie, in panic, because I thought she might have hated it and be really angry, but then I realised that she was sitting there, in tears, just like her daughter was - and most of the audience - because it had such a profound affect on them.
"Afterwards, I talked to Winnie and she said that I did a great job and was really happy with the film. That was a huge relief. She said it was the first time that she feels like she's been portrayed truthfully.
"It felt great knowing that, because I hadn't tried to make her into a saint. Instead, I tried to show her story - as much as I could, within the limits of the script and being a film about Nelson Mandela - as warts 'n' all as I could. I think that's what she really appreciated about it."
Next, Harris, whose past roles have included zombie killer in 28 Days Later and sea goddess in the Pirates of the Caribbean franchise, is returning to the Bond franchise, reprising her Skyfall role of Eve Moneypenny, who is now a fully fledged, gun-toting MI6 agent rather than M's secretary of old.
But the firebrand Winnie Mandela is likely to remain her most formidable character for some time.
Who: Naomie Harris as Winnie Mandela
What: Mandela: Long Walk to Freedom
When and where: At cinemas from Thursday
- TimeOut