Organic. Fairtrade. 70% cocoa. Award-winning. Benetto drinking chocolate is the biz.
Lucy Bennetto was never able to enjoy traditional brands of drinking chocolate because the high amounts of refined sugars and soy additives triggered her migraines. That's when she came up with the idea for a sustainably sourced, all-natural dark chocolate bar designed to dissolve in steamed milk to create a rich, flavourful hot drink.
"The aim of this particular chocolate is to create a world-class drinking chocolate brand that reflects high standards of ethics, integrity, and quality," Bennetto says.
Bennetto Natural Foods Co. Drinking Chocolate is organic and contains only three ingredients: cocoa beans, raw sugar, and vanilla. The high-quality dark chocolate, made of 70 per cent cocoa solids, is gluten and dairy-free and contains no additives, preservatives, or refined white sugar.
The chocolate's ingredients are ethically sourced, with the cocoa and sugar coming from Rainforest Alliance Accreditation Fairtrade cooperatives in Peru and Paraguay.
After she began making chocolate, Bennetto travelled to the Dominican Republic in 2011 to experience the origins of cocoa beans first-hand. By visiting several Fairtrade cooperatives and cocoa processors in the Santo Domingo area, she learned how cocoa beans were produced, from the harvesting and drying processes to the pressing of cocoa butters.
"I was shown the different community housing that had been built. I talked with many farmers and got to see that Fairtrade is really making a difference to people's lives," says Bennetto.
The bars are made and hand-wrapped in New Zealand in eco-friendly packaging that uses vegetable ink. Bennetto says she is currently working on wrapping that is also fully compostable.
In 2014, Bennetto Drinking Chocolate was awarded best new retail product by Fine Food New Zealand and won the title of Fairtrade's best small business.
Each year, the company supports a different cause. Five cents from the sale of every drinking chocolate bar is currently donated to the Cystic Fibrosis Association of New Zealand. "Part of the premise of doing this is creating a brand that gives back," Bennetto says.
Bennetto is now working on three spice blends to incorporate into the chocolate, with one flavor, chai, already available for sale in a ceramic grinder which allows customers to sprinkle the spice mix on top of the chocolate. "We have combined some fantastic flavours such as, clove, cardamom, bay leaves, black pepper and orange that balance the chocolate beautifully, especially with milk."
"Right from the beginning it was this driving desire to create something that's previously been perceived as junk food, or a naughty treat," says Bennetto. "But if you're using good ingredients, if you're considering the environment, if you're considering the growers and suppliers, you can actually produce something that's not really naughty at all."

Click here to get one carton (25 bars) of Bennetto premium organic, Fairtrade drinking chocolate bars for $84.90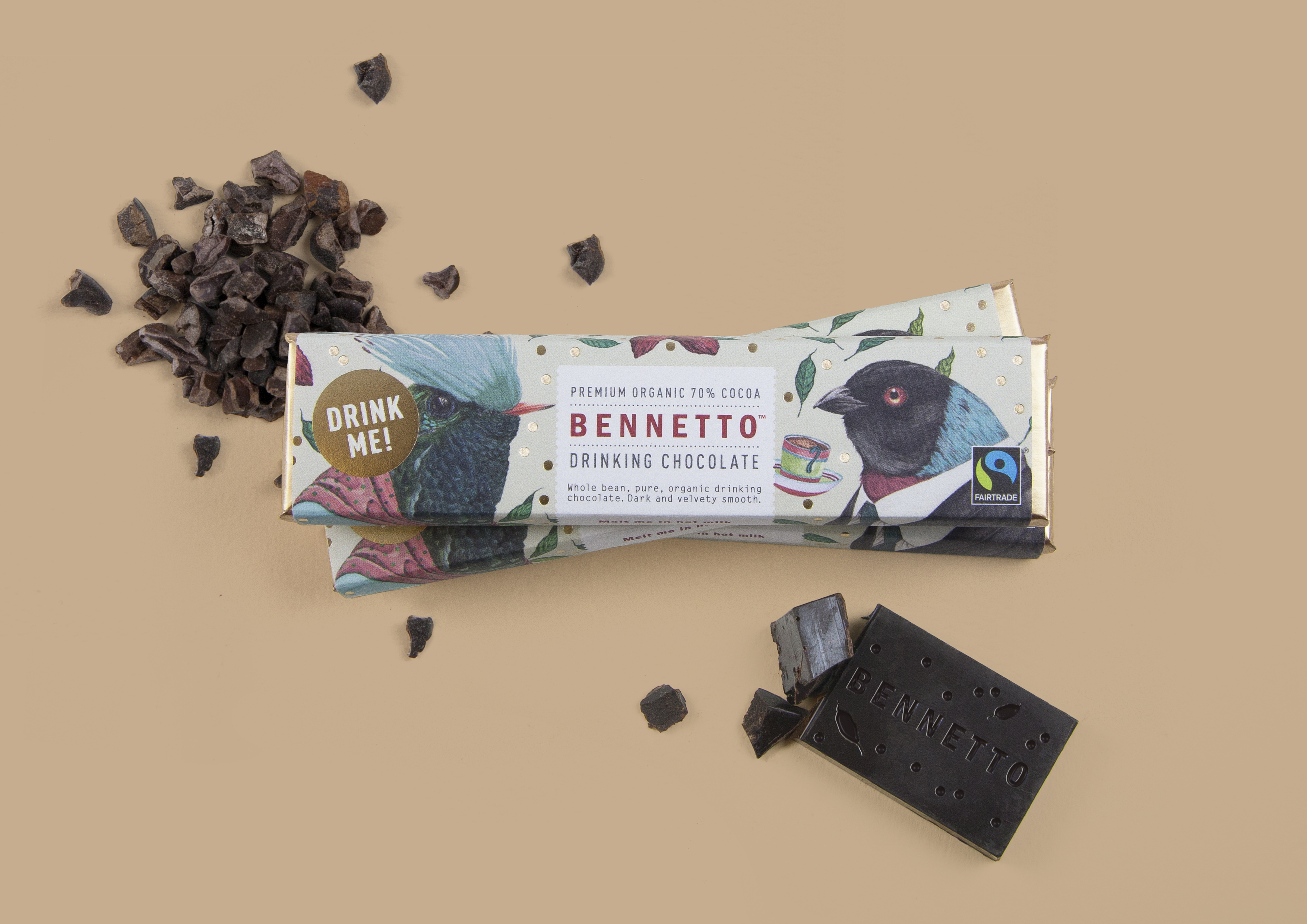 Like what you see? For weekly Element news sign up to our newsletter. We're also on Facebook and Twitter.