The tears flowed when Canadian cyclist Bernard Gendron responded to his children's commands in Dunedin Hospital on Tuesday.
The joy was short-lived but his children know their father will not give in without a fight.
Gendron, 59, was cycling on Otago Peninsula on Saturday when he was hit by a campervan and sustained a severe brain injury.
READ MORE:
Campervan driver faces charges
Canadian tourist cyclist fights for life after Dunedin crash
He remains in an induced coma, in a serious but stable condition, in the hospital's intensive care unit.
Gendron's children, Marc, 31, of Boston, and Isabelle, 29, and Jean-Michel, 28, Gendron, both of Montreal, arrived in Dunedin on Monday.
Marc Gendron, speaking to the Otago Daily Times at the hospital yesterday, said his father was unsedated and came out of his coma on Tuesday.
Gendron gave a ''big thumbs up'' when his children asked him to move his thumb and wiggled his toes when asked.
''It was incredible. We all started crying ... it was a huge relief to see he was still in there. He didn't open his eyes, he didn't speak but he could hear a command and react.''
The joy was shortlived as he started choking on the tubes in his mouth and his blood pressure began to spike.
''They had to put him back under ... it was pretty rough.''
He was unsedated again yesterday morning but was unresponsive.
The family were ''staying optimistic'' and knew a recovery was often ''one step forward and two steps backwards''.
The medical care at Dunedin Hospital was ''excellent'' and the hospital staff were ''heroes''.
''We are super grateful.''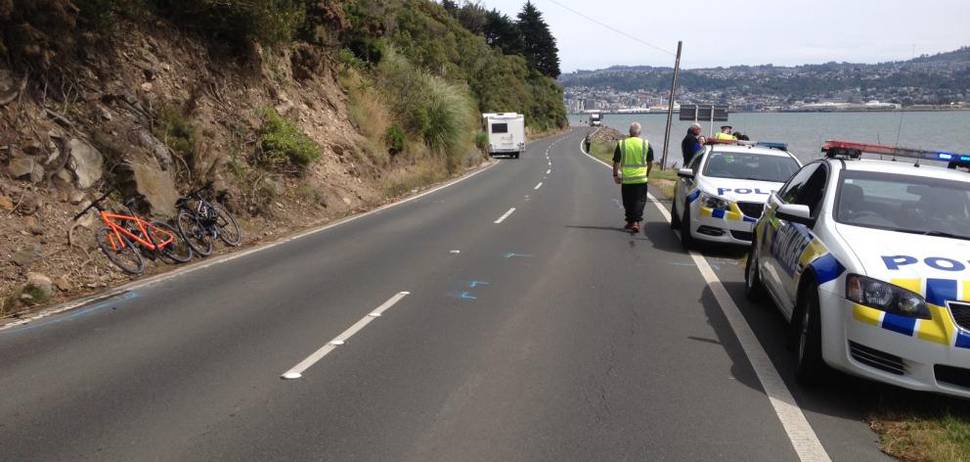 Marc Gendron's sister was an emergency room doctor and ''speaks the medical language'', which helped.
The siblings were ''shocked'' at the niceness of New Zealanders.
Canadians had a reputation of being ''polite and nice'' but New Zealanders ''took it to a whole new level''.
The visit to New Zealand was the first for every member of the family.
Gendron and his partner Huyen Tran Thi Thanh were passengers on the cruise ship Celebrity Solstice.
They were with a large group of Quebec residents, who had booked the cruise through Gendron's travel agency Voyages Gendron, one of the largest agencies in Quebec.
''He decided to join with a couple of friends at the last minute.''
Chinese campervan driver Wei Zhang, 34, has been charged with careless driving causing injury.
The case was called before a registrar at Dunedin District Court earlier this week and was adjourned until Tuesday.
Marc said one of the siblings would attend the court case, while the other two remained at their father's side in hospital.
The children would remain in Dunedin for as long as their father was in the city.
''We owe this guy everything. If there is anything we can do for him, we want to be here.''
They were sure their father would fight to get better because he was ''stubborn as hell''.
''He is extremely determined.''
His father was a ''self-made man''.
Despite Gendron's father dying when he was 4 and his mother being on welfare, he started to build his travel agency at the age of 14.
''He built this big thing from nothing. If he gets the chance, he is going to fight. Sometimes I worry there is too much damage but if there is anyone who can do it, it's him.''