Money spent on tourism in Auckland is on the rise, with expenditure up eight per cent compared to last year.
The latest Monthly Regional Tourism Estimates released by the Ministry of Business, Innovation and Employment (MBIE) show that tourism spend for Auckland is estimated to be $8.4 billion for the year to June 2018.
The MRTEs provide an estimate of regional monthly expenditure on tourism from both international and domestic consumers. It gives an estimate of tourist spending patterns within New Zealand.
MBIE manager of sector Trends Mark Gordon said from Auckland's tourism spend, international visitors spent $4.4 billion - up eight per cent compared with the same period last year, and domestic tourists spent $4 billion - up seven per cent.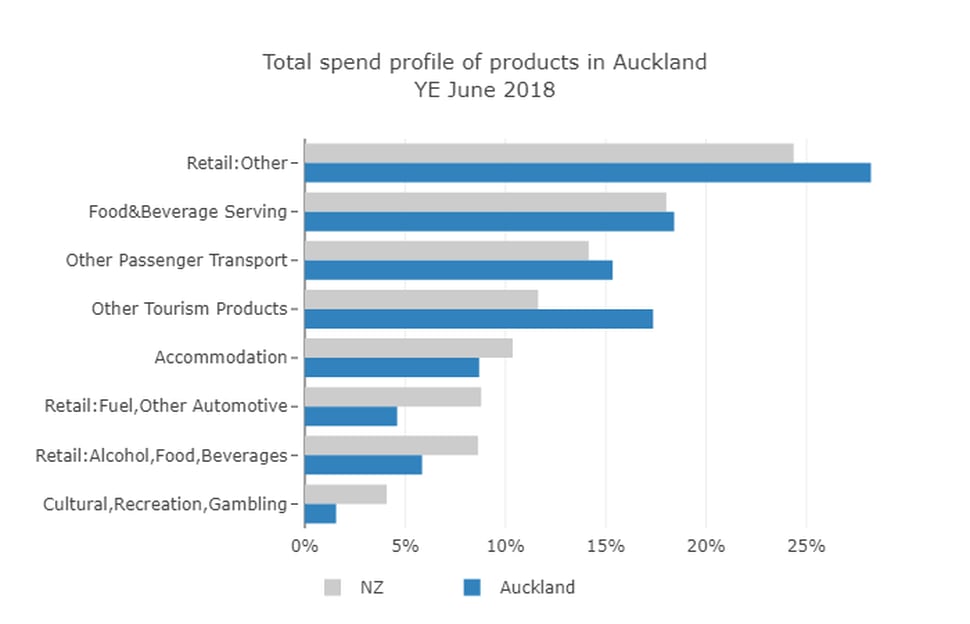 In June this year, $570m was spent on tourism in Auckland, which is level compared with June last year.
Of the money spent on tourism in Auckland for the year to June 2018, $3.9 billion was spent by New Zealanders, $912 million by Chinese nationals and $836 million by Australians.
Broken down by money spent by product, tourists in Auckland spent $2.4 billion on retail sales (other), $1.5 billion on food and beverage serving services, and $1.4 billion on other tourism products.
This was followed by $1.3 billion on other passenger transport, $736 million on accommodation, $485 million on retail sales of alcohol, food and beverages, $380 million on fuel and other automotive products, and $131 million on cultural, recreation, and gambling services.
While Auckland was the region with the highest tourism expenditure, it was followed by Canterbury and Otago with and estimated spent of about $3.8 billion for the year to June 2018. Waikato is forth on the list, estimated at about $2.6 billion.
The region with the biggest year to year growth was Gisborne, which grew 16 per cent this year, and had an estimated $158 million spent on tourism.
Nationally, the country has had an estimated $28,770 billion spent on tourism for the year to June 2018, which is up nine per cent on last year.
Monthly expenditure also rose five per cent nationally for the month of June.