Return flights to Paris are on sale this weekend for $999 and Hawaii economy flights have dropped to below $600.
Bali, another popular destination where competition is about to heat up, has return economy flights for $699 at the House of Travel sales event.
The agent says there is ''good availability'' of seats to Europe, including return to Rome from Auckland for $989 and London — where taxes and levies are notoriously high — for $1099 all up.
All of the Europe flights are on full service carrier China Southern Airlines through its Guangzhou hub.
There are promotional deals to most other regions of the world and are mainly available from July through to the end of December. Blackout periods apply.
Paris flights are for travel during selected dates in June-July and October-December 2018.
The sale comes as global airline chiefs warn of higher underlying fares in the coming year with some already putting up some base prices.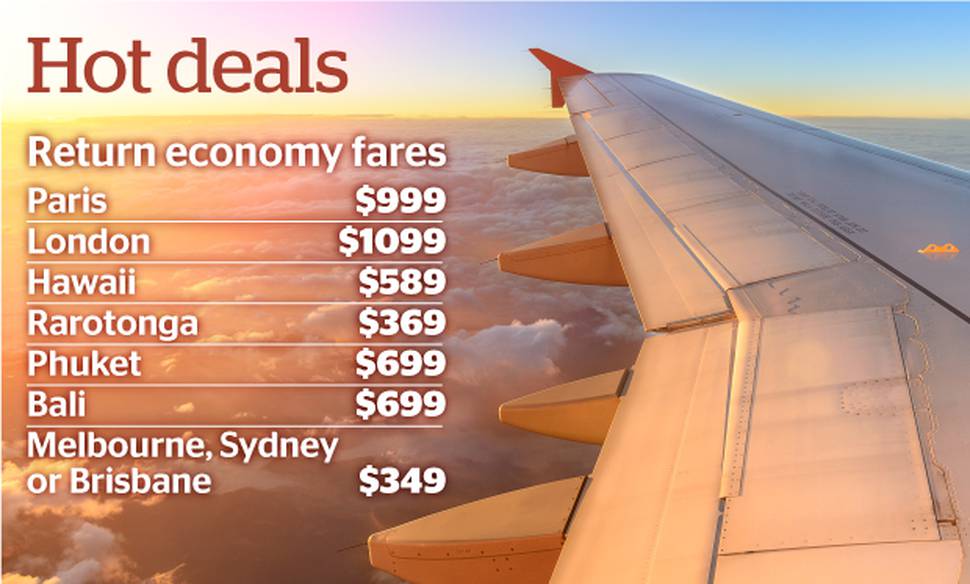 The industry is battling rising costs — especially fuel — and House of Travel advises travellers to lock in travel early.
"I know it sounds like a sales story but the reality is the prices aren't going to be so good.'' said the firm's commercial director, Brent Thomas.
He said the deals were negotiated with airlines, specially for the Auckland Travel Bazaar tomorrow.
Cut-price seats are made available by airlines wanting certainty about revenue at set times of the year and often involve agents having to part subsidise the deals. The dynamic price environment saw fares to Hawaii drop from $679 to $589 late yesterday in the lead-up to the event.
Bargain flights to Hawaii are with Air New Zealand and the airline is also offering Bali deals in competition with Malaysian Airlines and newcomer to the route from Auckland, Emirates.
Thomas said the slide in the value of the kiwi dollar has slid this year, which pushes up the price of overseas travel ad not affected bookings, now running at record highs. The cold start to winter had also boosted bookings during the past week.
New Zealanders had benefited from highly competitive airfare pricing over the last couple of years, due to favourable fuel pricing and an increase in capacity, new routes and carriers in the market helping to sustain competition.
Since 2016, seven new airlines and 14 new routes have begun operating through the country's main gateway, Auckland, and Wellington and Christchurch have also enjoyed strong growth in international flights.
During the past year oil prices have risen more than 50 per cent denting airline profits as fuel makes up an average of 25 per cent of costs and more than a third on long-haul routes which hurts airlines such as Air New Zealand which flies a high proportion of extended range flights. The has international fares under review.
Labour and infrastructure costs are also rising and this week led the International Air Transport Association to cut its profit target for the global aviation market to US$33.8 billion, ($48.1b) 12 per cent lower than a December forecast.
The association expects fares to rise around the rate of global inflation, which the International Monetary Fund forecasts to be around 3.4 per cent this year.