Retailers are being hit hard by big construction work in central Auckland that has dragged on for nearly two years.
Beauty retailer Makeup Direct, formerly trading on Darby St in Auckland's CBD, has closed down after building work slashed its earnings.
An employee told the Weekend Herald on its last day of trading this month that the work had "seriously" affected the number of customers coming through its doors. When its store lease came up for renewal, a decision was made to not continue due to slow business, the employee said.
Construction work for the City Rail Link (CRL) has been in progress on Victoria and Albert Sts for almost two years. The project - the biggest in New Zealand - will eventually link the station at Britomart in downtown Auckland with the train line heading west, adding two stops across the central city.
But the work is taking a toll on inner city retailers.
City Star Convenience dairy owner Abdul Soltan, who has been working in the Victoria St store for more than 10 years, said his shop sales had plunged more than 50 per cent during the construction.
"It's affecting us in terms of sales, foot traffic, and our front of shop signage is blocked," Soltan said. "The other side [of the street], they can't see us now."
Soltan and his staff were also finding it hard to stock the store.
"We struggle to find somewhere to park, just to unload a few things; the construction is having a big affect," he said.
"To be honest we have to make discounts just to cover [costs] - it's having a big impact and we're just waiting for them to go, we can't wait for this day."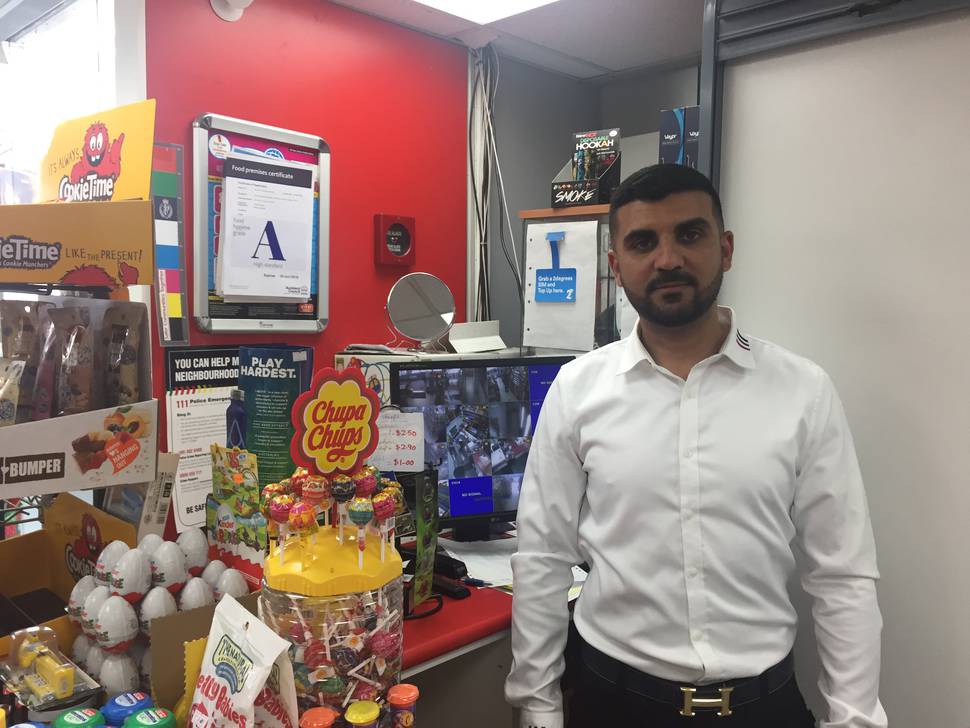 Businesses on the block received a paper notice prior the work beginning, but say they have had very little communication on developments since it had begun.
Satender Phogat, owner and operator of Kebab Time and Taj Mahal Indian Food on Victoria St, said many people thought his stores were closed as ongoing construction was blocking signage and the view of his shop.
"We have big, big wooden boards in front of us and nobody can see our store. We are helpless, what can we do to attract customers? The pedestrians outside our shop have been reduced by 30 to 40 per cent," Phogat said.
"All of the businesses in our row are affected too much. Sales for my store have dropped down by 50 per cent, compared to last year."
Phogat bought the shop next door to eatery Kebab Time, formerly home to My Mother's Cafe, in August.
"The previous owner sold the business because she couldn't survive in this market. I took the risk as I already had the shop next door, and I could afford to a little bit as the other business is supporting this one. I promote my businesses from the other side as well, but I'm still not close to breaking even."
Phogat and other retailers affected said they expected to receive compensation such as supplementing rent for their stores, or alternative advertising.
"We expected to get some rent reduction, some compensation from the Government. It is very hard for us to pay rent. We are working here from morning to evening - we can't afford to pay wages at this time," he said.
Many had already requested for more advertising to let people know they are still open for business.
Phogat said about this time of the year he would normally hire additional staff for the summer, but this year was not contemplating it.
"We can't survive if we are giving wages here. We are always quiet, everyone is," he said.
"I'm supposed to increase the staff now in the summer, I'm supposed to be hiring, but after this and looking at the situation I'm not even thinking about hiring anyone because I know that we're not that busy now and I can handle it easily."
Viv Beck, chief executive of Heart of the City, said she had heard of a number of retailers affected by ongoing construction.
"We are aware of businesses that have been affected in different ways. Sometimes its a combination of things; sometimes its market pressures, or it could be directly due to the flow of traffic and accessibility to the business," Beck said.
While construction was hindering many local retailers, she said more people than ever were wandering the streets of Auckland City.
"There's a lot more people in the city, spend is growing, retail vacancies remain low. I think though, that it is a very competitive environment and there are a number of things that are affecting different businesses in different ways - and construction is one of those things," Beck said.
"For some it's changes in customer preferences, the impact of competition, but there's no question that construction in the city centre has had an impact, particularly for those close to the work - there's day-to-day disruptions, trouble accessing with some businesses".
Beck's advice for retailers and those affected was to make better use of signage, lighting and ensure great communication.
"It's important to let people know its open for business, good lighting - there are a number of things that really need to be in place to support business through major change like this," Beck said. "It can be a pretty tough environment, particularly for smaller businesses that don't have a lot of reserves to cover changes like this."
Heart of the City has hosted a range of campaigns this winter in a bid to get more people in to the city, such as Love Bites, Restaurant Month and Art Week.
Mexican Cafe general manager Jess Clark said the eatery did not realise how bad business had got until just a couple of weeks ago.
"Earnings are tough," Clark said.
"Last year we did record numbers and record bums on seats ... this year we have not hit that. One the flip side we have had more lunchtime customers, because of the roadworks people are not willing to roam as far but the flip side of that is people aren't coming in for dinner."
According to a new tool released this week, which measures Auckland's economic performance, the city's economy contributes to 38 per cent of the country's total economic output annually.
Auckland GDP in 2016 was $84.8 billion and the city was home to 184,000 registered businesses, as of March last year.
While consumer and business confidence is high, retailers disrupted by the construction work are struggling.
Three stores on Albert St have closed since construction began - the former second-hand pawn shop, a cafe and a pharmacy.
Florist Shobhana Ranchhodji, director and owner of Roma Blooms, expanded the size of her shop in May last year before the construction work. Her shop went from a small corner shop on Albert and Victoria Sts to three times the size.
If she knew then that business would be stretched because of construction she would not have expanded.
"People used to tell us they had a nice walk down there [Albert St], but not anymore, they'd rather go to Queen St without all the hustle and bustle - they don't want to see all of this machinery."
Ranchhodji said she had been forced to up Roma Bloom's online presence as a way of sustaining the business.
"Everyone here wants progress, we want to see the city better, we want it functioning better, but in the meantime help us," she said.
Auckland Council and Auckland Chamber of Commerce had made an effort to see how her business was doing, Ranchhodji said.
In the last six months they had offered her a business mentor, made it part of various campaigns such as Eat on Albert with edible flowers and received free social media training.
Auckland Chamber of Commerce chief executive Michael Barnett said Auckland Council was slow to provide support to affected businesses.
"I don't think the council appreciated the impact that the work would have on these businesses," Barnett said.
"The chamber and the council put together a package that is a combination of providing the firms' access to our business advice line, providing them access to mentors, and an access to a range of support, such as if they need help with marketing, planning or social media.
"We ended up doing the right thing with the council but it was slow. I think the council has probably learnt something from that."
Barnett is working on a plan to support businesses likely to be affected by upcoming construction work moving to Karangahape Rd.
CRL spokeswoman Carol Greensmith said all businesses along the rail route were offered a business mentor for a year, membership to the Auckland Chamber of Commerce for a year, social media training and access to workshops and seminars.
She said they were also offered promotion of individual businesses through the CRL newsletter, messaging on hoardings and promotion of businesses and events through various other newsletters.
Construction work on Victoria St will be completed by the end of the year and the Albert St leg will be finished by 2019.