A Tauranga couple have almost finished building their dream home - all for about $40,000.
Tara and Leo Murray hosted the first tiny house workshop in New Zealand which attracted 15 participants from as far afield as Sydney and Perth.
The group spent two weeks at The Arty House in Te Puna learning new skills under the guidance of a building team headed by expert Ben Garratt who had travelled from Canada. Mr Garratt was also the foreman on the global model earthship project in the Coromandel in 2015. He has built 15 tiny houses on wheels.
Self-sufficiency was a major goal and Mr Murray said: "We don't want to play into that same kind of debt like our parents had".
"We can make a few sacrifices in terms of not having a giant house with a giant mortgage ... so the tiny house movement became quite appealing."
All the building materials and food for the crew were purchased by the Murrays and Mr Murray said the house was "just looking primo".
The volunteers had left but the contribution they had made to the project was amazing.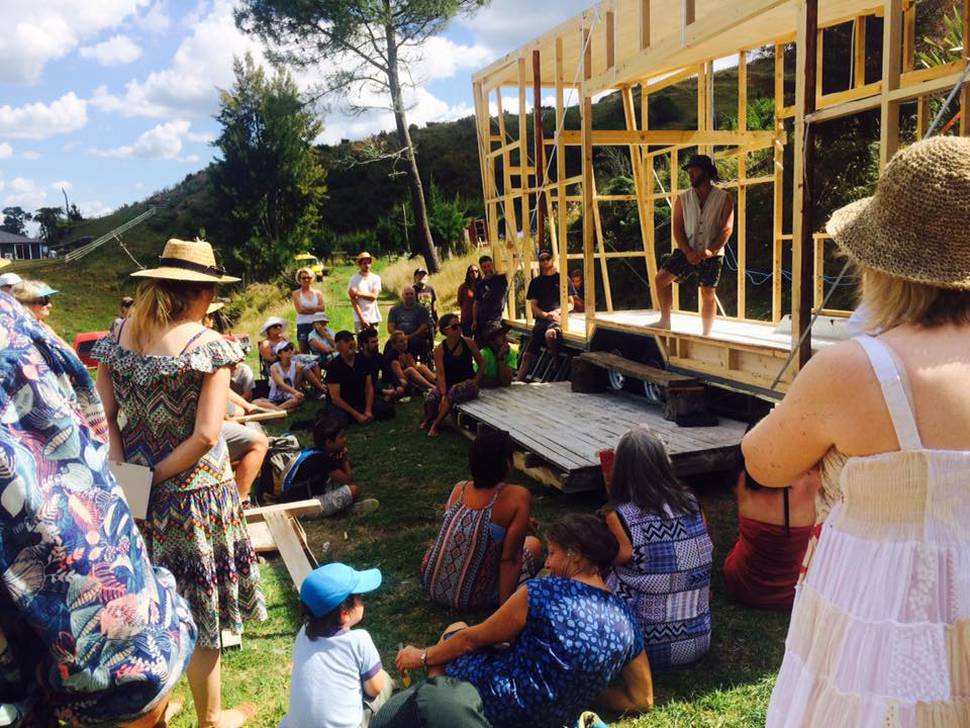 "We are super-stoked. The vibe was hot and everyone sort of got closer and closer. We had some big celebrations while they were here and there was a lot of tears when they left."
Work on the tiny house had progressed to the stage where it was waterproofed, all the joinery was in and the electrics were working.
"We have just got to iron out a few kinks. It's pretty exciting and everyone has been giving us such incredible feedback."
The Murrays just needed to complete the kitchen, bathroom, plumbing and gas.
"Then we just need to put in all those finishing touches which will take a bit more time and a bit more love, not just a rush."
The couple hoped to place the house on an avocado orchard but would live in it on site at The Arty House until then.
Builder and electrician Ben Garratt said the design of the tiny house was contemporary, edgy and fun.
"The tiny house is technical and beautiful. It is a natural building. There was macrocarpa on the walls, our floors are gum, ceiling is poplar, exterior is redwood and the interior walls are lars and cypress."
All the timber had been sourced locally as well as the wool insulation, which the Murrays refused to compromise on even though it was more expensive.
"There are no chemicals in the building."
The design plan encompassed a patio with sliding doors, living room, kitchen, bathroom and a mezzanine loft, he said.
"It has this big feel inside because the roof is so high, the house is 7.5 metres at the base and 9.5 metres at the height."