The cavernous belly of the Airbus A400M can fit tanks, helicopters and containers.
And on a jaunt around the top of the South Island on a sparkling Friday morning it looked like it would be an ideal place for a game of indoor cricket. It is large.
The monster plane was in Wellington courtesy of Airbus and the RAF who flew it from Britain via Iceland, the mainland United States then through Hawaii and Fiji.
It is not only here for the RNZAF's 80th birthday celebrations at Ohakea over the weekend but is also a 100-tonne promotional tool in a high stakes military supply contest.
The government is preparing to spend hundreds of millions of dollars to replace its ageing Hercules and Airbus is lining up against plane makers from the United States, Brazil and Japan for the prize.
Defence top brass took a flight before the media group and the force remains tight-lipped on which way it will go in the composition of the airlift, maritime patrol and VIP transport fleet. Defence minister Gerry Brownlee who copped flak for riding on a C17 Globemaster earlier in the process was not on board.
The media group filming the departure had some of their gear blown away by the prop wash from the four big engines capable of generating 11,000 horse power each. But the flight soon after was as smooth as silk.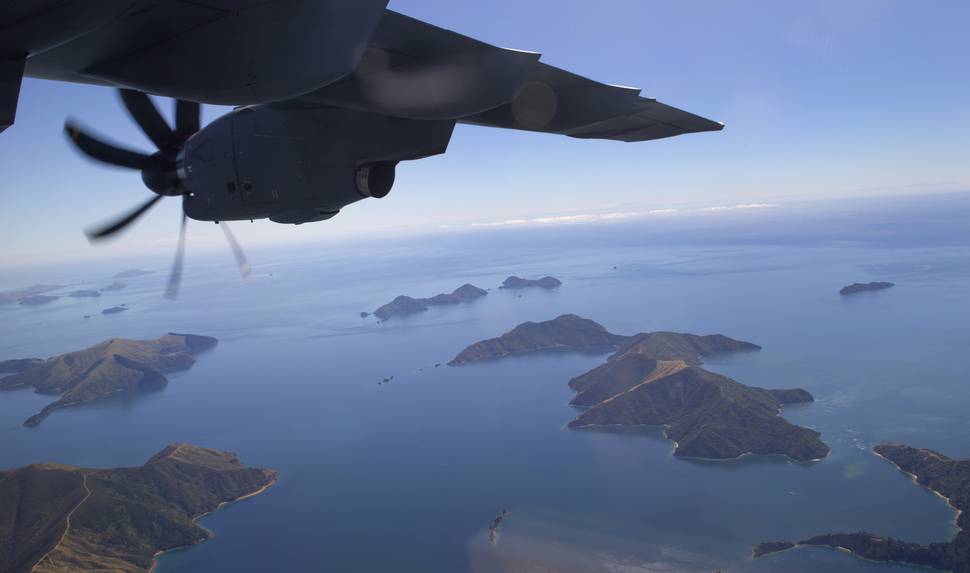 Take-off from Wellington Airport at 220kph was steep as they must be for aircraft which have to get off short runways and out of hostile environments quickly.
Wing Commander Simon Boyle said the aircraft brought to New Zealand is now capable of being fitted with defensive countermeasures for use in dangerous places. These include armour around the two pilots and loadmaster and infrared beams that can confuse any missiles fired at the plane.
The flight deck is much like an Airbus A380 double decker but has been modified for military use.
Flight Lieutenant Becca Lee and Squadron Leader Rich McPhaden took the plane to 10,000 ft before descending to perform manoeuvres - mainly gentle banking turns - over the Marlborough Sounds, then a planned overshoot at the airport before touching down and stopping on a dime.
Up to 108 paratroopers can sit in the belly of the plane which is not much noisier than a commercial passenger jet and offered passenger comforts not seen in New Zealand's Hercules - two spacious flush toilets. More familiar to Hercules veterans were the two "pee tubes" in the walls of the A400M's fuselage near the rear loading ramp.

The relatively low altitude flying burned around 5.3 tonnes of fuel but Airbus claims the newly developed engines burn 20 per cent less that equivalent jet engines.
Boyle said the RAF was still in the testing phase of the A400M, whose carbon fibre wings and spar are made in Britain.
The RAF was using the plane to transport equipment and personnel to benign environments.
While he could not comment on the New Zealand bid by Airbus, he said the plane had been performing well for the RAF in missions that were similar to those of its New Zealand counterpart.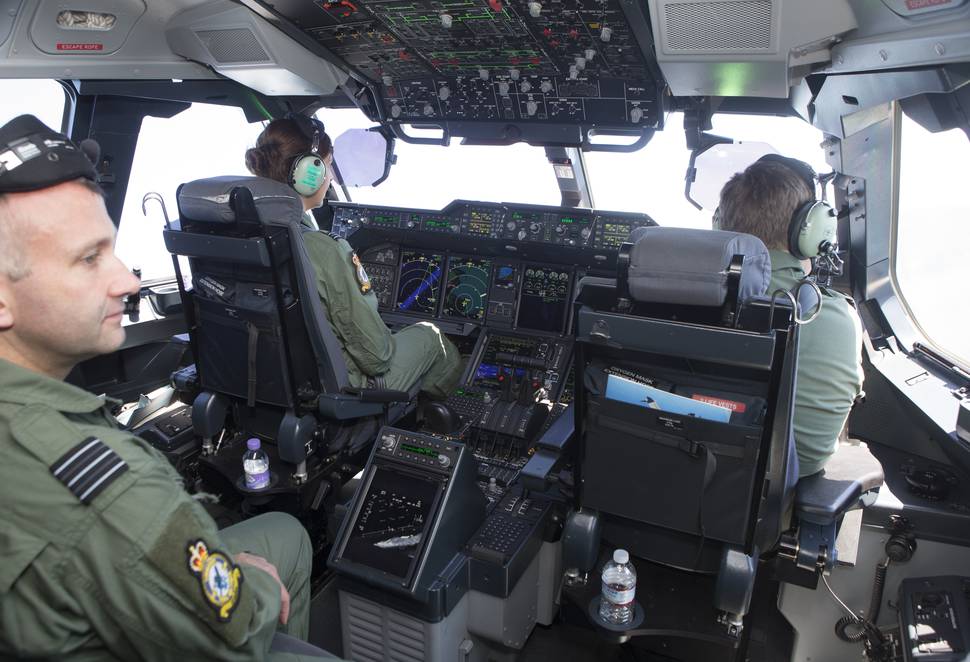 Airbus does not discuss prices asked for its military planes, which can vary widely depending on how many are sold and what sort of maintenance package goes with them.
However, the RAF deal is believed to have been worth about $265 million per plane, pricier than the smaller Embraer KC390 and the latest model Hercules.
Airbus Defence and Space vice president head of marketing Ioannis Papachristofilou said the pitch to different countries was tailored around their specific requirements.
The company was now supplying information to the New Zealand Defence Force.
"This is quite a healthy dialogue we've been having for some time now and it's going very well," he said.
The A400M programme is hitting financial hurdles again with Airbus group head Tom Enders this week saying participating European countries face tipping billions more into the project.
Papachristofilou could not comment on the financial problems, which stem to initial contracts signed nearly 15 years ago.
"Corporate finance is a different story but we're here to talk about is how great this plane is and what value it can bring to our customers," he said.
Questions about fallout from a fatal crash in Spain after a software problem were deflected by an Airbus spokesman who said investigations were continuing and a final report was due soon.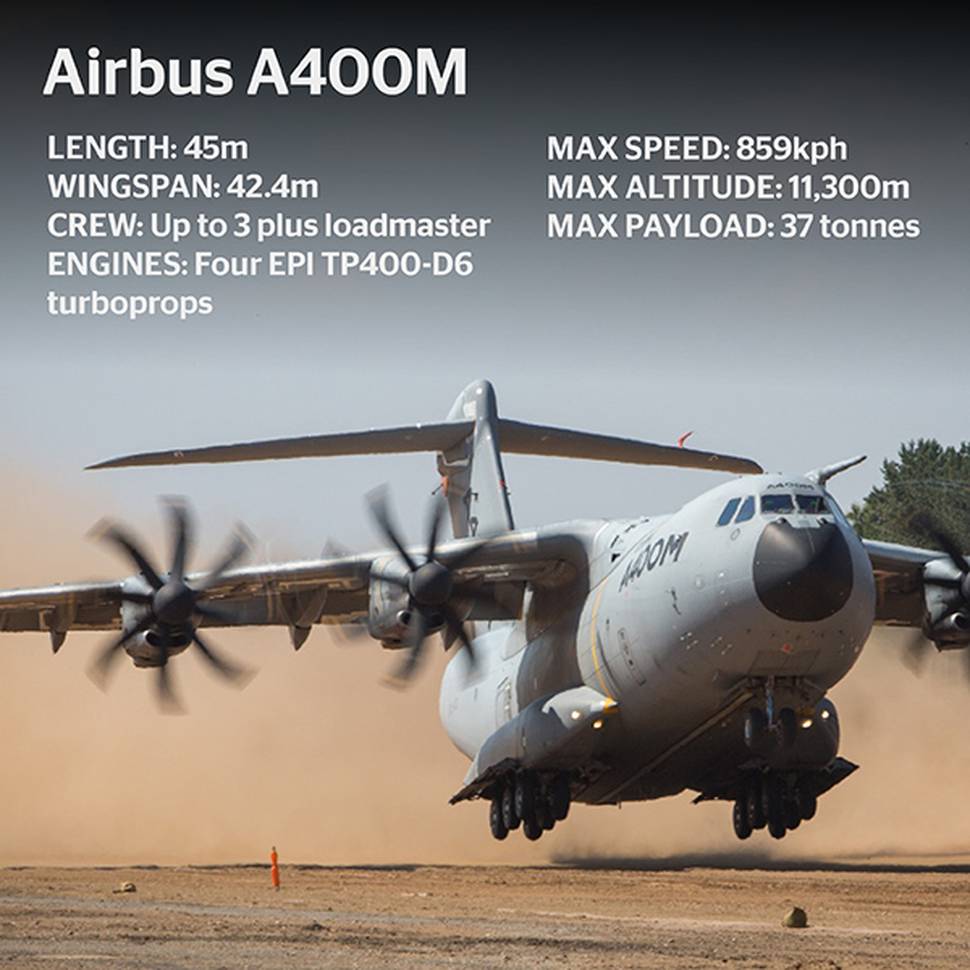 The plane will be on static display at the RNZAF's Air Tattoo at Ohakea during the weekend.
The Air Tattoo
Among the aircraft flying or on static display are:
T6-C Texan II
Boeing 757 (Saturday only)
C-130 Hercules
P-3K2 Orion
A109 LUH
NH90 MUH
SH-2G(I) Seasprite
B200 King Air
RAAF F/A-18 Hornets RAAF C-17 A400M Atlas
USAF F-16 Fighting Falcons USAF C17 Globemaster III
CASA CN-235 (France)
Singapore C-130 Hercules Singapore F-15SG Strike Eagles
KC767 (Japan)
Historic and civilian aircraft
Catalina
Harvard Tiger
Spitfire Avenger Harvard
Devon
Venom
Spitfire replica
DC3
Air Tourer
BK177
Air New Zealand 787 (Sunday only)