A hulking European military plane that got a role in a Tom Cruise movie will be flying over the clear skies of Wellington today ahead of a big air show at Ohakea this weekend.
The A400M is the Airbus contender to replace New Zealand's five Vietnam War era Hercules and has been brought out by Britain's Royal Air Force and the plane maker to show off to Defence Force personnel, the public and media.
The aircraft is flying out of Wellington before flying north for the RNZAF Air Tattoo to celebrate its 80th birthday.
The plane has been likened to a ''Hercules on steroids" and Cruise hung from the side of it at 5000 feet early in a Mission Impossible movie wearing just a tailored suit (and a harness.)
The scene, filmed at and English RAF base in winter, had to be shot eight times to satisfy movie makers and the actor.
The A400M programme has been plagued by delays and funding discord among the European partners for more than a decade. Although more than 170 of the planes have been ordered and about 40 delivered, demand is largely from the European partners and Airbus is very keen to sell it further afield.
But the pan-European project moved closer to being "Mission Improbable'' this week after the head of Airbus said the A400M programme was continuing to weigh on the company which would have tap Britain and other countries buying the plane for around $2 billion to keep it going.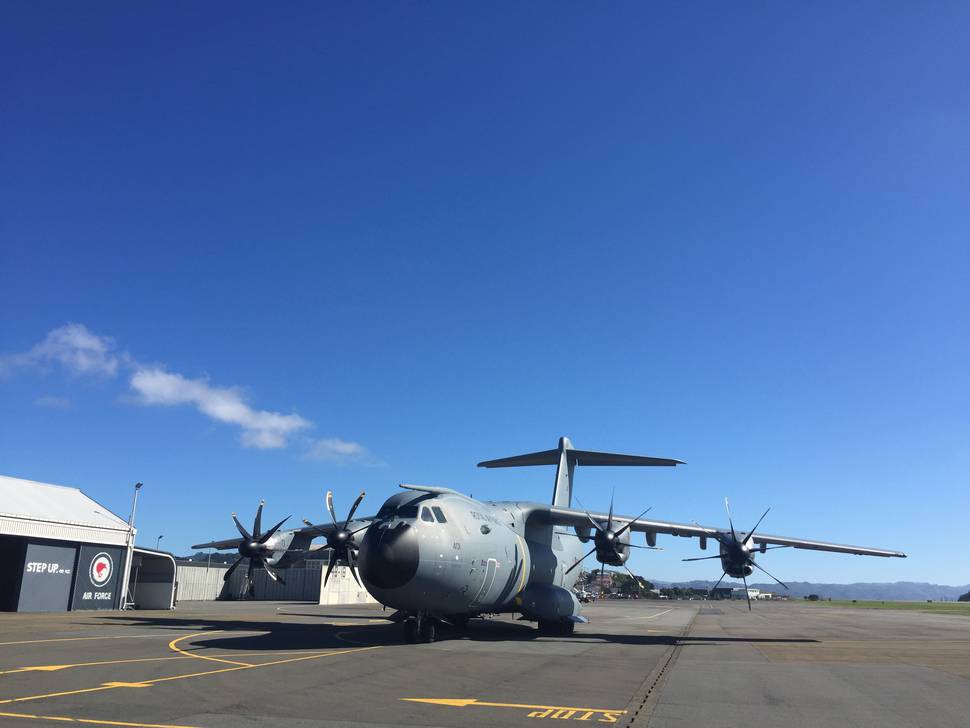 Airbus CEO Tom Enders acknowledged that "the jury is still out on the long-term success" of the A400M.
Airbus was paying for the "original sin" of signing up to a bad deal when Britain, Germany, France, Spain, Turkey, Belgium, Luxembourg and Italy signed up for 220 of the planes in 2003. Italy has pulled out and orders have shrunk to 174 aircraft.
However, Enders insisted "it's absolutely necessary" to maintain it as long as European militaries depend on it, AP reports.
With governments holding back payments because of A400M delays, Airbus warned that cash problems "will continue to weigh significantly in 2017 and 2018 in particular".
The A400M has near jet speeds, intercontinental range and huge lifting capacity but is still ironing out problems with its gearbox which allows its propellers to counter rotate. It also suffered a tragedy two years ago when faulty software shut off power to three engines and a plane destined for Turkey crashed, killing four of the six on board.
The A400M is competing for the New Zealand deal with aircraft including new model Hercules and Embraer's KC390. Defence says the process is still at an early stage.
The A400M will be on static display at Ohakea for the show which has attracted an impressive range of aircraft from Australia, the United States, Japan, Singapore and France. Vintage and commercial planes will also be on display for crowds of up to 50,000 a day this weekend.
• Grant Bradley travelled to Wellington courtesy of Airbus