Emirates is now serving Christchurch with an A380 superjumbo, with the first of its daily services to the southern city touching down earlier today.
The airline will now have five super jumbos flying into this country every day with one of the flights to Auckland coming direct from Dubai, until last week the longest route in the world.
The Christchurch flight arriving to an enthusiastic crowd who had waited for the aircraft in a viewing area especially set up for the day by Christchurch International Airport near the runway touchdown point, dubbed Planespotters Park.
The aircraft, commanded by captain Shane Russell, formerly of Christchurch, taxied through a ceremonial water-cannon salute before parking directly in view of guests.
Later, another former Christchurch pilot, captain Alastair Reilly, was at the controls on the first outbound A380.
The airline arrived in New Zealand in 2003 and has carried 5.86 million passengers to and from the country since then. The new planes will increase capacity to 2500 seats a day.
Four Emirates super jumbos now on the ground at Auckland at one time in the afternoon is the highest number of the aircraft in one place outside the airline's Dubai base.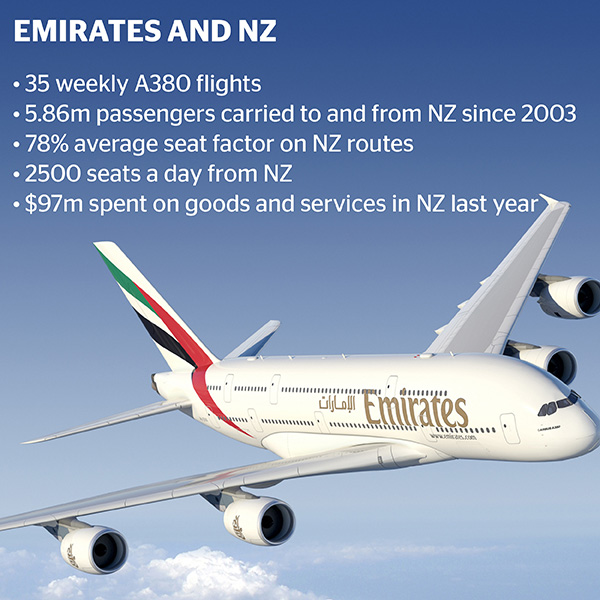 While one of the flights flies the direct 14,200km route to Dubai, the others cross the Tasman and then fly on to the Middle Eastern hub. One of the flights from Auckland flies via Brisbane to Bangkok.
The double decker can seat 14 in first class, 76 in business class and 399 in economy class. The Boeing 777-200LR aircraft that had operated the route since March had 266 seats and the airline said high demand persuaded it to put on the bigger plane which has lavish premium cabins including showers in first class and access to a bar for all those on the upper deck.
Figures released today show the airline's transtasman traffic has grown from 533,900 in 2010 to 761,200 last year, an increase of 30 per cent. Emirates has about 12 per cent of the transtasman market.
Rival Qatar Airways will compete directly against Emirates from next February when it starts direct flights to Doha. Qatar will operate the daily flights with a Boeing 777.
Like a growing number of carriers, Emirates has benefited from New Zealand's attractiveness as an international tourist destination and strong growth in outbound travel by Kiwis.
Emirates is the biggest customer for Airbus' A380s whose sales have been sluggish.
The airline currently has 84 Airbus A380s in its fleet of 250 aircraft, with another 58 on order.
Air India claimed the longest flight last week with a service from Delhi to San Francisco.