Key Points:
The world's newest model widebody airliner will make its commercial debut in New Zealand today when Cathay Pacific flies it in to Auckland from Hong Kong. The new generation Airbus A350-900 XWB is due to land just before 1pm after a special pass down the Waitemata Harbour about 30 minutes before. The flyover is dependent on fine weather and the sun is out in Auckland today. Captained by Aucklander Gavin Haslemore, the new plane will start over Whenuapai and then track over the Auckland Harbour Bridge along Tamaki Drive towards Musick Point and then head to the airport. It is held at around 3000ft (914m) during the flyover, descending to 2000ft once past Musick Point. The plane - which competes with Boeing's 787 Dreamliner - first entered service last year with Qatar Airways and Cathay Pacific started using the aircraft from the middle of this year. It replaces ageing Airbus A340s Cathay has been using on the Hong Kong-Auckland route and arrives as the airline is about to face more competition on the route from Hong Kong Airlines. It's the same size as a Dreamliner and has a similar look, but the A350 has a distinctive nose with a wraparound sunglasses-style windscreen. The XWB (extra wide body) is more than 10cm wider than the Dreamliner. But like the Dreamliner, the A350 reduces fuel burn through lightweight construction using carbon fibre and more efficient Rolls Royce engines. Its fuselage is stronger than older planes and can have bigger holes cut into it and therefore has bigger windows. This strength allows a higher cabin pressure with more oxygen to lower the cabin cruising altitude from 8000m on current aircraft types to 6000m - this reduces passenger fatigue. Cabin air is also recycled every three minutes and the plane is equipped with wifi that costs about $25 for the Hong Kong-Auckland flight. The plane's wing adapts its shape in flight to maximise aerodynamic efficiency, give it greater lift and less drag. It has a higher cruise speed and Airbus says its perceived levels of external noise are 50 per cent less than older planes.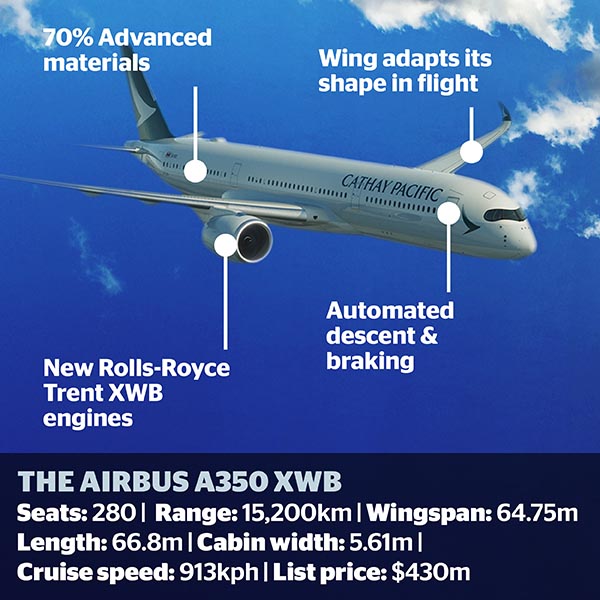 The A350 is estimated to have cost the European aerospace conglomerate close to $17 billion to develop over eight years. While the programme had some problems, Airbus learned from Boeing's trouble. When the Dreamliner started having problems with its lithium-ion batteries Airbus reverted to more traditional powercell units. In 2014 the Airbus brought an A350XWB to Auckland on a test flight.
Cathay has configured the first of its A350s with 38 Business Class seats, 28 Premium Economy and 214 Economy. The seats are the key selling points for passengers.
Business Class seats
Single touch control to get the seat from upright to fully flat and the bed is slightly longer than those on the A340, and configured four across. Additional stowage including a dedicated spot for a water bottles. There's an 18.5 inch TV with a 4.3 inch video handset - among other functions, passengers can let crew know when to not to disturb or wake them up.
Premium Economy
Full-length leg rest on all seats, pitch is increased to 40 inches, dimmable personal reading light, more stowage, including a tablet holder. Also has nifty slide-out cocktail table. A 2-4-2 layout in a separate cabin.
Economy
A 3-3-3 configuration. Slimline seats have a four-way adjustable headrest and a tablet holder. Power outlets at the bottom front of every seat and your own USB port. The vertical side walls mean more space around window seats.