Alan Glenn helps oversee the movement of nearly two million tonnes of air freight around the world. Right now he's got a challenge ahead of him.
Glenn is the general manager of cargo services at Cathay Pacific, the 70-year-old Hong Kong-based airline founded on freight and still one of the world's biggest freight operators.
And he's only half joking when he says it would be good for business to see the next model of the iPhone being like a throwback brick, oddly shaped so it is difficult to pack but still extremely successful.
A global Apple product launch can make a big difference to Cathay given its proximity to the tech company's manufacturing base in China.
"When Apple does well air cargo does well," he says.
Cathay Pacific carries anything from polar bears to Old Masters to milk powder and is the second biggest airline behind Emirates in the air cargo market - which sees 140,000 tonnes of goods flown around the world every day.
Air freight is a leading indicator of global economic performance which continues to be choppy. Added to this is over-capacity, as older freighters keep flying, and that means operators are feeling it.
Glenn says air freight had suffered a bad first quarter, due partly to a port strike in the United States during the same time last year but also by a "challenging" world economy.
"The Chinese economy has been a bit of an issue," says Glenn at the airline's headquarters, Cathay City which sprawls over 4ha at Chek Lap Kok.
Oversupply has been a "bit of a challenge" during this time with relatively low fuel prices keeping otherwise non-viable operators in the game, with a lot of inefficient aircraft staying in service or being brought out of retirement.
"The interesting thing in this market is these aeroplanes have the Lazarus symptom - they come back from the dead," he says.
Cathay is also facing increased competition from Gulf carriers which not only have huge belly capacity in passenger planes that operate through their Middle Eastern hubs and into Europe, but are also adding dedicated freight planes at an increasing rate.
Cathay has recently gone outside its oneworld airline group and formed a joint venture with Star Alliance carrier Lufthansa. It is due to start from Hong Kong next year, which Capa Centre for Aviation said in a recent report indicated moves in the cargo market needed to be profound to succeed.
"The aim of the cargo JV reads similarly to that of passenger partnerships: more flights, feed support, common handling and integrated IT."

International Air Transport Association forecasts showed year-on-year first quarter growth was slower or negative for every region of airline registration excluding Europe.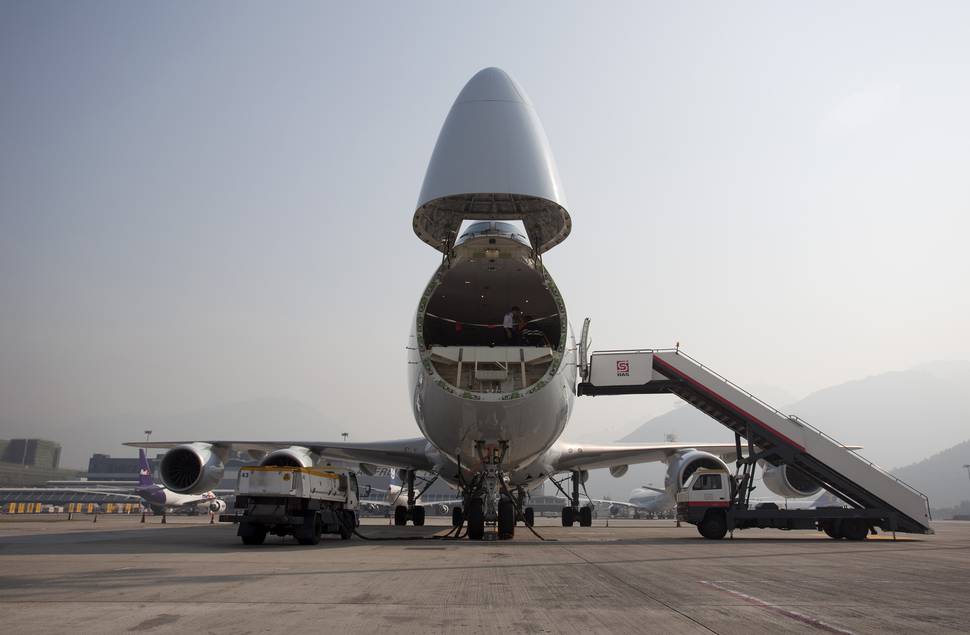 The association says "broad signs of softness mean that 2016 is shaping up to be another weak year for air freight".
Glenn says Cathay has up to 25 per cent of its business tied up in air freight so some uptick in China during May was welcome.
"There are signs of slight improvement in the last month or so - it does show signs of some stabilisation. Tonnages are coming back - yields are not phenomenal because of the competition but there is cargo out there and that's something to optimistic about."
The airline grew out of the Swire Group's vast trading empire and cargo remains in its DNA. Cathay has 21 dedicated freighters including new generation Boeing 747-800s. Dedicated Cathay freighters go to places such as Mexico City, Calgary, Dallas, Atlanta and Miami.
When Apple does well air cargo does well.

SHARE THIS QUOTE:
"The US has been strong because we don't have a direct competition with the Middle Eastern carriers. We have a locational advantage but there a lot of people trying to serve that market."
In China, Cathay is following the prize and this means moving inland as manufacturing moves away from the Pearl River Delta.
"Where's next, where is the next opportunity? We move to ports that are developing," Glenn says.
All cargo carriers were dealing with the lithium ion battery issue. Cathay has taken a lead and stopped carrying bulk shipments (around 50 batteries in a box) in April last year.
Glenn says shipments categorised as dangerous goods could be well regulated and carried safely but it was equipment and toys not declared as dangerous that could cause problems.
There was a big industry push to standardise rules for carrying the batteries, commonly used in phones and laptop computers.
"We're more concerned about people doing it underground, avoiding the rules," he says.
"If you're buying things on eBay or Alibaba in New Zealand you're not thinking about how it gets there but you do want it there tomorrow. When it comes in that little brown envelope you're not thinking how it was handled and declared."
Glenn says the dynamics of the cargo market had changed more in the past five years than in the past 50 and food exporters such as New Zealand were in a good position.
"The commodities we're carrying are changing. Food providence is more and more important."
Demand for NZ cargo stays strong
In a tough global air cargo market, demand for fresh New Zealand produce remains strong, says Cathay Pacific's New Zealand cargo manager Dennis Basten.
Orchids are being flown to Amsterdam and chilled meat to Switzerland but it's capsicums to Japan that provides the bulk of the airline's business.
"Most of the base load are capsicums to Japan ... during summer," he says.
Cathay's Airbus A340 aircraft can carry up to 18 tonnes of freight but more typically have capacity for around 11 tonnes to 12 tonnes because of high passenger loads.
Tuna was shipped to Narita in Japan late in summer and exporters paid a premium to get them on planes at short notice.
Over the past two seasons massive cherry seasons in New Zealand meant big shipments to Taiwan and China.
China also took health supplements and milk powder but not crayfish on Cathay.
"We changed our whole model a few years ago because we used to do lots of lobster, it used to go via Hong Kong and with the free trade agreement it now can go direct so we don't get any of that."
Whirring terminal keeps track
On the apron of Hong Kong International Airport a massive building rises as high as it can next to busy runways and spreads as much as it can in the territory of scarce land.
Rising eight stories with a floor area covering the equivalent of 30 rugby fields, the Cathay Pacific Cargo Terminal can handle up to 2.6 million tonnes of freight a year.
Cathay Pacific spent more than $1 billion on the heavily automated building, one of the biggest and widely regarded as the most technically advanced air cargo facility in the world.
The cargo containers and pallets are housed in more than 7200 storage locations, moved around the building in a series of lifts. The containers can be located by a team of around a dozen operators in a control room by calling up the airway bill number.
They look for "hotspots" where cargo areas may become overloaded.
The terminal has about 700 Cathay staff and 1200 contractors who handle anything from race horses and pandas to gold, diamonds and Old Masters. In massive cool rooms, food can be chilled to -25C.