Each year Spark New Zealand invests more than $400 million on building, expanding and strengthening our networks -- representing one of NZ's largest ongoing private sector investments in infrastructure.
We do this to stay ahead of the increasing demands placed on the Spark Network, especially as home, business and mobile data traffic is growing rapidly -- demands driven by far-reaching changes in the way we live our lives using technology every day.
I was lucky enough to see The Boss at Mt Smart in Auckland earlier this year. That Bruce Springsteen gig represented the first time at a major event in New Zealand our network had more data being uploaded than downloaded - previously it was mostly about downloads. With more and more of our customers using the likes of Snapchat, Instagram, Twitter and Facebook to upload photos and videos to share with friends and family, it's having a big impact on our thinking as we configure our network to ensure the best possible experience.
The trend to more mobile data is a universal one. Global mobile data traffic is almost doubling every year and is now measured in exabytes - that's a billion gigabytes. Last year global mobile data alone reached nearly 18 exabytes; compare that to the year 2000 when the entire internet represented just one exabyte, of which mobile would have been a tiny fraction. It's mind-boggling.
A typical smartphone generates 29 times more data traffic than a traditional mobile feature phone. Here in New Zealand, smartphones already make up around 60 per cent of the market, and this percentage will continue to grow. Our customers are installing more great apps to make the most of their smartphones - such as music streaming service Spotify, which has seen a four-fold increase in take-up since we included Spotify Premium on our selected plans earlier this year.
But with the demand for data comes the demand for speed. Everyone's patience is now tested with any type of buffering. That's why the move to 4G technology by all New Zealand's mobile network operators is so important.
4G is many times faster than 3G, with customers experiencing speeds of up to 150 megabits per second. And technology continues to push the envelope: in test conditions we recently set a new Spark New Zealand record of 293.38 megabits per second download speed using a new technology called "carrier aggregation".
We are investing today to stay ahead tomorrow. Spark New Zealand paid $158 million to secure the largest block in the Government's recent auction of the 700 megahertz (MHz) spectrum (the old analogue TV spectrum). This is "beachfront property" for the spectrum landscape and will provide significant benefits to customers in terms of the potential speed and capacity of Spark's 4G mobile network.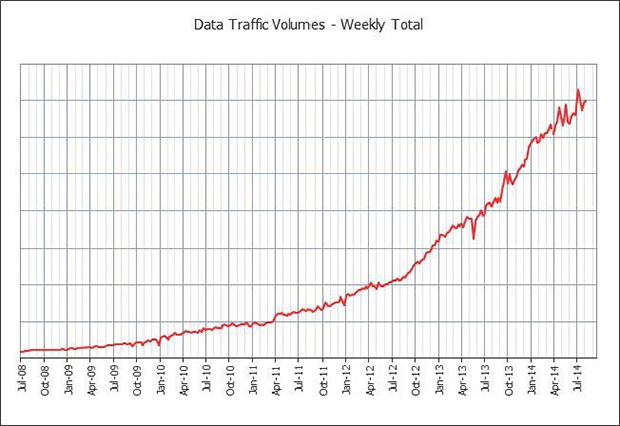 Data traffic volumes - weekly total.
Because we have acquired more spectrum bandwidth, the Spark Network over 700 MHz will run faster, and be able to carry more data traffic, than our competitors' network on a like-for-like basis. You can think of it as a busy motorway where we will have extra lanes to better manage the speed and flow of traffic.
Because the cellular signal can cover a much larger area than most other spectrum, 700 MHz is especially important for less densely populated and rural regions of the country. It puts Spark New Zealand in a prime position to deliver a very high-performance 4G mobile network for the whole country.
Our country is beautiful, but it's also elongated, hilly, wet and sparsely populated - which all mean the economics of mobile infrastructure investment are very tight to give New Zealand what it needs, at prices that are affordable to customers. Studies have shown that despite these challenges, New Zealand is well served when it comes to mobile networks.
Catering for the growth in demand, while delivering the service New Zealanders expect, is a huge challenge -- given the prices we charge for services continues to reduce while the value we deliver for customers increases.
What a customer gets on our entry-level Ultra Mobile $49 plan today would have cost $542 per month in 2009 - a massive decrease in just five years. That's great news for our customers, but part of the ongoing challenge for our industry when it comes to financing ongoing investment in our networks.
The mobile data revolution is just one part of our integrated communications network. Alongside 4G mobile, we are rolling out Ultra Fibre broadband in more places than anyone else, along with more than 1000 WiFi zones nationwide (free for our customers).
We're building big new data centres, cloud computing services, and partnerships with some of the world's best technology companies. It's all linked at the speed of light, thanks to our world-class optical transport network and globally connected by the Southern Cross Cable.
When you think about this integrated data network you can understand the need to hang-up on the old Telecom name and become Spark New Zealand. The debate about whether New Zealand has good data networks should be over -- because we do. It needs to shift to how businesses can unleash their potential by taking advantage of this technology revolution to succeed in the new world.
* David Havercroft is Spark New Zealand's Chief Operating Officer.