Aviation reporter Grant Bradley has had the pleasure of riding on both the Boeing 787 and the Airbus A350XWB. Which one did he prefer?
Aviation reporter Grant Bradley rode on an Auckland-Sydney demonstrator flight of the Boeing 787 Dreamliner two years ago before it had widely entered service and was aboard its new arch-rival, the Airbus A350XWB on the same leg during a route proving tour yesterday.
Here's how some of the features the plane makers promote compare for passengers and for airlines.
The windows
They're one of the first feature passengers notice about the Dreamliner - they're up to 70 per cent bigger than older aircraft and about 30 per cent bigger than its contemporaries.
The A350's windows are larger than any other Airbus model, are wide and but noticeably smaller than the Boeing. Airbus' aircraft interiors marketing manager Stefanie Von Linstow said the company arrived at the window size after extensive research of what its customers of all nationalities wanted.
Read also:
• New Airbus arrives in Auckland + video
• Flying into the future - Air NZ's Dreamliner story
The other difference is how passengers in shutting out the light where Boeing's innovation is. The Dreamliner has push button dimmable windows whereas the demonstrator A350 has traditional manual blinds or electro-mechanical shades. Boeing says it saves on maintenance in the long run although there has been criticism of how long they take to dim and just how much light they shut out. Von Linstow says Airbus blinds shut out 100 per cent of light.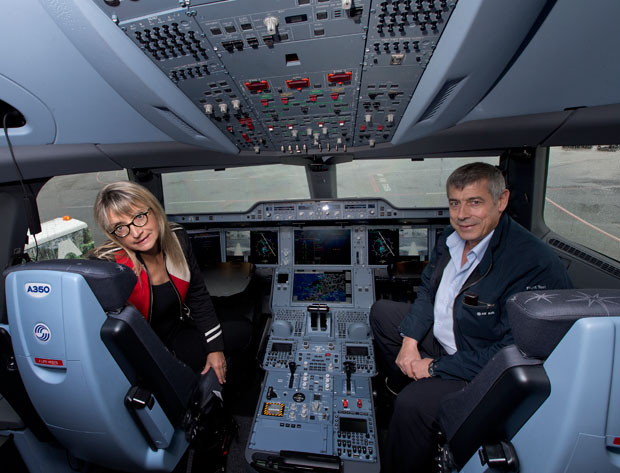 Airbus executive Isabelle Floret with Airbus test pilot Jean Michel Roy, in the cockpit of the Airbus A350 XWB. Photo / Brett Phibbs

High ceilings for that feeling of spaciousness
Hard to separate them here. On the demonstrator flights there weren't any in the centre of the plane in the premium cabins giving a relatively cavernous feel to the cabin. Each airline determines where they put them but are likely to keep them out of business class. Both planes have flatter side walls increasing the sense of spaciousness.
As the XWB tag indicates, the Airbus has an extra wide body, certainly on the inside where it is a few centimetres wider than the Dreamliner. Airbus also has drawn a line on the sand on seat width -- 18 inches; no less. The economy cabin in the Airbus had a 3-3-3 configuration and the seats were fine, the Dreamliner demonstrator had Boeing's ideal eight across cabin -- and those seats were very comfy. However, most of its revenue-hungry customers have opted for the nine-across configuration.
Watch: Inside the new Airbus A350XWB
Herald aviation writer Grant Bradley flew into Auckland yesterday on the world's newest commercial big jet - the A350XWB. See inside the plane and hear from its pilots here.
LED mood lighting taken to a new level
Again both manufacturers have gone for it. Boeing offers 14 standard "scenes" of lighting with numerous different colour variations. Airbus has put a number on it; 15.7 million different colours with an "infinite" number of variations uniquely controllable lengthwise and across the cabins. Both planes were putting them through their paces to show them off on the trial flights.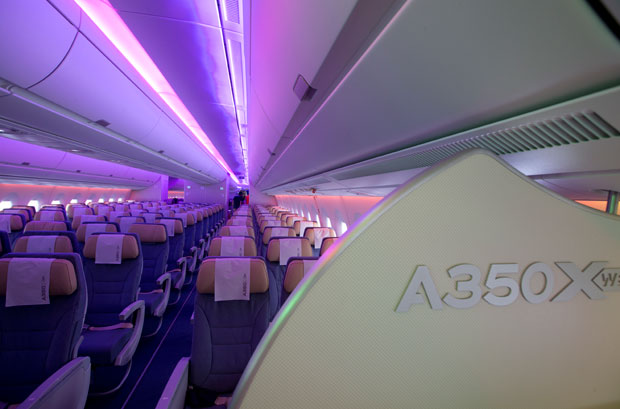 Interior of the A350. Photo / Brett Phibbs

Quieter cabins
New acoustic linings, new engines and aerodynamic wings make the planes quieter than earlier airliners. During the demonstrator flights the Dreamliner was belting its way through thicker air at just 29,000 feet to avoid nasty winds higher up whereas the A350 had a dream run at 39,000 feet and was noticeably quieter.
A more fully furnished sample cabin would also have helped absorb noise. The big Rolls Royce engines have that A380 quiet and calm about them, the only time they really growled was when pilots gave it some welly to climb steeply from 100 feet during a deliberate missed landing at Sydney Airport after a glory tour over the city. Even then the test pilots say the engines had 30 per cent to 40 per cent more thrust to give.

787 Dreamliner Business Class. Photo / Brett Phibbs

Jetlag busting cabins
Both planes make extensive use of stronger carbon fibre fuselages (although Airbus uses more traditional construction techniques) which allow optimised pressure for passenger comfort. Both plane cabins are pressurised to a more comfortable 6000 feet instead of the 8000 foot norm.
Both promote cleaner air through better filtration and more frequent introduction of new air, in the case of Airbus every two to three minutes. Difficult to make a call on this during a three-hour hop across the Tasman but the aviation industry will be looking forward to an independent study of frequent fliers -- crew for example -- on longhaul routes once the planes go head to head in commercial service.
Watch: Inside Air NZ's Dreamliner
2013 had Air New Zealand's first Dreamliner flying into Auckland. NZ Herald travelled to Seattle to preview the plane and attend the Dreamliner opening. Video / Alan Gibson / Boeing
Fuel savings
Besides the price they can negotiate for the aircraft and service package this is the bottom line for airlines whose fuel costs are more than 50 per cent of total expense on some routes. Lighter materials, less hydraulic machinery and cabling make the planes lighter and they're powered by next generation more powerful and more efficient engines.
Boeing boasts of savings of around 20 per cent on comparable older aircraft - a Boeing 767 for example - while Airbus is making even bigger claims; 25 per cent. Its A350 marketing director Mike Bausor said this was based on a comparison with another older Boeing aircraft, a 777-200.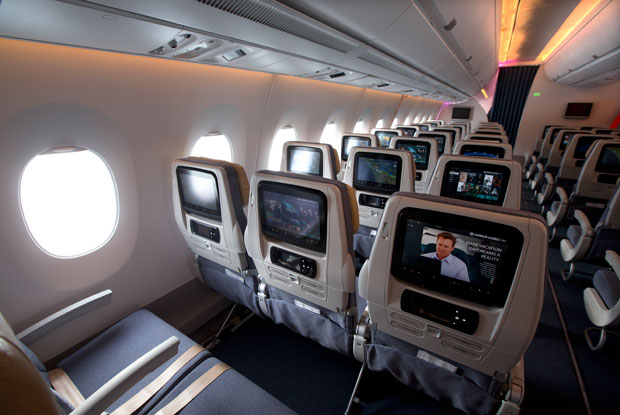 Airbus A350. Photo / Brett Phibbs
While airlines are generally supportive of the Boeing claims it's early days for Airbus whose A350 is due to enter service with Qatar Airways later this year. For passengers fuel savings are good news, competitive pressure for airlines means they'll keep a lid on fares where they have to.
The winner?
It's got to be the passenger, fantastic new widebody planes more comfortable to ride in.