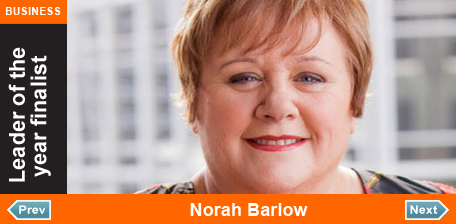 We'll be running our nominees for Business leader of the year over the next three days with the winner featured in the Weekend Herald. Let us know who you think deserves the award at business@nzherald.co.nz
The straight-talking Norah Barlow, who heads Summerset Group, is impressive at every level, taking the relatively newly NZX listed business to greater heights this year.
She is also one of the few women chief executives of listed businesses. Her impressive efforts don't go unnoticed.
Last month, Summerset was named the best retirement village operator in Australasia for the third year in a row, at the 14th Australasian over 50s Housing Awards in Melbourne. The awards celebrated excellence in senior housing and retirement villages.
More than 50 village operators competed for the award.
"The industry is large in both countries," she said. "That a Kiwi company has come out on top once again says a lot about the quality all New Zealand operators are providing to our older people."
Barlow has been chief executive since 2001, after joining the company in 1999, taking the business from a relatively small operator primarily on the Kapiti Coast, into one of the country's biggest retirement village and aged care businesses.
She's an accountant with an extensive background in business leadership and management, strategy, corporate finance, governance, tax and all aspects of the accounting function.
She is the immediate past president of the Retirement Villages Association, a position she held for more than six years, was involved with the formation of the Retirement Villages Act 2003 and was instrumental in leading the sector's approach to the formation of the Retirement Villages Code of Practice from 2004 to completion in 2008.