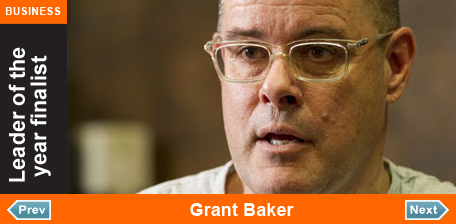 We'll be running our nominees for Business leader of the year over the next three days with the winner featured in the Weekend Herald. Let us know who you think deserves the award at business@nzherald.co.nz
As businessmen go, Grant Baker is probably at the more unconventional end of the spectrum.
He's still the jeans-and-T-shirt Grant Baker of 42 Below fame, but the co-founder of The Business Bakery is making a name for himself, with fellow founders Geoff Ross and Stephen Sinclair, as credible venture capitalists.
The 42 Below vodka venture, which was sold to liquor giant Bacardi for $138 million in 2006, was an outstanding success, and formed the foundation of the Bakery.
The Bakery's first investment was in mobile technology company The Hyperfactory, which was sold to US publishing house Meredith in 2010.
The company's second foray took the form of an 83 per cent stake in Australian fragrance company Ecoya. Ecoya listed in 2010 and went on to buy the skincare company, Trilogy Natural Products.
The Bakery's third investment was in the then deeply troubled financial services company Dorchester Pacific, which is now rising from the ashes of the finance company meltdown of 2006-08, thanks in no small part to an infusion of capital from the Bakery.
Baker expects Dorchester to make a profit of at least $1 million by the end of the March 2013 financial year and $4 million to $5 million in the following year.
If these forecasts come to pass, Dorchester will rate as one of the market's best turnaround stories.
The Bakery's latest venture, the tiny brewing company Moa, was a highly sought initial public offer and NZX listing.
Markets like people who do what they say they are going to do. With Baker they have not been disappointed.