Australia makes a handsome profit from the notoriety of its national bad boy, discovers Shandelle Battersby - from the site of that shoot-out to the gallows in Melbourne Gaol.
A cacophony of gunshots rings out as I get out of the car.
Gunshots? In a tiny town in northeast Victoria on a sleepy weekday morning?
Yep, they're gunshots alright - all part of the atmosphere in Glenrowan, apparently, where just a few hundred metres from where I stand, notorious bushranger Ned Kelly and his gang took on police in one of the most famous shoot-outs in the country's history.
Glenrowan - about halfway along the Ned Kelly Touring Route covering the key sites of Kelly's short life in Melbourne, northeast Victoria and southern New South Wales - survives today, thanks to Kelly and the tourist dollars his story attracts.
The tinny shots, a local tells me, are from an animatronic show at the tourist centre about the gang's last stand in 1880. This runs all day, every day, for 40 minutes on the half-hour.
If you're not familiar with his story - and there's enough guff on it to sink an ocean liner - in a nutshell, Kelly hid in the hills of the area with his brother, Dan, and two loyal supporters for two years after an incident with a local copper.
During this time they became Australia's most wanted men after killing three policemen at Stringybark Creek in 1878, which led to an £8000 bounty on their heads.
They occupied an inn at Glenrowan for their final act in which they aimed to carry out a cold-blooded plan, wearing now iconic suits of home-made armour. Had it worked, many policemen would have died.
It played out somewhat differently, however, and after a long, brutal gun battle, Kelly was captured while the other three outlaws died at the scene. He was taken to the Old Melbourne Gaol, where he was hanged in late 1880, aged just 25.
The image of a pistol-toting man dressed in crude armour - including a sort of inverted bucket helmet - rampaging through the bush, firing at police, is instantly recognisable.
There's no question Kelly has emerged as an important part of Australian culture and identity, but history views him in conflicting ways. Yes, he was a ruthless murderer but, at the same time, he fought for the oppressed.
He was a loyal, charismatic, smart (though poorly educated) man who, had he lived at another time, may well have been a great leader, but he had no qualms about killing when he felt it was justified.
Police have a dim view of him and resent his folk hero status, but Kelly's story has continued to captivate millions worldwide. You really have to make up your own mind as to whether he was a thug or a hero, or fits somewhere in between.
I join the touring route at Beveridge, 45 minutes from Melbourne, just off the Hume Highway. This is where Kelly was born and where one of his childhood homes still stands - though barely - on the corner of Kelly and Stewart Sts.
Ned's father, John "Red" Kelly, built the house in 1859, and the Kellys lived here for about four years, running dairy cows. After Red fell into debt, the growing family - now eight strong, with another on the way - moved up the road to Avenel.
Beveridge is cold and gloomy but the sun lifts the further I drive into the wedge of Victoria now known as "Kelly Country", and it soon becomes clear why Kelly loved this land.
It is mostly flat and dry, sparsely dotted with eucalyptus trees, with the occasional low rolling hill. You can see for miles across its plains, which are set against deep blue mountain ranges. Later, when the sun is setting, it bathes the valleys in a golden glow, and it's a very pretty sight indeed.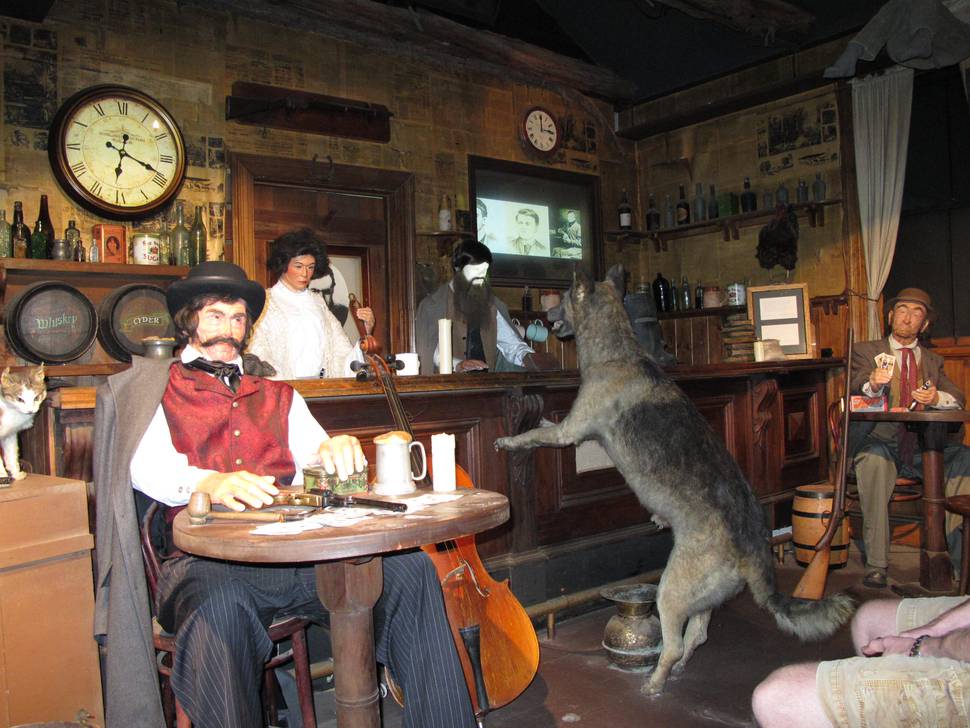 From Avenel onwards, every town you pass through has a piece of "Kellyana" to share. The touring route is easy to negotiate with a rental car, map and a quick stop at each town's information centre. Much of it is marked with signs carrying the distinctive helmet symbol.
Avenel's sites include the creek where Kelly saved a boy from drowning when he was 10. The boy's family were so grateful they presented Kelly with a green silk sash which he was wearing 15 years later when he was captured, and which you can see at the Costume and Pioneer Museum in Benalla. The blood-stained sash is an eerie sight and one of the most powerful on the trail.
A "Ned" mannequin in an original witness box looms at you when you walk into the museum, which also has a portable cell Kelly was once held in.
Elsewhere in the town you can see artist Sidney Nolan's brilliant tapestry depicting the Siege of Glenrowan, and gang member Joe Byrne's lonely gravesite.
Euroa is where the Kelly Gang robbed the National Bank in 1878 and, at the historic town of Beechworth which has been preserved in all its ye glorious olde charm, you can visit the courthouse and gaol where Kelly and his mother, Ellen, were held.
The mecca, though, the apex, the pinnacle, of my Kelly experience comes at Glenrowan.
Not many of the town's original buildings still exist although there is a replica of the original railway station. A 6m-tall Big Ned statue "guards" the main street, and there is an avalanche of tat at the tourist shops ranging from hand puppets, tea towels and stubbie holders to real suits of armour.
Around the site of the former inn are rather odd wooden totem figures of the gang and the police, one of which marks the spot where Kelly was captured. Kate's Cottage, named after Ned's and Dan's sister, has a fantastic replica of one of the family homes, and the town even has a working blacksmith.
But the best of the bunch is the home of those fake gunshots, the animatronic show at Glenrowan Tourist Centre.
This is the show of which Bill Bryson wrote: "I have seldom seen anything so wonderfully, so delightfully bad as Ned Kelly's Last Stand. It was so bad it was worth more than we paid," in his book Down Under. And Bryson only paid $16 - "we were so delighted we considered going in again".
It's gone up to $29 now, but I can report it is still worth every penny. There are animal noises, creepy voices, crashes, bangs, flashing lights, whizzing clocks, crying babies, figures swinging from the ceiling - this show has it all!
It's split into rooms, starting on the train with police on their way to battle; next you're at a party at the inn while Ned issues his call to arms; then we're moved outside into the blazing sunlight for the gun battle before being shepherded back into the besieged inn which is rattled with gunshots before being set "alight".
Finally, you join Ned's "corpse" in gaol before a trapdoor opens above it and two legs dangle down, as if from a hanged man.
The corpse levitates and turns his head and addresses the audience as a bizarre finale. The show is indeed fantastically, brilliantly bad, and I loved every minute of it. Not enough to fork out another $29, though.
It would be easy to while away a week in Kelly Country but you could cover the highlights over a long weekend.
The Old Melbourne Gaol, in Russell St, Melbourne CBD, where Kelly met his maker, is a good place to finish your journey. It was active between 1845 and 1924 and housed Ellen as well. Now operating solely as a slick tourist attraction, it has plenty to interest Kellyphiles, not least the gallows from which he was hanged, and his creepy death mask.
As I left the gaol I saw a young woman taking a "selfie" with a cardboard cut-out of Kelly. If Ned's ghost was watching I don't know what he'd make of that, but part of me thinks he'd be rather chuffed.
Life in the saddle
So much of Ned's life revolved around horses - he was said to be an excellent horseman - so one way to really travel back in time is to sign up for a horse-trek through the heart of Kelly Country.
Watson's Mountain Country Trail Rides also has the added bonus of traversing land any fans of The Man From Snowy River would recognise, including a visit to a terrifyingly steep cliff face that was the location for the film's famous "jump-off"scene.
This is regarded as one of the most dangerous cinema stunts on horseback of all time, and from atop my nag Top Cat, it does look bloody scary indeed. Top Cat, however, seems far more interested in his next gobful of grass than leaping off the point, so I'm not too worried. The only time I get slightly concerned during the journey is when he breaks into the odd spontaneous trot, but I quickly realise he just wants to keep up with his 40 or so pals transporting riders on the trek.
I join this group of Watson's riders on the second of a two-day riding camp so am a little behind the eight-ball, but owner-operator Mike initially clips me to his horse Florence with a lead and, despite traversing a creek and some steep hills, I'm soon comfortable in the saddle. The countryside in Mansfield is glorious and loping through it astride Top Cat is relaxing and satisfying. If only he'd quit stuffing his face ...
CHECKLIST
Getting there: Air New Zealand offers several daily flights to Melbourne. From here the heart of Kelly Country is an easy 2.5-hour drive northeast on the Hume Highway.
Where to stay: In the city, Crown Metropol - 8 Whiteman St, Southbank, ph +61 3 9292 8888.
What to do:
Ned Kelly Touring Route
Watson's Mountain Country Trail Rides - 296 Three Chain Rd, Booroolite, ph +61 3 5777 3552.
Old Melbourne Gaol - 377 Russell St, Melbourne CBD, ph +61 3 9663 7228.
Shandelle Battersby travelled as a guest of Tourism Australia and Tourism Victoria.