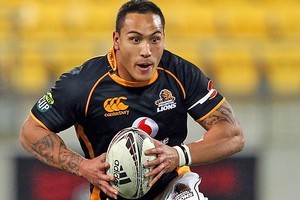 Hosea Gear is a Highlander. Gear, the discarded All Black winger, has signed a one year contract with the southern franchise, and is leaving the Hurricanes after eight years the Otago Daily Times reports.
His signing is a coup for the Highlanders, who have been on the look-out for some strike power out wide
Highlanders coach Jamie Joseph said the signing of Gear was a tremendous boost for the franchise.
"Despite missing out on the All Blacks for the World Cup, he is committed to wanting to get back into the All Blacks and is excited about bringing his family down here and playing for the team,'' Joseph said.
"He had to make sure the town fitted him and the environment suited him. It was a big decision for him to make to come down here.
Joseph said the signing was a huge boost for the Highlanders, and showed they could now attract top talent, which may not have been the story a couple of year ago.
- OTAGO DAILY TIMES